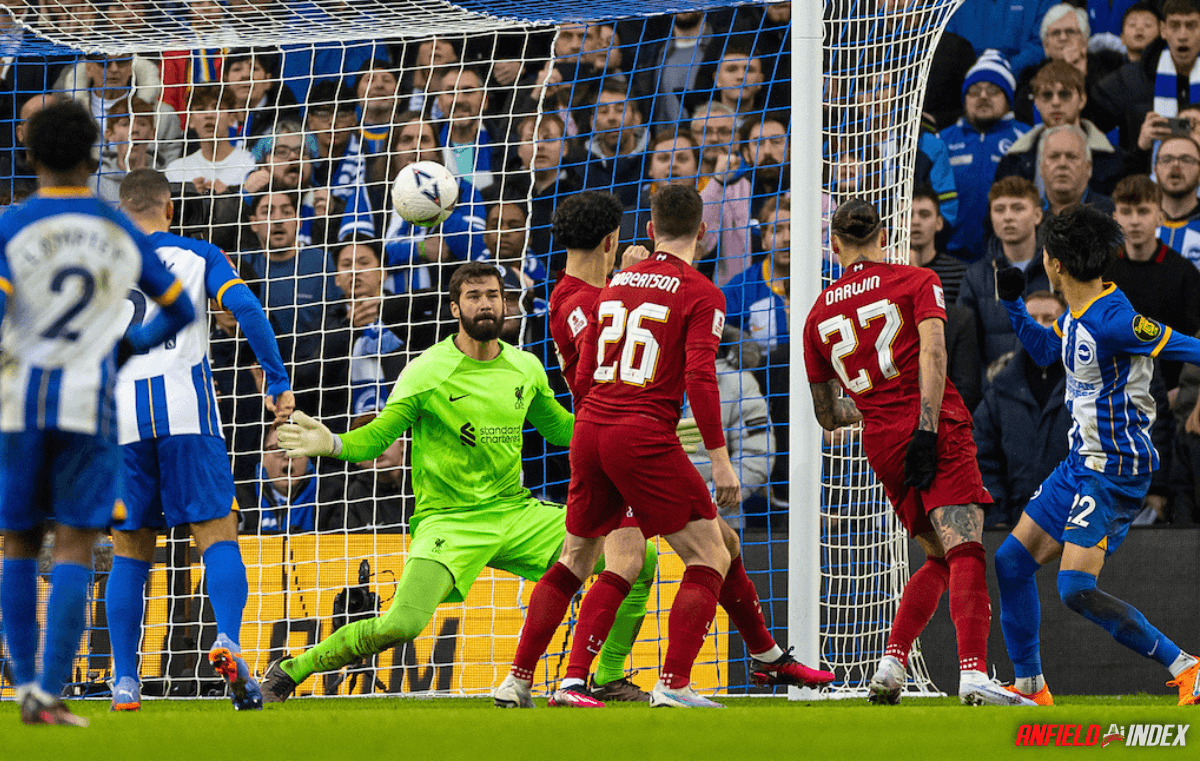 Brighton 2 - 1 Liverpool - The FA Cup Post-Mortem 
After cleaning house in the domestic cup stakes last season, the Reds bowed out to their recent south coast tormentors, thereby tumbling out of the prestigious FA Cup. Though this was a far better output than that which we saw in the league recently (3-0 loss), it still shows that this group is veering from their required path, with much work needed to get back on track.
When looking at the starting line-up, it's now abundantly clear that he has trust in certain individuals, though not so much in others. Both Jordan Henderson and Fabinho found themselves confined to the substitutes bench again, with both clearly identified as the players that can no longer fit the demands of a starting berth. Ali was a certainty to start in goal, though his performance was just of the ordinary level, which meant he needed more from his teammates. The fullbacks were pretty much picking themselves and were reasonably fair in their performances. This was a game that needed defensive coverage, with a lack of emphasis on departing their zones. The centre back pairing saw Ibou and Joe Gomez as the partnership of choice, with their blossoming roles working well in tandem.
The middle area was the most curious part of the team, with Stefan Bajčetić retained alongside Thiago & Naby. This is the middle three that deserves to start right now, with a level of control returning to the centre of the park. It was the young pretender that stood out, with his intelligence, combative nature, passing, and movement a real bonus. In the skipper and Fabinho, we have gotten used to stagnation and a lack of physicality, so it was another positive step forward for the holding midfield role. Thiago and Naby seemed intent on recreating the Gini levels of maintain structure, with much of their work based upon control rather than an intent to exploit space. Neither player shone too brightly, yet in a campaign where the others have been so poor, this was also a small positive step forward.

The attack could now be construed as the least fluid within this team, with an unfamiliar group playing an unfamiliar level for their team. On top of the goal, Harvey was bright, involved, and looking to create. Cody was neat, tidy, and hardworking, yet a level or two below his predecessors of old. Mohamed Salah failed to score for the fourth successive game, therefore entering a very worrying point in his career. That was the trio chosen to start, with Darwin surprisingly held back once more. It seemed like structure over chaos was chosen, with a real desire (from Klopp) to incorporate system players over anything else.
GK – Alisson Becker
RB – Trent Alexander Arnold
LB – Andy Robertson (c)
RCB – Ibrahima Konaté
LCB – Joe Gomez
RCM – Naby Keïta
CDM – Stefan Bajčetić
LCM – Thiago Alcantara
LF – Harvey Elliott
CF – Cody Gakpo
RF – Mohamed Salah
Substitutions;
59' Darwin Núñez – Harvey Elliott
59' James Milner – Trent Alexander Arnold
59' Jordan Henderson – Naby Keïta
79' Curtis Jones – Thiago
84' Fabinho – Stefan Bajčetić
With the line ups and substitutions as shown above, the match started with a sustained level that enabled a first half lead. The patterns of play were safe and productive, with the Brighton equaliser really stinging, given the deflection incurred. Harvey Elliott continued his scoring form, with a good run seeing him finish neatly under the opposition keeper. Salah was able to weight a nice pass into the teenagers run and it really should have seen the visitors take further advantage. With little danger at the other end of the pitch, the Reds were able to feel their way into the game, with a steady off ball work incorporated.
The feature of the match was very evidently the timing of the substitutes, and the impact it had on the game. With the game very much in the balance, it seemed Jurgen was invested in managing minutes, rather than going for the win. Bringing both Hendo and Milner into the game saw our energy and efficiency levels drop off, which created uncertainty in the Reds' side. Brighton became more dangerous, and despite the introduction of Darwin, you felt like Liverpool's first half initiative had been lost.
Though the starting midfield trio were solid, it again screamed at our lack of options once the subs came in. Naby was able to cover and assist Trent, with our right back having a reasonable if unspectacular display. To change that zone of the team for two ageing players saw an immediate downturn. With Milner portraying good form at full back recently, that was with Keita prowling ahead of him, which is something that the skipper cannot give (to a good level) anymore. Liverpool had a chance to progress, yet a need to make changes (and perhaps gift minutes) saw this tie lost.
The winning goal was almost predictable, and though it could have been defended better, nothing can be taken away from the skill emitted. Fabinho was a horrendous substitute for us, with a red card avoided after a terrible challenge. Curtis Jones could do little to impact with his short cameo, with his standing surely now creeping up to the two aging Englishmen. It was a game gifted to the home side by poor management decisions, and horrible performances by the replacements. The substitutions felt as though they were picked way before kick-off, when a cup tie should be about reacting.
We needed to get back to basics (again), and basic was exactly what this was (again). Jurgen Klopp must do a better job on the side-lines and find a better process of making his decisions. The Premier League is up next, and the group needs to emerge, or another hurdle will surely be hit. If this was always about getting the group ready for the trip to Wolves next Saturday, then so be it, but that then means that three points is an absolute must.