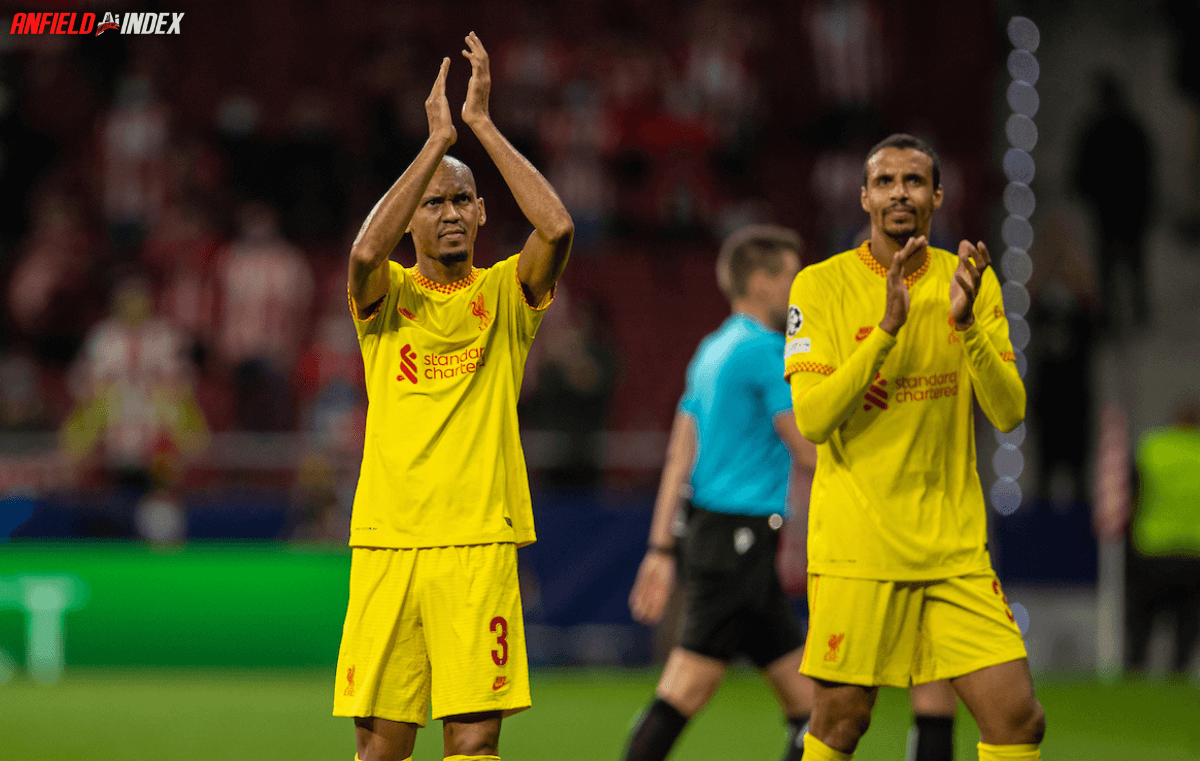 Why Fabinho Should Be the Short and Long Term Centre Back Option
 With the demoralising news of Ibrahima Konaté now being side-lined for a few weeks, it leaves Jürgen Klopp with a real decision to make. We already know that Virgil will be missing for most of February, therefore that leaves a centre half group comprising Joël Matip, Joe Gomez, Nat Phillips and Rhys Williams. With so much uncertainty within the rest of the team, it surely makes a recent midfield omission a prominent avenue by which to explore.
In the 2020/21 season, Liverpool lost both Virgil and Joe Gomez to season ending injuries. That debilitating loss of such important entities saw the reds scrambling to finish top four, with a whole raft of players used within the back line that year. In the weeks and months after the Dutchman rupture his ACL, it saw Liverpool not only maintain momentum, but spend a significant spell at the top of the Premier League table. It was the repositioning of Fabinho (into the back four) that enabled much of this sustained good form, with the wheels coming off only when a couple of injuries and some poor midfield form was incurred. That period without Fabinho in the midfield was a complete contrast to what we are currently witnessing, with his middle ground stature once so imperative to how we once thrived. Though I don't believe that the Brazilian is the biggest cause of this situation right now, there's no denying that he is badly out of form, and his previous elite levels of midfield play have all but vanished.
The last few weeks have seen this Liverpool team alter their on and off ball patterns of play, in order to make themselves less open to opposition attacks. The fullbacks are having to show more restraint, the attack is being starved of service, and the midfield is far more rigid in order to occupy space. Much of the lacklustre football (of late) has evidently been deemed a requirement in order to steady the faltering ship, with Fab being dropped to the Reds' bench as a result. His poor form has meant this situation is not hard to justify, though it does not mean that he can't still be an asset in this campaign.

That injury ravaged season of defensive injuries saw Fab standout as perhaps our most valuable player. His centre back showings maybe placed him as the standout defender in the league, and it was only his ongoing departure from the midfield that started the Reds' downward turn. What is clear, is that he has the credentials and ability to excel in the rear-guard, with the next few weeks maybe being the perfect time to re-task and recall him to the starting eleven.
With only two senior central defenders available right now, and the impressive Stefan Bajčetić the current holding midfield option, it would be ignorant not to look towards Fab as an extra defender. We are all too aware of the fragility and uncertainty of form in both Matip & Gomez, therefore I wouldn't hesitate to partner either with our number 2. Though he appears to have lost that dynamic nature required to operate in a Liverpool midfield, I would argue that he could still operate further back, and to a very good standard. Positionally, there is no issue with the former Monaco player, with a good reading of the game, as well as being assured in combat. His reaction time and an ability to press across an expansive area, would not be anywhere close to his midfield requirements, if he were needed to drop back. Long term, I would absolutely have this 6ft 2inch enforcer as our third or fourth choice defender, especially given how inconsistent Matip has become. In the short term, I think it is a must to deploy him there and a way of protecting those which are most susceptible to injury.
The darkness has well and truly engulfed Anfield, with the ongoing ownership wrangle restricting the clubs ability to recruit. This next half season is all about regrouping and reacting, which means utilising the squad to its absolute limits. Though I would love to see a prime Fabinho patrolling and screening in-front of our back four, it could just be that that man doesn't exist anymore. What I am confident in, is his ability to excel within that last line of defence, and with Virgil & Ibou now both injured, I hope to see him filling that void very soon.