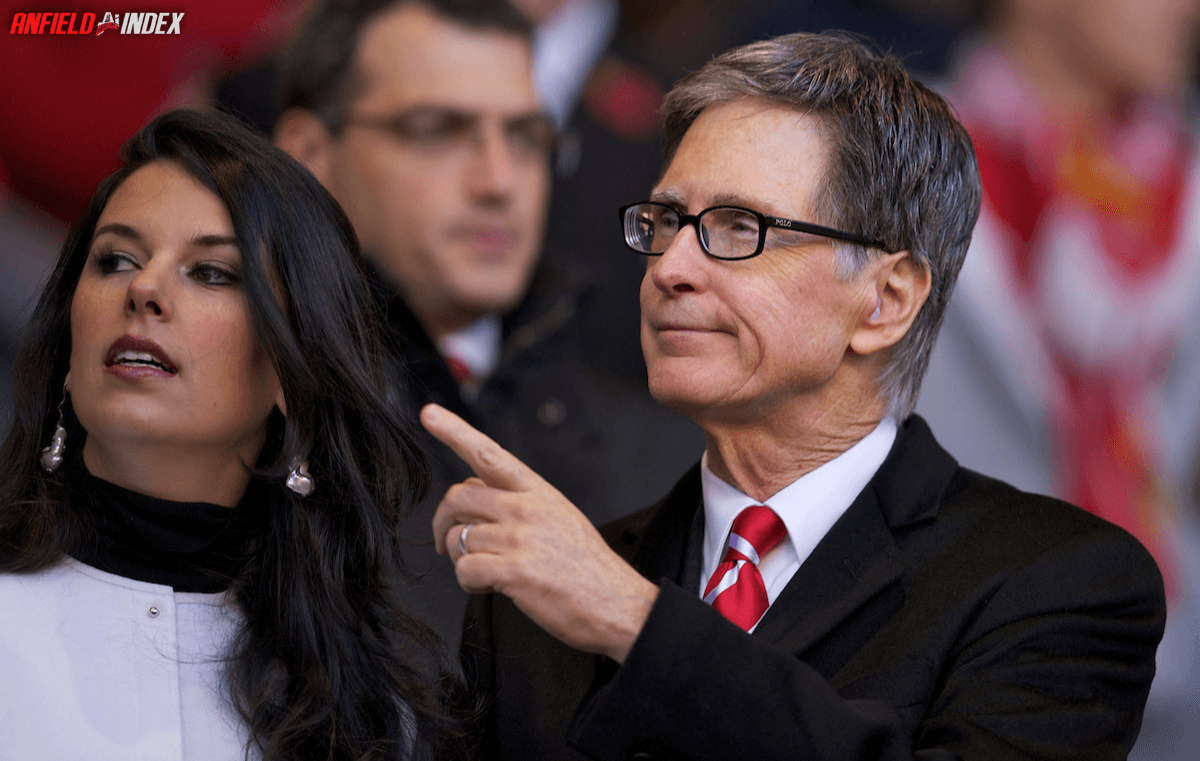 FSG Out - The Rise & Fall of our Controversial Owners 
For the entirety of January, I was convinced my football club would recruit that midfielder which was desperately needed. My misguided faith in our owners (doing the right thing) has left me saddened, as I wanted to remember them for all the good they have done for this historical club. It can never be denied how they were able to modernise, restructure, grow, and bring this franchise to the very peak of modern-day football. Their success was built upon smart business decisions, analytical wizardry, and if not for the failure of FFP, they probably would have overseen far more success. In essence, their decision to plant that for sale sign (late last summer) is a noble measure, given their realism in being unable to compete with deep pocketed adversaries. It was always inevitable, but at least now we know their true intentions.
Though that nobility sits on top of an incoming £3bn profit, it could still be that these final days have tarnished all their good work. The unwillingness to back an assumed final transfer window investment seems very shallow, especially given the obvious windfall any sale will produce. So much of this season was dependent on our need to act in a very open transfer market, yet FSG only achieved one thing in January, and that was to let everyone down. With clarity in their intentions, it shows that the balanced books far outweighed the footballing needs of the moment, thus pointing to a lack of footballing passion from John Henry. We all knew this was a superb opportunity and acquisition (when buying LFC), with Fenway Sports Group taking advantage of the failed Hicks & Gillet regime. What we hoped however, was that a bond had been built that would see John W. Henry offer his full support until the end of his stewardship. Unfortunately, that hopeful thought was also misguided.
In taking over the Reds in October of 2010, FSG made a good few mistakes as they grew into their positions of power. One of their primary decisions was to remove Roy Hodgson from his role as manager, with the legendary Kenny Dalglish appointed in his place. This move most certainly garnered support with the fanbase, with one of the clubs most famous sons being inserted to steady an unsteady ship. Though the romance of that appointment never reached the footballing levels required, it was a smart move, which was engineered to help the new owners bed in.

At the close of the 2011/12 season King Kenny was relieved of his duties, so that a new and younger first team coach could be brought in. With the Reds languishing outside of the elite Premier League places, it became a straight choice between two up and coming managers. Eventually, Brendan Rodgers saw off Roberto Martinez to become the new manager. There was huge hype and expectation about the former Swansea boss, with a desire to revolutionise the Liverpool patterns of play. Though we made a wonderful and entertaining charge for the title in the 2013/14 season, much of that was down to the brilliance of Luis Suárez. This wildly attacking spell soon came to a stuttering halt, with the departure of the World Class Uruguayan causing a drop off, that could not be overcome. Liverpool's Northern Irish head coach would eventually be moved on, shortly into the 2015/16 season, with FSG's desire to employ a young and upcoming manager being proved wrong.
It would be on October 8 2015, that the biggest footballing decision would be made by FSG. Carlo Ancelotti and Jürgen Klopp were the front runners to become the Reds' new manager, with both having a track record of winning league titles. Though there were clear differences in coaching styles and pedigree within the game, it became clear that the American owners wanted more assured and experienced leadership within the Anfield dressing room. In the former Borussia Dortmund man, there was an infectious and enticing presence that probably made his appointment an easy one. Klopp's appointment would then be followed in late 2016 by the true emergence of Michael Edwards, leading to a magnificent partnership of two world class operators.
After arriving from Spurs in 2011, Edwards gradually rose through the ranks to become the most lauded Director of Football in the Premier League. His initial role was as Chief Analyst, before his positions of Head of Methodology, and Technical Director. His final promotion to Sporting Director allowed him to oversee all recruitment, which is something that allowed his manager the playing squad he needed to implement ultimate success. It was in a post COVID world that the spending restrictions started to make his role untenable, with so much outlay being a requirement upon which could be brought in through sales. Eventually, Michael Edwards walked away from a job in which he excelled, thereby starting a gradual downfall in the clubs on field fortunes.
In regenerating Anfield, FSG have overseen huge improvement works that have allowed one of the world's most famous stadiums to flourish. With an ever-expanding array of facilities and growing attendance figure, the old and tired Anfield has gradually been given the overhaul it desperately needed. There was of course talk of a new arena on the Stanley Park site, though this pathway to the Anfield remodel surely stands as a monumental success. With some viable upgrades still available for remainder of the ground, it could see our beloved stadium become an even more intimidating venue. Perhaps this is something that will be undertaken with new owners, and not at the detriment of the transfer budget.
Alongside the huge stadium improvements, there was also significant changes to the clubs' training facilities. With the famous Melwood training ground being deemed as outdated, works began in 2017 at the nearby Kirkby site. That training area had been the home of both the academy and reserves teams, but was chosen as the new home which would bring all levels of Liverpool Football Club into one huge training centre. In November 2020, the Kirkby site would be rebranded as the AXA Training Centre, with a huge state of the art facility unveiled to the reigning Premier League champions. With the Champions League crown of 2019 already won under the FSG rule, this should have represented the moment where the Reds solidified their standing as the world's best team. They chose not to, as it would have meant continual spending and investment into the playing squad.
Financial Fair Play was an initiative that was introduced in 2011. I believe this idea of financial control and restraint was a key reason in FSG purchasing the club. UEFA were keen to see all clubs work within their means, with a fairer game being implemented across all respective counties and leagues. Ultimately, John W. Henry was able to oversee huge success as the principal owner, until the state owned and financially extravagant clubs found ways to overcome the restrictions imposed. It became abundantly clear that unless UEFA were able to enforce FFP, then the responsible-spending Liverpool would eventually fall behind. What we have seen this season is the result of lacklustre spending, which has forced the FSG sale.
With Chelsea being purchased last year for an eye-watering £4.25bn, it clearly forced Henry and his group to pull the plug on their pursuit for a level playing field. Once the notorious Super League venture was abandoned, it made continued competitiveness almost impossible in the Premier League. As Manchester City, Newcastle, Arsenal, Spurs, and especially Chelsea, continued to spend their way through the market, Liverpool became a continuous stagnation, that would ultimately fall short of all their competitors. What we have seen this season is the result of a tired squad being left out to dry. All teams that reach a brilliant level of play, will have to be altered and replaced at some point, with continual regeneration the only means of sustaining elite success. With neither consistent or reactionary periods of recruitment being undertaken (since the Reds won the Champions League in 2019), it has left the Liverpool squad in need of major surgery. With a clear inability or want to spend the clubs money on the playing squad, it has left the entire institution at a standstill. The underlying hope is that we are close to new ownership, and therefore a group that will be more committed to on-field success.
FSG have now stepped further away from their primary duties, and become complacent in their approach. Their drive to create a wonderful footballing model fit for the 21st century has been a success, yet it was all in order to maximise the worth of something they view as little more than an asset. This last half season has seen a selfish and coordinated approach to spend as little as possible, in order to show their healthy bank balance to prospective owners. Our worst fears have been confirmed by inactivity, with a club unable to maintain the levels of yesterday.
In this period of economic uncertainty, John W. Henry and his pals are about to walk away with an obscene amount of money, with this famous club becoming little more than an afterthought. Though we will rise to prominence once more, it's still a shame that so much time and talent has been allowed to waste away, so that FSG could protect the wealth of their group. In the coming days and weeks we should hopefully hear news, news that will see a new dawn, news that will eventually see the confirmation of FSG out.