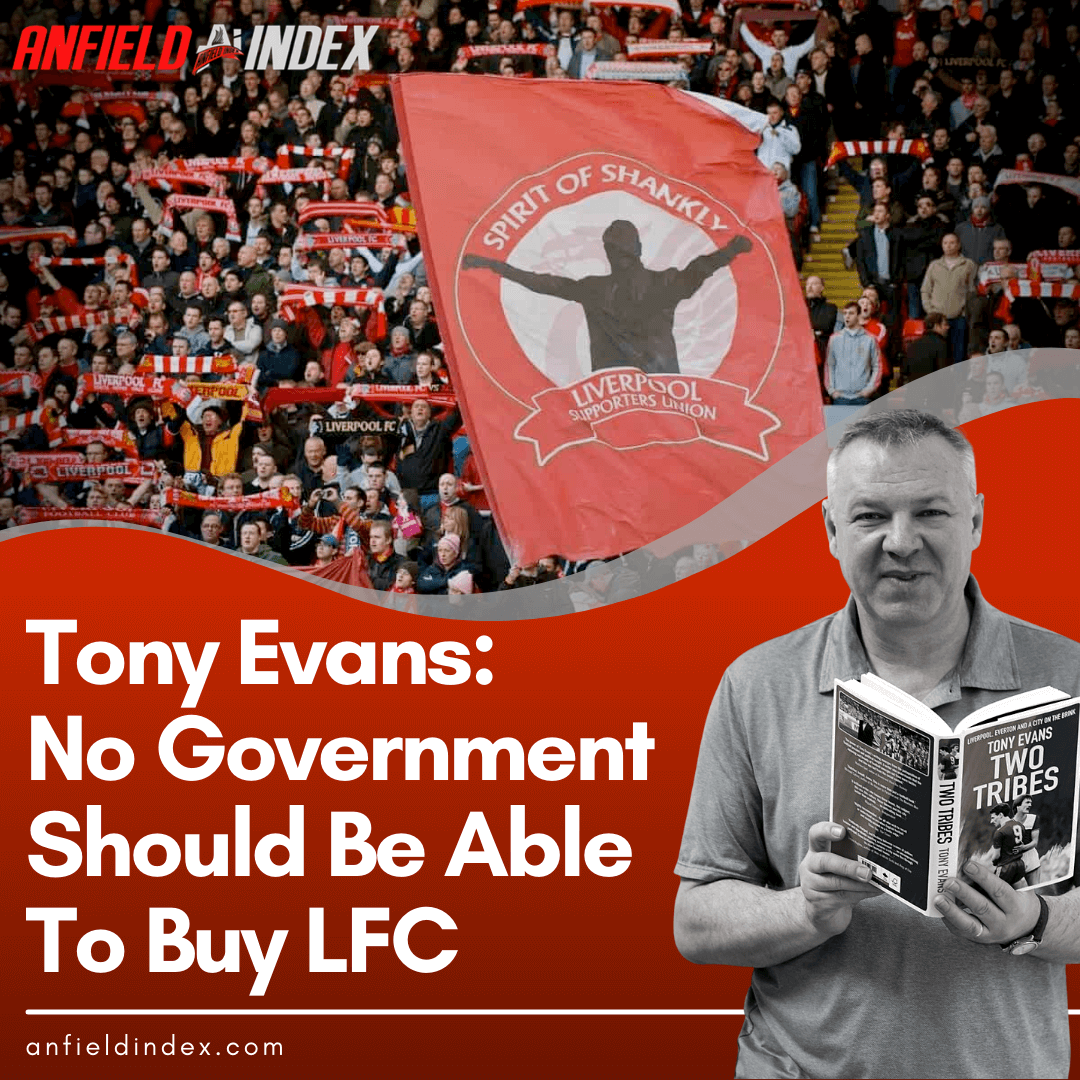 Tony Evans: No Government Should Be Able To Buy Liverpool FC - Not China, Qatar or the USA
It comes around about once every decade. The Scouse vs. Wool, Local vs. Out-Of-Towner debate is a Liverpool staple. This time it's got a new twist. The suggestion that the club could be bought by Qataris has added an extra wrinkle.
You're racist if you object to despots.
Tuesday marked the fifteenth anniversary of the formation of Spirit of Shankly as a response to the ownership crisis caused by George Gillett and Tom Hicks. They are still fighting the good fight. Last week SOS put out a joint statement with Manchester United Supporters' Trust calling for the  government to ensure that potential buyers respect the heritage of football clubs.

No Qataris were mentioned in the communique but to judge by the reaction of some on social media you'd think SOS had authorised an airstrike on defenceless Arab civilians – oh, hang on, that's Newcastle United's owners in Yemen.
So, let's clear some things up. Repressive governments are bad. Not wanting one to own your club does not make you racist. Believing a football team should not be an instrument of a state's soft power does not make you a bigot.
Another point needs to be made. Unfortunately, most of the people in the Gulf rich enough to buy a Premier League club have uncomfortably close relationships with repressive regimes. If a minor Qatari royal buys Liverpool there is not enough distance from the authoritarian state.
The shouts of "what about America" ring out whenever this subject comes up. Well, if the United States' government or one of its proxies wanted to buy Anfield, I'd be against that, too. As would SOS. It's nothing to do with Western bias or anti-Arab sentiment.
Some people would celebrate if Vladimir Putin bought Liverpool. As long as he splashed the cash. Don't misunderstand: when we said we'd like to conquer Europe, we only meant win a trophy, not start the tanks rolling.
*
Why do SOS trigger so many people from outside Merseyside (and some within)?
My view is simple: it is right and proper to support Liverpool, no matter where you come from. There is an addendum to that, though.
The same way I expect people to respect, say Qatari traditions and culture when they visit the country – even if they don't agree with them – Scousers would like those from elsewhere to respect our customs. For example, we don't want Sun readers brandishing that newspaper.
You can't divorce a football club from the community it grew in. That would be wrong.
About 15 years ago, I was on a train going back to London after a game. A man with his young boy recognised me – I was football editor of The Times at that point and doing a lot of TV and radio. We struck up a conversation.
At one point he said to me: "You know what I don't like about the club?"
"Go on."
"Where it is," he said. "I don't like the city and the people who live there. If the team moved somewhere else it'd be perfect."
I was aghast. He was shocked by my response, which was polite but angry. I'd have been more robust had he not had his son with him. This fella thought that because I lived in London I shared his view about Merseyside's populace. He got put right.
I can't comprehend the 'love the club, hate the city' crew. Thankfully you don't meet many. You're more likely to bump into them on social media.
Look, you can support Liverpool if you're a Tory, a monarchist or whatever. It's just we'll think you're a dickhead. And probably tell you so.
We'd rather you were left-leaning, inclusive and enjoyed your visits to a cosmopolitan and welcoming city.
When you shout "SOS don't represent me," then you're undoubtedly right. The supporters' union are probably relieved that they don't have to. All SOS are trying to do is ensure fans are not treated like dirt and those in charge at the club understand that Liverpool is not just another business. They are not a band of ultra hard left Scousers trying to keep outsiders away.
There's an easy way to make your voice heard. Join and help shape the way this supporters' pressure group develops.
Or shout into the void on twitter. Whatever makes you happy.
*
I'm not going to use the F-word. No. I've nothing to say about fucking F*****o.
*
The clamour for state investment brings us back to previous takeovers. The DIC/Dubai attempts to buy the club came before the word 'sportswashing' was familiar. No one knew the shape state ownership would take. It looks like the death of competition.
The Chinese bid was even more problematic. As someone who was deeply uncomfortable with the notion but concerned about the consequences of the actions of Gillett and Hicks, I wrote in favour of it; largely because I was shown plans for massive investment in the city, including a monorail from Lime Street to Anfield, running down Great Homer Street. It would, we were told, be part of a regeneration scheme for one of the most rundown areas in the country.
I look back on those pieces and shudder. And not because the occasional plank will say in reference to the infamous Times headline: "When are China going to buy Liverpool?"
It's the realisation that Liverpool dodged a bullet in both cases. Some would jump back into the firing line just to be able to spend like City and PSG.
*
Klopp praising Cody Gakpo's defensive qualities. Stop trolling us Jurgen. Save it for your burner account on twitter.
*
It's 12 years this week since Luis Suarez made his debut for Liverpool. Such a talent.
He's also my least favourite Liverpool player. What about El Hadji Diouf? Everyone hates Diouf and he deserves it. He was a scumbag.
But most fans love Suarez, the racist little shit. He brought LFC into disrepute more than any player I can recall. And the majority of our support queued up to back him.
I said earlier that we were a "left-leaning, inclusive" fanbase. Thinking about it, I went too far. Suarez clearly racially abused Patrice Evra – he rubbed the skin on his arm, for God's sake.
Tranrioplatian Spanish? The phrase is burnt into my memory. Term of endearment where he comes from? I'm sure it is, when you're mates.
If a friend in London calls me a Scouse c***, I'll laugh. If a stranger does it, or someone I've got an antagonistic relationship with, then it's different.
Quick reminder: Suarez and Evra weren't bessies.
If you supported Suarez and especially if you still claim he was hard done by, you're either a moron or you're willing to check your basic decency in when you go through the turnstile.
Me, I'd rather celebrate the day he pissed off than his debut. No player should be good enough to make you soft on racism.
*
Rage against the owners II. The battle against Gillett and Hicks took years off the lives of all involved in it. The fury against FSG is laughable.
Here's the big difference. G&H leveraged the club and were taking money out of it. That had to be opposed. It threatened the financial security of Liverpool.
FSG have not taken money out. They haven't put their hand in their pocket, either, but they've been prudent.
There's loads of reasons to criticise the Americans but having hissy fits because they're not spending like sportswashers is a bit pathetic. The owners intend to sell anyway, so the FSGOut hashtags look a bit stupid.
Get over yourselves. Save your energy for fights that need to be fought.
*
The final indignity visited upon Liverpool by Suarez was when he left. FSG had come to a deal with his agent that paid an extra percentage of any fee above £80 million. Real Madrid and Barcelona were encouraged by his representative to get into a bidding war. It had reached £105 million when Suarez bit Giorgio Chiellini at the World Cup.
That was too much for Real, who dropped out. With no competition, Barca got away with paying £75 million.
*
The apology to the Hillsborough families from the police this week was as insincere as it was late. Loads of talk in the report about 'charters' and 'guidance.' A duty of candour will be included in best practice guidelines.
Are we supposed to accept this? Unless there are laws that force organisations like the South Yorkshire Police to be transparent, they will find ways to be as opaque as ever. All the non-legally binding charters in the world won't change anything.
We don't want your sorry. You know where to stick it. We want a Hillsborough Law. Now.
How about campaigning for that rather than FSGOut? It'd be a better use of energy.