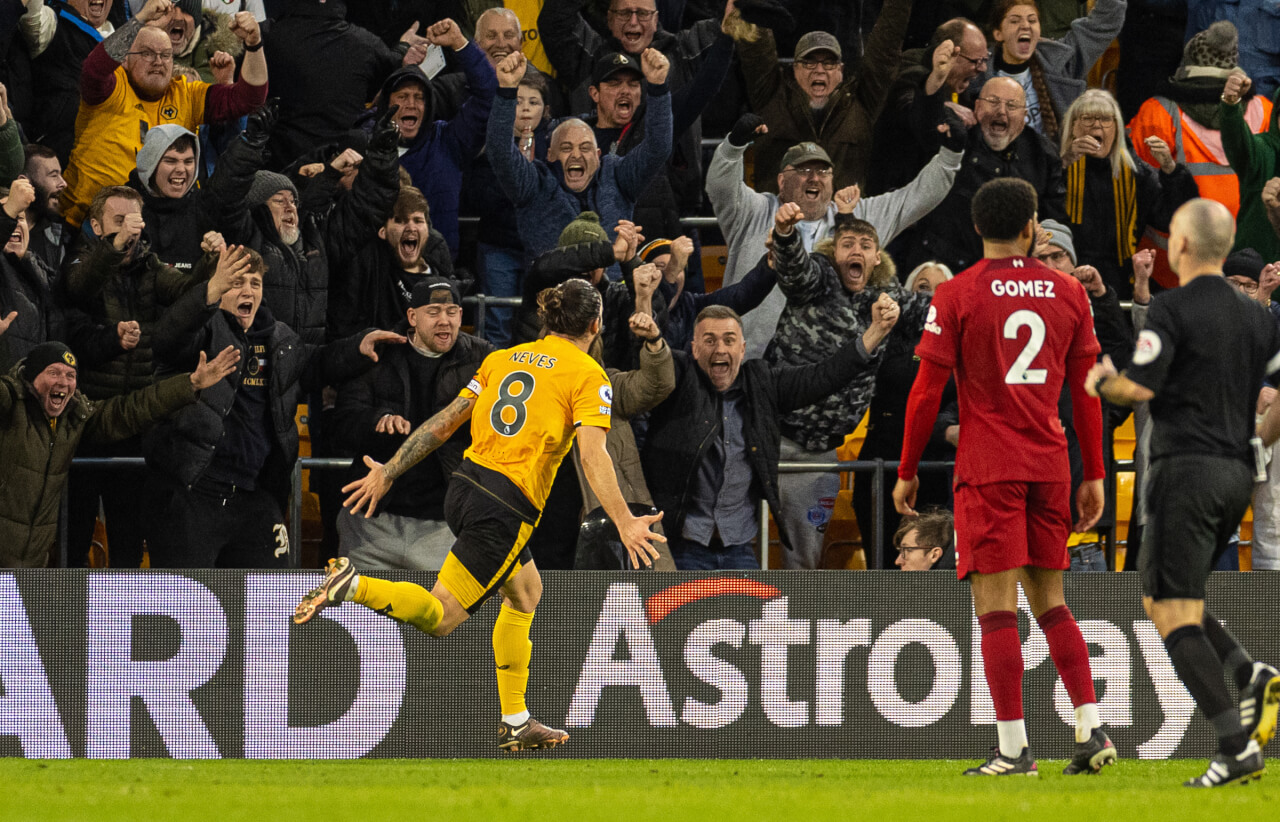 Wolves 3 - 0 Liverpool - PL Player Ratings
Wolves 3 – 0 Liverpool – Premier League Player Ratings
Alisson Becker – 6.0
It's always a relief when this man is in between the sticks, but even his form has dropped off, of late. So horribly let down by his defensive group, with little chance on the first half goals. He seemed unsure for the third goal, but this isn't any of his doing. Couple of good saves kept the reds hopes faintly alive at 2-0.

Trent Alexander Arnold – 4.0
Deserved to start, even after his annoyance at being hooked last week. He tried in the first half, but with little effect. Probably showed a little more in the second half, with lots of offensive possession, but ultimately no end product.
Andy Robertson – 4.0
Held onto the armband once more, but had a poor start defensively with the reds shape invisible to the eye. Poor crossing through the opening half, despite good energy. Caught for the third goal in a weak performance.
Subbed – 85 mins
Joe Gomez – 2.0
A fixture in the team with so many injuries, and despite being the better centre back, it was not saying a great deal due to that horror start. Was weak across most areas and indecisive without Virgil or Ibou there.
Joel Matip – 2.0
A return in the absence of Ibou, for the popular central defender. He started horribly, with some terrible defending gifting the home side an early goal. Was non-existent for the second and nearly gifted a third before half time. His good moments in possession through the second half cannot excuse his hapless defensive display.
Stefan Bajčetić – 5.0
Continues to maintain his role as the first choice holding midfielder. He did okay, as the reds attempted to gain control through the first half. Was more prominent in the second half with good recycling of the ball.
Subbed – 77 mins
Thiago Alcantara – 5.0
By far the most important middle man in this side. He tried to be productive on the ball, but with an early two goal deficit, the home side were happy to drop into a structured low block.
Looks tired.
Subbed – 85 mins
Naby Keita – 5.0
The controller and in form Guinean started once more. He tried to make things happen, due his defensive groups lack of defensive ability. Was caught a few times as the early signs of Liverpool's desperation grew. Could do little to impact the game that was dead early on.
Subbed – 65 mins
Mohamed Salah – 4.0
A more potent looking attack would have been aimed at garnering the best of this man. Largely non-existent through a troubled first half, and should have been more productive in the second, where there was a chance to capitalise on good possession periods.
A shadow of his former self.
Cody Gakpo – 4.0
A good game last time out saw him start once more, but he was largely ineffective as the Reds made little of their first half chances. A good through ball aside, he just looks nothing like what we need right now.
Subbed – 85 mins
Darwin Nunez – 5.0
The Raging Bull was recalled to the satisfaction of all Liverpool fans. His energy and directness were the best part of the first half, with a fine strike parried away. Kept bustling his way through work, had some half chances, but couldn't help the reds make a breakthrough.
Subs;
Jordan Henderson – 4.0 (on 65)
Came on, did not get up too much.
Harvey Elliott – 4.0 (on 77)
Came on, did little.
Alex Oxlade Chamberlain – N/A (on 85)
James Milner – N/A (on 85)
Kostas Tsimikas – N/A (on 85)
The Manager;
Jurgen Klopp – 2.0
Apart from the requirement to replace the injured Ibou (with Matip), it was just the choice between Harvey & Darwin that was up in the air. With some form of consistency building in the midfield and defensive lines, it is clear that the captain has now joined his vice skipper as that back up option from the bench.
Darwin starting was a must, with his unpredictable nature making the Reds a more difficult adversary.
The opening stages were as bad as one could imagine, with incoming Joel proving how much we rely on Virgil & Konate. Klopp's anger from the bench was clear, as he looked on in bemusement. To be fair to his side, they were not terrible in their attempts to get back into the game, though much of this was surely due to Wolves being able to sit back on their 2-0 lead.
Despite looking more enthusiastic in the second half, it meant little, and the loss was a deserved one. Needs to makes system changes, and immediately.
Pre-match Prediction;
Wolves 2 – 3 Liverpool
Steven Smith