It wasn't a surprise to anyone that saw it and truth be told, it's probably what most Reds had suspected would happen anyway. When a contract renewal didn't materialise for Naby Keita this summer, it appeared inevitable that a summer exit would be in the offing for the Guinean. Florian Plettenberg's tweet this week only add weight to what the majority of fans believed as the 27 year-old's time at Anfield appears to draw to a close. More importantly for Liverpool with a huge summer already on the horizon, it means at least three midfielders need to walk through the door at the AxA.

No player has polarised the fanbase in recent times like the former Leipzig man and that appears unlikely to change in his apparent final months at the club. Having started the last four consecutive games, there was a slight inkling amongst those in the pro-Keita camp over whether an extension could still be possible, be it on reduced terms or even to simply avoid another free departure as asset protection. One look at Twitter tells you those on the other side of the argument are firmly viewing this as the proverbial don't let the door hit your arse on the way out.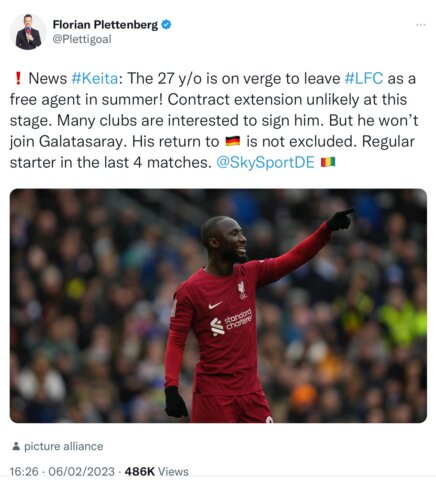 BILD suggested this week that Leipzig approached Liverpool over a late January move which was firmly vetoed by Jurgen Klopp due to his current need for the player. Despite an injury plagued time and contrasting views amongst Reds, it's difficult to make an argument that right now that the Conakry native isn't a key figure based on recent selections. With the recent struggles of Fabinho and Henderson combined with injuries to other personnel such as Melo and Jones, any able bodied midfielder is needed right now.

Moving forward, a midfield rebuild was always going to be needed in the summer but now that appears even more complicated. Generically, the peak years of a midfielder are often viewed as 25-29 and Keita was the only existing player fitting that profile. Thiago at 32 will only have a year left in the summer, whilst Milner and Henderson are also well past those markers. Jones's injury struggles have been well documented, Bajcetic's development needs to be handled carefully, whilst Oxlade-Chamberlain will exit with barely a whimper.
All Jude Bellingham talk aside, Liverpool's weakest area of the pitch looks like being severely depleted and only a minimum of three midfielders would appear to make sense before the next campaign. Even if the Dortmund and England superstar was to arrive to a huge and appropriate fanfare, more work would need to be done. However you view Keita's inevitable summer exit, it only adds another item to a huge to-do list this summer. The size of the rebuild was big enough to start with.