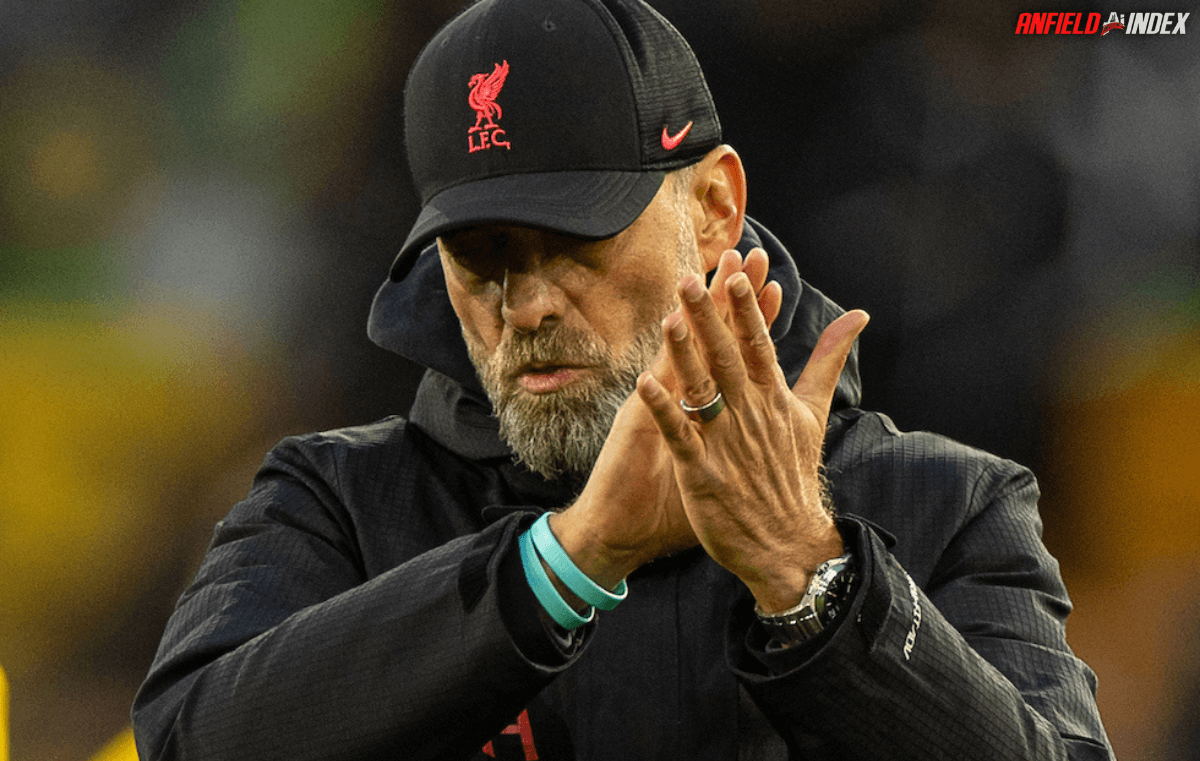 Wolves 3 - 0 Liverpool - The Post-Mortem
And just like that, the Reds hit rock bottom, probably.
This sort of result merely adds to the ongoing list of horrors that have engulfed Liverpool FC, so far this season. With Champions League qualification now an unlikely quest for this season, the remainder of our campaign surely becomes about damage limitation. With another dreadful start to a game, the away side found themselves 1-0 before some supporters would have even found their seat. Before the Bovril's temperature had started to lessen, Wolves had deservedly doubled their lead, with the contest already over. It was neither surprising nor upsetting that this start unfolded, with our typical slow starts continuing to be exploited. Wolves came into this game hungry, whereas the visitors arrived like a team of scared rabbits.
GK – Alisson Becker
RB – Trent Alexander
LB – Kostas Tsimikas (c)
RCB – Joël Matip
LCB – Joe Gomez
RCM – Naby Keïta
CDM – Stefan Bajčetić
LCM – Thiago Alcantara
LF – Cody Gakpo
CF – Darwin Núñez
RF – Mohamed Salah
Substitutions;
65' – Jordan Henderson – Naby Keïta
77' Harvey Elliott – Stefan Bajčetić
85' Alex Oxlade Chamberlain – Cody Gakpo
85' James Milner- Thiago Alcantara
85' Kostas Tsimikas – Andy Robertson
With the line ups and substitutions as shown above, the match started and ended with the home side asserting their desire to gain all three points.
Without either of our elite level central defenders starting, Gomez & Matip produced a calamity performance that even Martin Škrtel and Dejan Lovren would have winced at. The opening goal saw our Cameroonian indecisive with what should have been a contested ball into the box, before dangling a leg that sent the ball beyond a bemused Alisson Becker. The second goal was a melee of kids in red shirts, running round the box, attempting to do something or other. Gomez was caught in no man's lands and no one seemed intent on clearing the ball from danger. Craig Dawson was able to drill a ball into the goal, thereby ending the game as a contest.
However we perceive the ordinary performances of Virgil this season, there's now no doubt that his presence and leadership were always key components that allowed his partners to prosper. Our central defenders (at Wolves) looked panicked, unsure, unable, and in dire need of instruction, as Julen Lopetegui's side merely ran through some feeble attempts at defending. There was an urgency and desire about how the home side attacked this Reds eleven, with the smell of blood and fear now all to obvious to our opponents.
Despite a couple of good half chances by Darwin, much of the game ambled along without the West Midlands club looking too worried. Despite Jürgen Klopp sending his team out for the second half with more intent, it was probably more a case of Wolves being able to sit back on their established lead. Control and possession seemed neater (from LFC), yet you sensed that it would only take one mild counter attack for our house of cards to come tumbling down once more. That moment came in the 71st minute, which turned a bad result into a beating.
With a show of power and purpose, Wolves were able to run through two banks of the Liverpool 'structure', before neatly dispatching past a shell-shocked Brazilian keeper. No challenge of note was delivered, no yellow card inducing foul was selected, and just like that, it was 3-0 at the Molineux Stadium.
Other than maybe Stefan Bajčetić, no outfield player could hold his head high today. The shadow of Mohamed Salah still ambles around the pitch, yet the previous level of play remains non-existent. Thiago now looks tired and largely ineffective, whilst Naby tries, though offers only so much. The fullbacks do not know whether to attack or defend, with that confusion causing neither to become apparent. What we are seeing here is a team that swam effortlessly for so long, now being unable to work against the tide. Teams are preying on the carcasses of players that have become complacent and entitled, with hard work overriding any hidden qualities.
The substitutions made no difference, with our ability to change any game nothing more than a distant memory.
Overall, the game was consistent with our current predicament. The manager looks shellshocked and unsure of which direction to head. A change to some iteration of the 4-4-2 would surely be a sensible step, with the return of some key players now imperative. We have Everton up next, with a positive result far from likely. Sean Dyche has already instilled a resilience within his group that will see them looking for all three points at Anfield. Liverpool need to hold their own post-mortem, otherwise they'll very quickly become the laughing stock of Merseyside.
Let us see what this week weeks brings us…