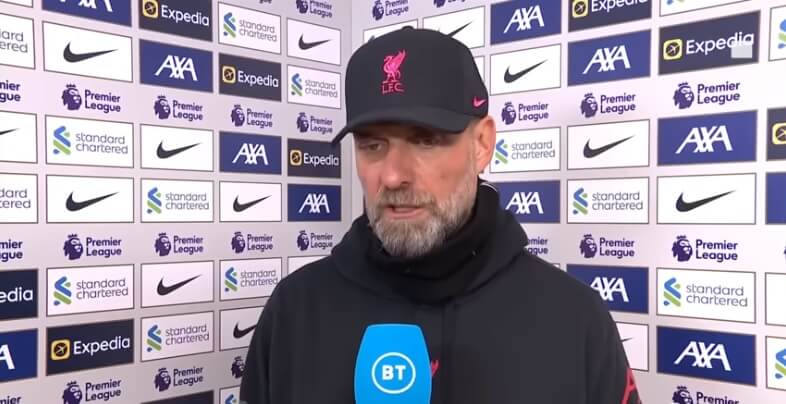 Liverpool Starting Lineup if Jürgen Klopp Has Inked His Top Targets
The activity of the club management in the January transfer window disappointed Liverpool fans. They aren't used to such a drought of signings ever since Jürgen Klopp became manager. The only senior player that was recruited in January was Cody Gakpo, which seems to be too little given the way "Reds" underperformed in the first half of the season.
We already wrote about the reasons for a January "silence" of the Liverpool management in the transfer window that just closed. Liverpool is no longer a scare to Premier League teams which the odds on sportsbooks of Norwegian casino sites show week by week…
Let's try to recall what would Liverpool's starting XI look like if Klopp had signed all of his first choices during his time on the bench. On each position in the team.
Did Klopp Bring All of His Top Targets?
With the assistance of sports director Michael Edwards and current sporting director Julian Ward, the club has made some spectacular acquisitions in recent years under Jürgen Klopp's leadership.
During the German expert's tenure, the following players were acquired: Sadio Mané, Virgil van Dijk, Georginio Wijnaldum, Andy Robertson, Mohamed Salah, Fabinho, Alisson, Thiago, Diogo Jota, Luis Díaz, and Ibrahima Konaté. These acquisitions helped Liverpool become one of the top football clubs in the world. However, not everything in the transfer window goes as expected.
You'd be seriously mistaken if you assumed that each of those players had been Klopp's top priority transfer targets and that they never dropped out on any deals throughout the years. So, we've looked at different instances where Klopp didn't get the player he wanted and tried to put together what Liverpool's starting XI may have appeared as if the German coach had gotten his way.
There are obviously a lot of ifs, buts, and maybes in this situation, and even assuming Klopp had acquired his transfer target, that doesn't guarantee they would be included in Liverpool's starting XI. However, it's all in good fun, and it's amusing to consider what would've occurred if all had gone according to plan.
So, let's have a look at what Liverpool's starting lineup may have looked like had Klopp signed his top targets during all the transfer windows thus far:
Goalkeeper: Alisson
The first goalie Klopp brought to Liverpool wasn't Alisson. Early in his rule, he signed a player named Loris Karius to rival Simon Mignolet.
Karius' showing in the 2018 Champions League final, of course, brought an end to his time at Anfield. However, Liverpool already had set their eyes on acquiring Alisson for a goalkeeper record price, regardless of what transpired that evening.
After Liverpool paid a then-record-breaking £67 million on the Brazilian, Klopp claimed that the Champions League final wasn't a factor in them signing Alisson: "Even if he had won it and Alisson would've been on the market we would've still signed him."
Right Back: Trent Alexander-Arnold
Alexander-Arnold has received a lot of support from Klopp, who has stuck with him at right-back for the whole of his managerial tenure.
Since Klopp took over, Liverpool have never been mentioned in connection with a first-choice right-back, which says a lot.
Left Back: Ben Chilwell
For under £8 million from Hull, Andy Robertson has turned out to be one of Klopp's better acquisitions. The Liverpool Echo claims that, before signing Robertson, Klopp coveted Chilwell.
Chilwell's stint at Huddersfield as a teenager gave Klopp the proof he required that the player had potential before he joined the first team at Leicester. Chilwell had flourished under David Wagner, a personal friend of Klopp's, and sought to sign him in part on Wagner's advice. After a £5 million offer plus £2 million in add-ons was turned down, Liverpool was ultimately unable to get the player. For the 2016–17 season, James Milner would play left back instead of Moreno.
The following summer, Robertson moved in and prevented Klopp from regretting missing out on Chilwell.
Centre Back: Virgil van Dijk
Klopp waited additional six months to make another attempt to acquire Van Dijk because he was so determined to do so after Liverpool's failed attempt to accomplish this in the summertime of 2017. However, the wait, as well as the £75 million transfer cost, were both worthwhile.
We can all understand why Klopp desired him so badly now that he's finally got his guy.
Centre Back: Ibrahima Konaté
Liverpool's center-back situation was very problematic during the 2020–21 season. Joël Matip, Van Dijk, and Joe Gomez were out for protracted periods because their clubs were unable to replace them with top-notch players during the January transfer window. At the time, Klopp was unable to conceal his disappointment. The issue at hand appeared to be money at that very moment.
Liverpool paid out £36 million at the conclusion of the season to sign Konaté from RB Leipzig, a player they had been connected to for months. We can only presume Frenchman was Klopp's top pick because it didn't appear like any other players were on Liverpool's radar.
Defensive Midfielder: Aurélien Tchouaméni
Liverpool appeared to be in a rush to recruit Tchouaméni in the previous summer. Prior to the Monaco player choosing Real Madrid for a sum of £68 million, they were frequently mentioned in connection with him.
In order to persuade the Frenchman to transfer to Anfield, Klopp reportedly made a special journey to Monaco and spoke with the midfielder on the phone. The 23-year-old chose "Los Blancos" in the end.
Central Midfielder: Thiago
Last year, Thiago excelled for Liverpool. The Spaniard faced a challenging first season at Anfield amid the difficult 2020–21 campaign, and many questioned his £25 million arrival.
His latest campaign, though, demonstrated his class. In such a manner that Klopp remarked to Thiago, he would've bought him four years earlier if he had realized what a player he was.
Due to Klopp's advice, this acquisition would've been pressed through because Liverpool rarely signs players in their 30s.
Attacking Midfielder: Nabil Fekir
In the final moments, an agreement to recruit Fekir in the summer of 2018 broke through. The French player was so committed that he even gave a club interview while wearing a Liverpool jersey. Despite Klopp's claims that he loved the midfielder, the deal fell through because of an issue with Fekir's representative.
Fekri confirmed that the agreement was on the table as he aced every interview, and after he chatted with Jürgen Klopp he was even more eager to join Liverpool: "Of course, I was disappointed not to go to Liverpool, very disappointed because Liverpool is a great club."
Since then, Fekir has joined Real Betis and displayed his talent in La Liga.
Right Wing: Julian Brandt
Yes, that's true. They never would've signed Salah if Klopp had gotten his way and bought Brandt instead.
According to The Times, before turning to Salah, the club reportedly considered Julian Draxler and Christian Pulisic in addition to Brandt, who was Klopp's top choice as a winger.
Brandt gave an explanation of his decision to remain at Leverkusen rather than join Liverpool to Kicker, saying that both his stomach and head told him that the right moment to change team was still far away.
Brandt, who's currently playing for Dortmund, can't be compared to Salah, who Liverpool signed in his place. An unsuccessful transfer can occasionally turn out to be advantageous…
Left Wing: Ousmane Dembélé
In 2016, the Frenchman had a clear choice between Borussia Dortmund and Liverpool, and he chose the German team. Later, Dembélé recalled seeing Klopp in Paris, but that he had already made up his decision to sign with BVB.
He was only in Germany for one season before Barcelona bought him for £135.5 million. Up to the present season, his tenure at Camp Nou hasn't exactly gone according to plan, despite the fact that there was optimism that Xavi would help him realize his enormous potential. And in the end, it happened.
It would've been exciting to see what kind of player he would've developed into under Klopp at Liverpool.
Striker: Kylian Mbappé
Mbappé will be at the top of every manager's desire list in football, but for Klopp, it was genuine. Mbappé had a meeting with Liverpool and Klopp when he was a member of Monaco.
L'Équipe reported that Klopp spent hours attempting to persuade Mbappé to join Liverpool: "I watched clips of him when he was just 17 and he smashed defensive lines like he's doing today. He has been well-known since he was 16, 17 when he shone in Monaco's youth squads. At that age, he had an astounding amount of consistency."
Mbappé acknowledged talking to Liverpool last summer when his career was the subject of transfer rumors. Because Liverpool was his mother's favorite team, the Frenchman claimed he spoke with them. Mbappe acknowledged having met Klopp five years before. Klopp acknowledged communication had taken place.
Finally, Liverpool was unable to offer Mbappé the amount of salary Paris Saint-Germain had promised to give him.
Let's Break This XI Down
Okay, let's analyze this starting lineup and contrast it to Liverpool's current starting lineup.
The only change in the back five, which otherwise almost exactly matches, would be Chilwell's replacing Robertson. Nevertheless, missing to sign the Scot one year earlier, who became the Chelsea left-back later, certainly makes Klopp and Liverpool happy they lost the battle on Chilwell.
Utmostly interesting is the middle. Tchouaméni would've been a fantastic acquisition for Liverpool last summer, but a deal was too expensive. Though we believe the existing midfield is a little bit stronger, Fekir and Thiago would supply the inventiveness.
Lastly, the attack is undoubtedly a mishmash. The decision by Liverpool to sign Brandt rather than Salah would've been a grave mistake. Klopp, however, had the ability to elevate Dembélé to a superhuman level, and Mbappé forward would've been spectacular.
Despite Mbappé's introduction that didn't take place, we believe Klopp's current XI is somewhat superior. Don't you?