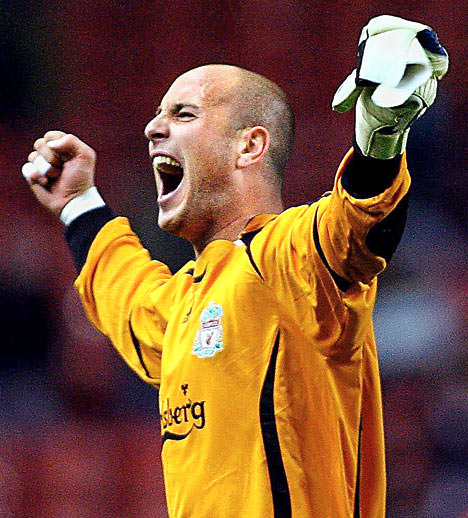 Whats in store for the rest of Liverpool FC's season
Well Liverpool fans have not to worry albeit falling to defeat to the scum in a match tainted with controversy as things look bright for the rest of the season. Liverpool have booked themselves into Wembley for the first time in a long time and will face Cardiff in the Carling Cup final.It's a match that wont be easy but a match that we should get up and lift a trophy for the first time since the famous 2006 FA cup. Talking about FA cups, Liverpool are into the fifth round and will face Brighton & Hove Albion on the February 19th, with only Chelsea, Arsenal and Tottenham left in the draw a few good performances, a touch of luck and a good draw may see us revisiting wembley again for the 2nd time this season.
The 3rd dimension to our season is the Premier League and keeping heroics, plain bad luck, hitting the woodwork on numerous occasions and at times lacking quality in the final 3rd have season us drop many points this season to average sides that we should be beating comfortably. Although all that we still see ourselves only 4 points off a spot in the champions league, not bad and considering we play the 3 teams directly above us(who are all fighting for the same thing) I believe we can claim the 4th spot because we have the quality to beat those teams and King Kenny needs to believe and trust our players going forward and not have that defensive mindset that we often have.
For Liverpool the key to success for the rest of the season is how we fare against 3 teams; Arsenal, Chelsea and Tottenham. We will no doubt be facing at least 1 or maybe 2 in the latter stages of the fa cup and we also play Arsenal and Chelsea at home in the premier league. For us to start having the confidence to freely attack and play with fluidity and beat the lower teams we need to beat the bigger teams first. A win on the weekend would have been perfect and made the players confidence sky-high going into the FA cup 5th round and Carling cup final, although it was not to be we still have a great chance of victory in both matches.

What we have there is probably our best line up excluding the injured Lucas where Jay spearing slots in nicely
Our line-up clearly demonstrates that we have quality going forward and various avenues to score goals, whether its Downing's cross into Carroll or Suarez and Bellamy linking up in the final 3rd or Gerrard playing that killer ball into our front men. We also have great depth with Charlie Adam on the bench who has showed signs of his great vision and set piece strengths although has been consistent enough and Jordan Henderson who will take time and develop into a  future England player, the same can be said about Martin Kelly. We also have the experience of Jamie Carragher on the bench and Maxi who loves a goal.
What this shows is that although we probably do lack another star striker we still have the quality and depth in our squad and we are capable of winning trophies when Kenny gets the team and tactics right.