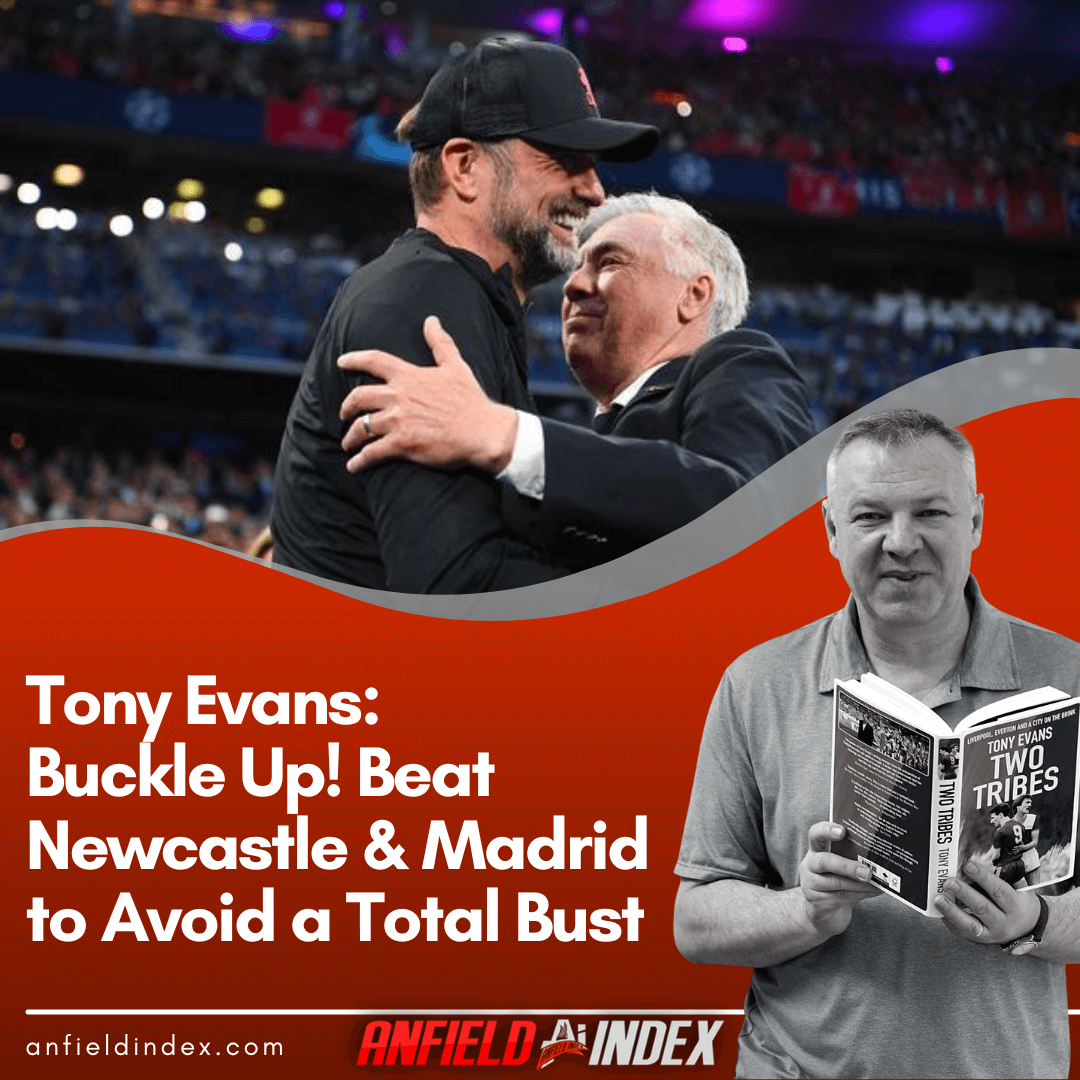 Tony Evans Column: Buckle Up! Beat Newcastle & Madrid to Avoid a Total Bust
The performance against Everton felt like a throwback to a golden age. Last season. Things change that quickly.
Granted, the Blues were really poor. We expected the Dogs of War. Instead we got yard-dogs with distemper.
Still, there are grounds for optimism after the derby. The pace of the front three for the opening strike was electrifying. Cody Gakpo needed his goal and you could see the confidence flowing through him. The return of Diogo Jota and Roberto Firmino as substitutes means Jurgen Klopp has plenty of options in attack.

He didn't get on but the sight of Virgil van Dijk on the bench was heartening. The back four lack leadership when he's not there. None of the Dutchman's centre-half partners have the personality to anchor the defence. A team needs strong characters.
Van Dijk changed the direction of the side when he joined the club five years ago. He can do the same again this season.
And the midfield? The most-moaned about midfield in the history of Liverpool looked good. Jordan Henderson was energetic and the Salah-Henderson-Alexander-Arnold triangle looked something like its old self. Fabinho did well enough for his name to be spelled out again. The kid Bajcetic was a pleasure to watch. It's too early to put loads of pressure on an 18-year-old but the injection of vigour he provides for the team makes a huge difference.
Yeah, it was only Everton and Newcastle United will be a much tougher test but there's enough talent at Anfield to ensure that the campaign isn't a total bust. For the past five years Jurgen Klopp's side has overachieved. This season it's been the opposite. They have underachieved badly.
They need to kick on from here. This time next week we'll have a good idea whether the next three months are going to be fun or grim. Supporting Liverpool is always a roller-coaster ride. Buckle up.
*
Sale update: EVERYONE'S BUYING EVERYONE! Tottenham, United… *FSG waiting by the phone. Silence.*
*
The results of the report into the debacle in Paris last May were predictable – at least to us. Uefa are incompetent. The French police are always spoiling for a fight when faced with football fans but happy to stand by and enjoy the sight of local youths robbing and brutalising foreign supporters.
The first time I came across the CRS was in 1981 before the European Cup final. They couldn't wait to get the tear gas out. Their grandsons are the same.
Of course, there's always knobs on social media who think the entire world conspires to cover up for Liverpool's bad behaviour. You know, the 'always the victims' crew. The report's panel was led by a Portuguese politician and included a senior Dutch policeman – the sort of people who are definitely closet Kopites.
The question that keeps coming up is 'why is it always them?' There's a simple answer. Liverpool get to big games and have a huge fanbase. But there's other aspects to this, too.
It's not always 'them.' Mistreatment of fans in Europe happens too often. Generally, because it occurs at smaller games that have less media scrutiny, it goes largely unnoticed. Just ask travelling supporters of Manchester United, Celtic and Spurs, to name a few off the top of my head.
What Liverpool fans have become skilled at, too, is recognising a balls-up and preempting the inevitable cover-up. You know why? We had three decades of the authorities lying about Hillsborough. When you've been on the receiving end of Norman Bettison's 'black propaganda unit,' then you're prepared for anything the French Interior Ministry and Aleksander Ceferin can throw at you.
It's frustrating that the haters don't realise that this isn't about us. It's about anyone who goes to a football match expecting a fun day out and ends up in a life-threatening scenario.
Paris was a near-miss, as the report emphasises. A fanbase without the experience of Hillsborough might have suffered a much worse fate. And by that I don't just mean those who were there in 1989. Even fans who were born decades after the unlawful killings are thoroughly familiar with those events in Sheffield. It's written into our support's DNA.
The mad conspiracy theorists might say 'the Scousers got away with it again.' Well, they should thank us. We won't let this go because we don't want it to happen to you. We wouldn't wish our experiences on our worst enemy.
*
Boo the Champions League anthem like it's God Save The King on Tuesday. Let Uefa know what we think of them. Man City boo because of money. We'll boo because Uefa's incompetence might cost lives.
*
Talking of City, they had a banner at the Etihad that said, 'Pannick on the streets of London,' after the Premier League charged them with 115 counts of breaching competition rules. It refers to Lord David Pannick, the high-powered lawyer who represented City in their spat with Uefa that ended up in the Court of Arbitration for Sport. It references The Smiths classic, 'Panic.'
You can see why they did it. It's clever, it's funny. But there's one problem. It's shit.
Sometimes you have a smart, witty idea but, after weighing it up, back away. You can be too clever for your own good. It's a symbol of the modern City that will haunt them for years. Still made me laugh, though.
*
Evertonians. I don't know what part of their fanbase is worse. The ones that give it loads of Heysel and Hillsborough shouts or the ones who deny it ever happens. The majority in the middle are alright, if a little bitter.
Look, our lot have made great strides in calling out Munich and Shipman stuff. And, to be clear, gloating about Steaua Bucharest in 1986 is weaponising the deaths of 39 people for a giggle at a football match. You're a prick if you do it.
I'm hoping that there were people in the away end shouting down the imaginary wall pushers on Monday night. All the Blues I know are appalled by it. You do see it year after year, though.
I fear the only way we won't have to endure it next season is if they go down.
*
Will Spearman has been promoted to Director of Research to replace Ian Graham. Spearman caused a sensation in the analytics world by producing a "physics-based pass probability model." Whoa! I'll bet JWH was all over that.
Up the equation-solving nerds! There's an 76.123764 per cent chance that the Reds are on the march again.