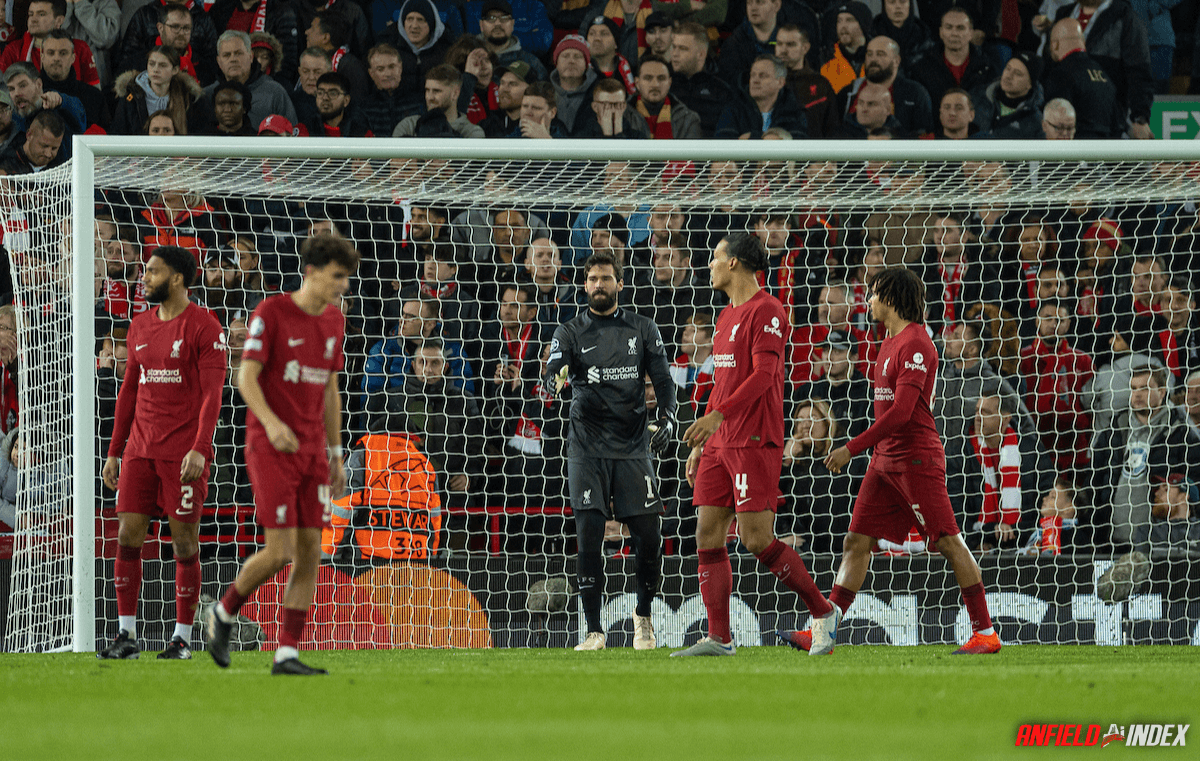 Liverpool 2 - 5 Real Madrid - PL Player Ratings
Liverpool 2 – 5 Real Madrid – PL Player Ratings
Alisson Becker – 4.0
This game had all the makings of becoming the battle of two world class keepers. Despite a couple of good first half moments, Ali was unable to reach his usual levels on greatness within a very strange game. Some uncharacteristic mistakes can be forgiven, yet the goals conceded were tough. Am off night, one of the few.

Trent Alexander Arnold – 4.0
These are the type of occasions that the local lad dreams of, yet he was unable to reach the levels we all know live within. The pace of Vini Jr left him unsure, whilst his desire to attack left his positional sense unclear. A few good crosses were the highlight.
Andy Robertson – 4.0
A tasty encounter with Valverde was expected prior to kick off, yet it was a combination of others that caused him to have a tough period after such a bright start. The desire was there, but the reds structure left the fullbacks completely out to dry.
Joe Gomez – 2.0
Chosen to partner Virgil, with his pace an absolute must against Vini Jr. all the good work and clearances early on meant little, as the quality of Madrid left him unsure and erratic. The second half was like the Napoli first half.
Subbed – 72 mins
Virgil van Dijk – 4.0
This man needed a huge game against the current Ballon d'Or holder, and despite good moments through the first game, it all started to unravel around him. A tough game.
Stefan Bajčetić – 3.0
A tough match up was always expected against the natives of his home country. He seemed overrun despite starting well. Nearly scored a wonder strike in the second half, but looked like a teenager lost at times.
Subbed – 83 mins
Fabinho – 4.0
He needed to be aggressive and on the front foot, yet the play around him was all about the white shirts ripping apart a struggling middle ground. Just not the same player.
Jordan Henderson – 4.0
Kept his place, with a clear intent to add as much physicality as possible. He had a good first half overall, yet struggled to have any impact as the reigning champions took the middle ground apart.
Subbed – 72 mins
Mohamed Salah – 6.0
The man Real Madrid would love to sign, his battle with Alaba was always one to watch. He started so well, with / superb assist for Darwin, before his urgency created the second for himself. Kept trying.
Cody Gakpo – 4.0
A huge sign of trust is being shown in this young's man ability, yet apart from the odd good moment and a few nice first half touches, it really was a forgettable game overall.
Subbed – 63 mins
Darwin Nunez – 5.0
A huge relief to see our Raging Bull fit to start. He shot out of the gates like a man on a mission and his sublime opening goal was a treat. From there he was limited and could no longer impact the game once Real started scoring.
Subbed – 63 mins
Subs;
Diogo Jota – 4.0 (on 63)
Looked rusty.
Roberto Firmino – 4.0 (on 63)
Looked unsure.
James Milner – 4.0 (on 72)
Came on, did little.
Joel Matip – 4.0 (on 72)
Released Joe from his second half torture.
Harvey Elliott- N/A (on 83)
The Manager;
Jürgen Klopp – 4.0
He went with the team he expected, and the opening period saw his team into seventh heaven.
Then his team remembered their form this year, and Real Madrid were able to recall how ruthless a powerhouse they can be.
This is the sort of game that needs to bring about massive wholesale changes, as it was a horror second half by the reds, all under the Anfield lights.
The structure has gone, huge alterations are needed.
Pre-match Prediction;
Liverpool 3 – 1 Real Madrid
(That went well)