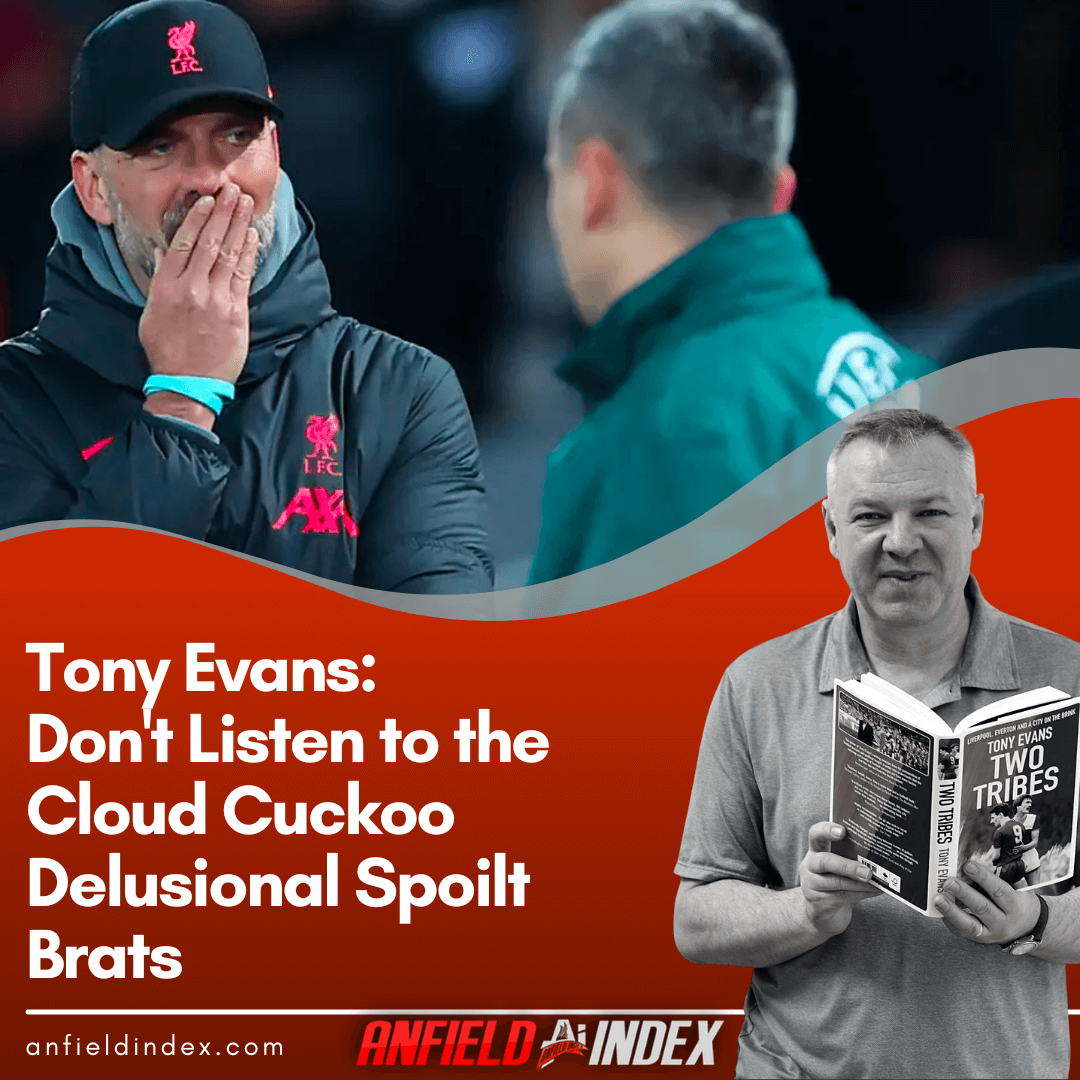 Tony Evans: Don't Listen to the Cloud Cuckoo Delusional Spoilt Brats
Shall we be Real? Well, we can't be. Real Madrid are the biggest club in the world. They are defending the Champions League, a trophy they've won in four of the past nine seasons.
If you're freaked out that Liverpool are not as good as them, you're taking bedwetting to new levels. It is not a crisis when you get beat by Real Madrid.
Nevertheless, Jurgen Klopp and his team should have done better. One of the worst cliches in football is that 2-0 is a dangerous lead to have. Actually, it's great. This Liverpool team generally thrive on chaos and have no idea how to kill a game.

Going on to lose 5-2 was ugly but perhaps we should have seen it coming. Real have beaten the Reds in six of the past seven meetings. The other one was a draw.
Here's an indication of how good the Klopp years have been: we're judging the side by how well they do in the knockout phases of the Champions League. The last time we could do that was in the second half of the 2000s under Rafa Benitez. Those two spells straddled a period when the game has changed markedly.
Was this week a wake-up call? In a sense. Liverpool are near the bottom end of the elite spectrum. The business model of the club means competing with Manchester City, PSG and the Newcastle of the future will be difficult. If the Qataris buy United not only will Manchester become the sportswashing capital of the world, it will probably be trophy central.
Anfield already struggles to attract the best players – wages and the potential for medals are bigger elsewhere. Where are the top-class managers going to go in the next few years? They'll follow the money.
That's why the talk-radio meatheads phoning in to demand Klopp's sacking are insane. Who would you replace him with? Tuchel? Pochettino?
It's the same sort of logic with the FSG Out crew. Saying it sounds nice. In reality it's cloud-cuckoo stuff. In both the ownership and managerial areas, Liverpool have probably got the best they can hope for. There have been no, and I repeat, NO realistic bids to buy the club from the sort of vanity buyers who want to get into games of geopolitical poker with Abu Dhabi, Saudi Arabia and Qatar. Stop being delusional.
And would we want that? Is winning so important you'd give away the soul of the club?
The soul is in the support, on the Kop, in the stands, in the history. It's not something FSG can influence – they have very little understanding of what it even is. At least they haven't fucked too much with it. A nation-state would.
So Madrid were too good. That's clear. One thing that insulates the Bernabeu – for now – is the club's status as the world's biggest. No matter where they grow up, moving to Real is the absolute pinnacle of a player's career. City and the rest are coming for them, too, though.
So get real. Shouting Klopp out or FSG out makes you look like a tosser. You've been spoilt by the past five years. Don't spoil the next five by acting like brats.
*
That does not mean Klopp and his squad can get away without criticism. The way the air went out of Liverpool against Real was dispiriting. What happened to the Mentality Monsters?
The team needed to be refreshed in a more clever manner in the aftermath of winning the Champions League and title. Simply pointing the finger at FSG isn't good enough. Many of the failures in recruitment are much closer to home than Boston and some people inside the club admit this.
Klopp's tactics and substitutions need to be addressed. Relying on Trent Alexander-Arnold and Andy Robertson to be the creative fulcrums of the team isn't working any more. The manager needs to try something different. What could that be? I don't bloody know but I do know that doing the same thing repeatedly when it's failing is foolish.
The talent is there. A team with Alisson, Virgil van Dijk, Trent and Mohamed Salah has to be doing better. That's four world-class players (or at least in the vicinity of world class). Maybe try 4-4-2? How about readdressing the high defensive line? Give Alexander-Arnold or Robertson a go in midfield? Surprise opponents.
Teams used to be shocked by how well Liverpool could execute their system. That great period when everyone knew what the Reds were going to do but were unable to counter them was brilliant. That time has gone.
Yes, the midfield has been a problem. Now the defence is falling apart. The tried and tested blueprint isn't working. The big question for Klopp is can he innovate? There may not be enough talent in this squad to beat Madrid but there's enough to secure a top-four place.
*
Try as I might, it's not the 7-0 win that comes to mind when Selhurst Park and Crystal Palace are mentioned. No, it's 2014, a late collapse from three-nil up, tears and a team having a psychological meltdown.
That probably reflects the general twitchiness around Liverpool's form at the moment.
Actually, the 7-0 wasn't quite the triumph it seemed at the time. The next 14 league games brought only three victories, three draws and eight defeats. Some of those losses were really depressing. It did turn around pretty quickly after that and the team ended up with the unlikeliest third-place finish imaginable. That should give some hope for this season.
Palace away needs to be a launching pad this time around. Having seen a bit of Patrick Vieira's side this season, their confidence is as fragile as Liverpool's. They can have spells where they are dangerous and look like a top-ten team. On other occasions they look like a club with the whiff of relegation about them.
This is where we should judge Klopp and his men. In games like this rather than against Real. To remain even remotely competitive in Europe in this environment there's no margin for error in domestic play. Miss out on the top four and it's becoming an increasingly long way back.
*
A Tory MP in Parliament was talking about a new independent regulator and "restoring fans' position at the heart of how football is run." Yeah, right.
Conservatives love deregulation. The mess this country is enduring has been caused by the dangerous obsession with the ideology of deregulation.
It's real simple. They think football is a vote winner. Don't believe they care for one second.
*
John Motson died. A great commentator and a lovely man.
We did a BBC radio show together. During the live broadcast, one of our mobiles went off. Whose phone rang?
It was Motty's. The consummate professional had forgotten to turn off his ringer. That was funny. But the best thing about it? His ring tone was Abba (Fernando, if I remember rightly).
That was Motty. Brilliant, human and a bit daft. His enthusiasm for the game was off the scale. He will be missed.
*
You know, score early in the Bernabeu. Then Liverpool will need just two goals to level the tie. There's no away-goal counting double rule any more. That's got to give us a chance, hasn't it? We've seen too many miracles to discount us, right?
Yeah, I'm joking. But…