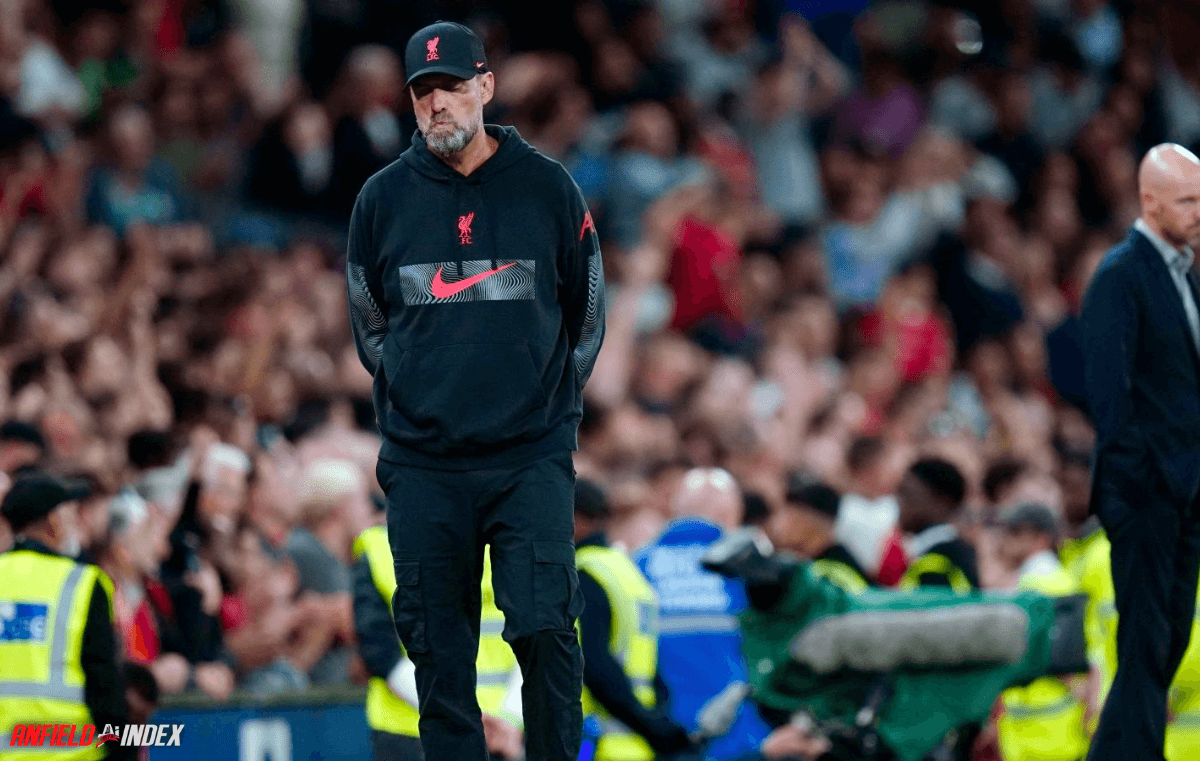 The End of An Era Under Jürgen Klopp 
The End of An Era Under Jürgen Klopp 
When Jürgen Klopp arrived from Borussia Dortmund in 2015 (and a brief sabbatical), it was the beginning of a new era that would bring a level of success that we could have only dreamed of. Despite being so close to capturing the Premier League crown in the 2013/14 season, that year was built more upon the world-class personnel, than the manager and team structure, which would of required intricate building. Ultimately, the loss of Luis Suárez (from Brendan Rodgers team) revealed huge deficiencies within his squad, leading to his dismissal 16 months later. Every beginning must have an end, and now I'm reluctant (and saddened) to imagine Liverpool football club without Jürgen Klopp as its manager, though it may just be at that his own time to be replaced is quickly approaching.

Just days ago, we heard the news that FSG would be unwilling to sanction a full-scale sale of the club. Their intention appears to sell only a minority share, in order to help fund the much-needed regeneration of this aging Liverpool squad. I have absolutely no idea if any of this plan will come to fruition, but I am hopeful that the obvious needs within the playing squad will force John Henry into action, regardless of any outside money appearing. There is much to be done, however, with additions not limited to those on the playing surface.
What we saw in our German managers opening few seasons, was the slow build to brilliance that enabled us to recapture both the English league title and the European Cup. It is so important not to look beyond the various tiers that were once present within the club (during that successful period), that allowed us to go on our wonderful journey. With Michael Edwards as our Sporting Director, it made our recruitment department the absolute envy of the footballing world. In the initial stages (before the famous sale of Phillip Coutinho), we were a team that were able to spend the money that was required, in order to ensure growth. Adding a world class coach to the mix only accelerated the process, with silverware soon becoming a reality for the fan base.
I believe FSG to be a very shrewd and competent ownership group, which makes me trust that their experience with sporting franchises will allow them to see the necessities within. They know that their own valuation will slowly deteriorate without continued success, whilst a large drop off in our standing will make future owners less willing to meet their demands. To pin the bad guy tag on Fenway Sports Group is very easy, but we cannot ignore the achievements they have enabled. This is a stable that believed in the idea of FFP, which could now actually become a reality. This is a very successful ownership team that has allowed the stadium to regenerate, the training ground to become state of the art, and whilst this has been financed by the clubs profits, I do feel they will now look at the next project with which to channel the clubs funds. I see the attentions to shift to recruitment, especially now they're standing as custodians appears to have been realigned.
I'm overly optimistic when it comes to my club, maybe even annoyingly so. But for me, the logic dictates that FSG need us to be a successful entity in order to meet their end goal. It may not be soon, but eventually they will sell the club and will want their asset to be at its highest potential value. Though I sense this current era is at an end, it may just be that they have the experience and know how to oversee the massive change that is evidently needed. Are they the perfect owners, no of course not. But does anyone with ambitions of greatness have that, whilst managing not the cheat and rig the whole system…? I'm not so sure.
I still struggle with the thought of a new identity within the reds dugout, yet I'm drifting towards full-scale change, especially if our current owners are to remain. We can be successful once more, yet a huge overhaul of the playing squad is a must. Vital roles within the club require filling and I might just prefer the current regime to fill those positions, rather than the unknown quantities. I do believe that there was an intention to take in offers, yet the City charges and the lack of concrete interest (at £4bn), may have just changed their minds. A recalibration and desire to prove the doubters wrong could well be the next step, which could start to unfold soon.
I'm going all in on the hope that things can be turned around, after a summer of change and evolution. The unfortunately reality refuses to leave my mind though, which is one that does not see our German manager as the man to take us there…