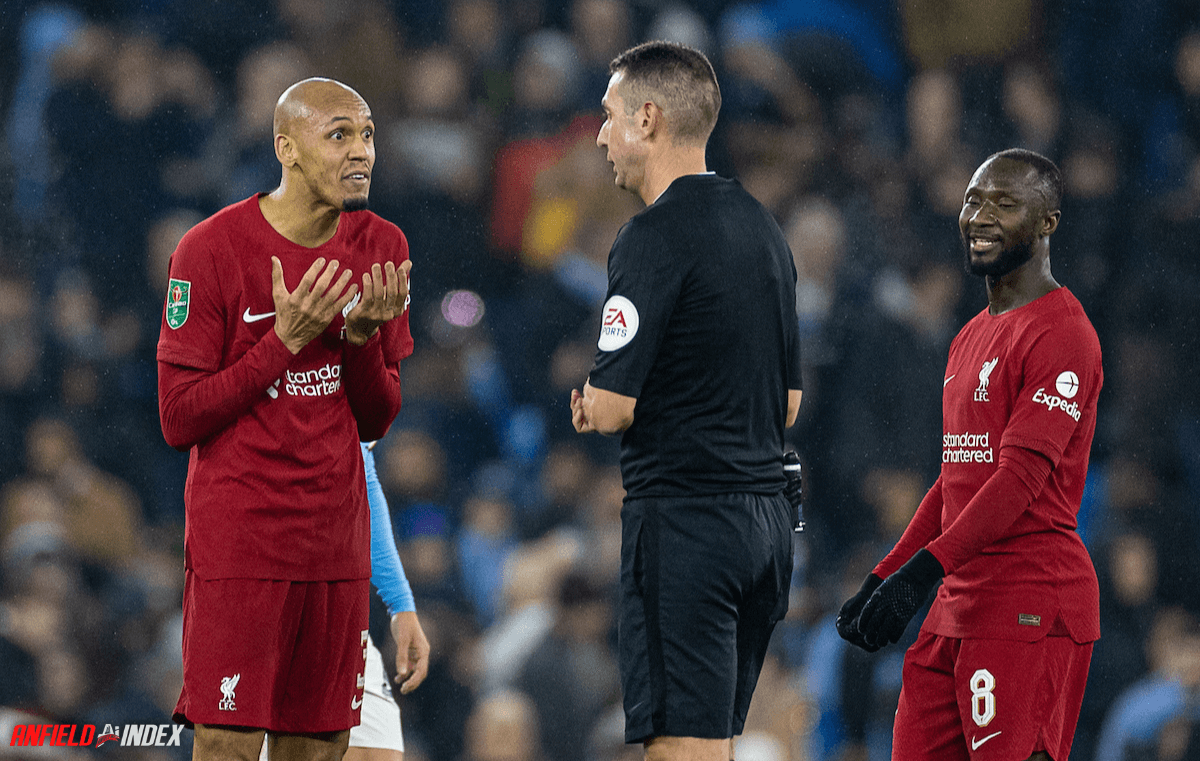 Fabinho & His Final Season at Anfield 
Fabinho & His Final Season at Anfield 
It is very difficult to watch the regression of certain players, especially when they were some of the key components in achieving unbelievable success. During my Liverpool supporting journey, I've seen some wonderful players become shadows of what they were in their prime. I was able to see the latter part and retirement of King Kenny, yet I would have been too young to really undertake his on-pitch Anfield career with any lasting memory.
For me, Robbie Fowler and Steve McManaman were the first real superheroes of my footballing lifetime, that were progressed from youth and into the Liverpool limelight. I can still recall special moments of their early careers with absolute clarity, given the impact they had on my Merseyside education. Hearing Fowler score goal after goal in the 5-0 hammering of Fulham (in October 1993), is something that is as memorable as the last game I watched. The sight of Macca tearing down the wing was a mesmerising thing, with his impact on the reds utterly astonishing at times.
Both these players ended up leaving the reds well before their respective times were up, with varying degrees of success and failure for each. When Robbie returned from Manchester City (on a free transfer), I was delighted. My childhood hero had returned, and despite not being the same player, I was still happy to see God back in red. It was within this second stint that I was able to see that huge regression, and despite some moments that brought us to our feet, we all knew this was a very different number 9. The same happened with our former number 7, who had left Liverpool to enjoy brilliant success with Real Madrid. It was when he arrived at Maine Road (before Manchester City were taken over) later, that I next saw him play in the Premier League. He to, was nothing like the player I once worshipped, with his previous destructive abilities now vanished. I choose to remember these players at the peak of their powers, which is how we should always recall our heroes of the game.
On Tuesday night, I saw Luka Modrić waltz around Anfield with a swagger and confidence that should not have been allowed. Within that second half, I witnessed Fabinho toyed with, leaving him unable to mount a serious defence. I can still envisage him snarling over the body of Luis Suárez, in 'that' game against Barcelona. Our Brazilian enforcer was once a territorial savage, who would take the ball (and player) if they dared to drive past him. This was an elite performer that enabled our midfield to dominate all opposition players, with a menacing ability to halt any counter attacks that came his way.
All season long, I've attempted to argue on his behalf, in the ignorant believe that he could still be that enabling number six. As the holding midfielder, he became so important to our off ball work, the fullbacks simply didn't have to do much defending at all. Our skipper, Jordan Henderson, would be carried through the majority of games and it didn't matter, given the level of Fab's play. That was all before the rapid regression that appears permanent.
The former Monaco player only recently turned 29-years-old, yet he truly does look like a man that has been run into the Anfield turf. His reactions, aggression, speed, and intensity, all seem to have departed his weary body. With a full quota of domestic silverware to add to his Champions League medal, it could just be that his body has run its Liverpool course. Jürgen Klopp has always demanded huge physicality from his midfield men, with a gegenpressing need to outwork all adversaries. In the early stages of our recent domination, this was what enabled much of our silverware laden campaigns to avail. What we see now, are tired and jaded individuals that can no longer meet the hefty demands, as the low blocks are now compelled to engage our fragile squad members.
With 135-games for the reds (304-games total) and 29-caps for Brazil, this is a career that is far from over. As a useful squad member, he could absolutely serve his purpose within Klopp's regeneration. The only issue is, that it would be sentiment that would keep him here, instead of the ruthless nature that is required. My adoration for our number 3 is of such a level, that much like Bobby, I would have to really push myself to ease either out the door. These are the kind of decisions that our manager has seemingly struggled with, which is something that has allowed much of the issues to surface.
In a perfect world, we keep those we admire, and simply add what is needed. The main problem is, however, that we need a great deal and the funds need to be substantial in order to recreate what we desire. We had too many passengers leading into this season, with a few left over from the year prior. What we urgently need is a cutthroat Sporting Director to undertake the necessary job, one which our German coach has been called out for. Fabinho could become a real asset in Serie A, La Liga, as well any other division where the demands and speed of play are that bit lesser. What we require is rock & rock bodies that can batter the opposition into submission, and engineer a pathway back to success.
We will all see the entirety of players careers at some point, and immerse ourselves within the peak of that journey. The hardest part will always be accepting when the decline is irreversible, which is something I pray our management team will be able to do. As for Fabinho, I pray he can galvanise enough from his locker, to take us into the final top four of the Premier League. Beyond that, it's time to say Tchau, and start looking at who can be our next midfield destroyer.
Manuel Ugarte would be the choice for me, and I'll be taking a closer look at him in the coming days. I hope Liverpool will as well.