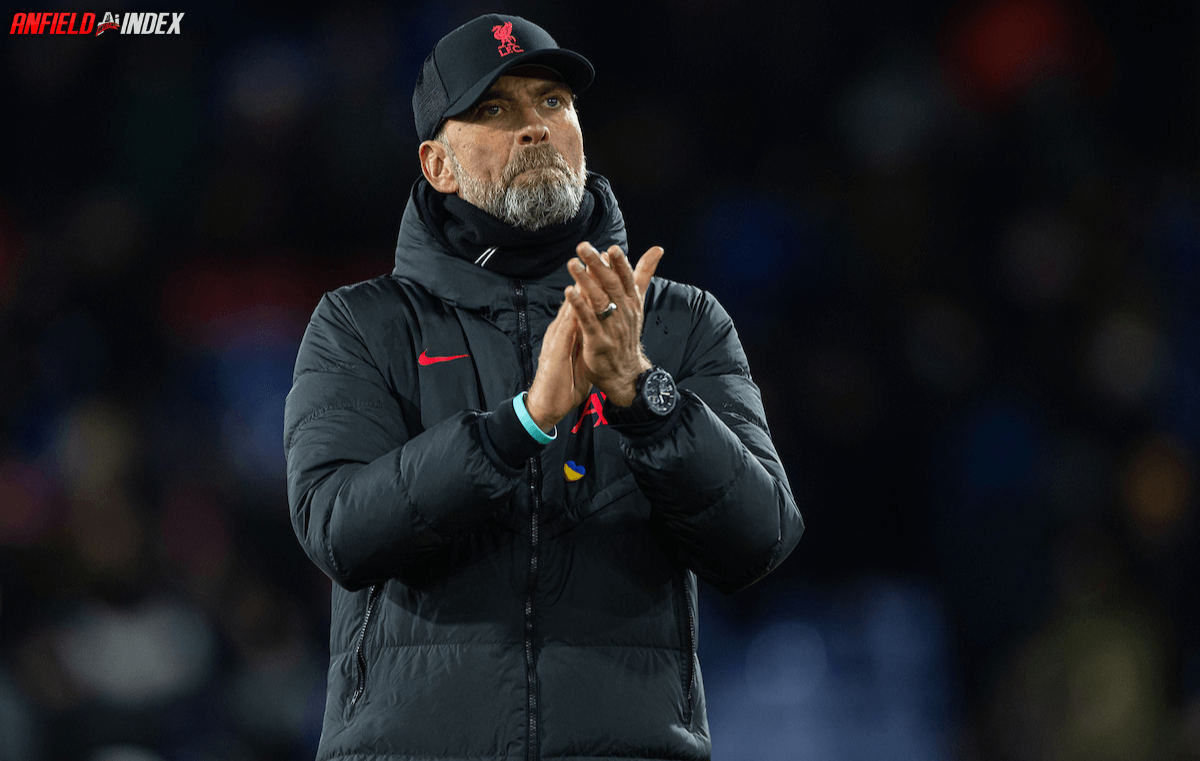 Crystal Palace 0 - 0 Liverpool - The Post-Mortem 
Yesterday I ordered a new thermos to take with me when I am out and about, to add to the three or four vessels of insulated coffee that accompany me on my varying journeys. At some point during the second half, I started checking the different foods and soups I could place within my 750ml companion, with Amazon primed to deliver my order on Sunday. That was the highlight of this particular game for me, in a re-run of the exciting match up we recently saw against Chelsea.
I felt confident about another good league result this week, until I saw the team sheet for this Premier League encounter. To see the maverick and energetic Curtis Jones confined to the bench, whilst Jordan Henderson and James Milner spent 94 minutes playing non-league standard football, was very disappointing. We have options that can invigorate our group, as the talented Stefan Bajčetić has recently proved. Though I was happy to see Naby recalled, it is now pretty clear that he's already looking at his next destination. The recent dropping of the Guinean must have stung, especially when he was building up some form of consistency. With Thiago out, it should have pitted our number 8 into the LCM role, with Curtis hitting the box-to-box RCM. This did not happen, and the game trundled along, like a prime Tony Pulis vs Neil Warnock affair.
With some horror-laden defensive lapses by Trent, his entire game was a blur of technical brilliance and disaster decisions. His level of play and natural abilities have perhaps made him careless about the simplicities of football, with basic defensive errors pulsing through this performance. One can only hope that an able RCB and RCM will once more enable the drive from our gifted 66, yet he seems to be struggling to find the urgency we need. The skipper was his normal non-event self, whereas the attack was an unfamiliar trio of persons that simply had a few moments.

Early on saw a cringe-invoking piece of play between Matip & our right back, which gave Palace a chance to take the lead. As Martin Tyler likes to say, 'some  stuff happened after that', as the reds stumbled through a mediocre half. Apart from a stinging shot from the returning Diogo Jota and a couple of half chances from Mohamed Salah, it was just a case of getting to the break, so that the correct changes could be made.
That did not happen.
Naby Keïta was withdrawn for his potential to be red carded, with his demeanour clearly not correct for the situation. His first half yellow card would have surely become a second half red, though it was still frustrating to see our most talented midfielder withdrawn. With Harvey coming on, it gave some excitable moments, though the substance in his game was sorely lacking. Despite our Egyptian King striking the bar, I always felt that there might be a sting in the tail, with Joel looking unsteady at the back. Robbo was okay, though appears to have lost his ability to cross the ball. The midfield was quite simply muck, as they slowly chased around the pitch in an overall inefficient display.
GK – Alisson Becker
RB – Trent Alexander Arnold
LB – Andy Robertson
RCB – Virgil van Djik
LCB – Joël Matip
CDM – Jordan Henderson (c)
RCM – Naby Keïta
LCM – James Milner
LF – Diogo Jota
CF – Cody Gakpo
RF – Mohamed Salah
Substitutions;
45' Harvey Elliott – Naby Keïta
71' Roberto Firmino – Diogo Jota
71' Fabinho – Trent Alexander Arnold
84' Stefan Bajčetić – Cody Gakpo
With the line ups and substitutions as shown above, the match started with the reds enjoying much of the possession, alongside an annoying trend of gifting half chances to the home side.
The away side clearly had a plan to frustrate and remain organised, whilst pouncing on the opposition whenever the inevitable errors arose. Palace have become ineffective in front of goal, therefore this and the fact that Virgil seemed switched on, meant the game was both stale and without much incident.
Our celebrated manager looks out of ideas, tired of his squad, and unable to be the ruthless leader he claims to be. The starting line-up was bereft of a dynamic nature, with the midfield so painfully mundane. We have become used to these underwhelming performances, yet to see Koop become the same is a real issue.
On Wednesday night we entertain Wolves, before next Sunday when we welcome Manchester United. This all comes before a trip to Real Madrid, which makes for a profoundly difficult run of fixtures. Without Thiago to call upon, we are unable to create rhythm or integrate smart transitional plays. We have a lack of power, a lack of desire, and a real lack of interest or intensity in our play. Hopefully the opposition will ignite something in this lacklustre group, or we will become a team that will continue to limp to the finish line, a good moment after many others have already finished.