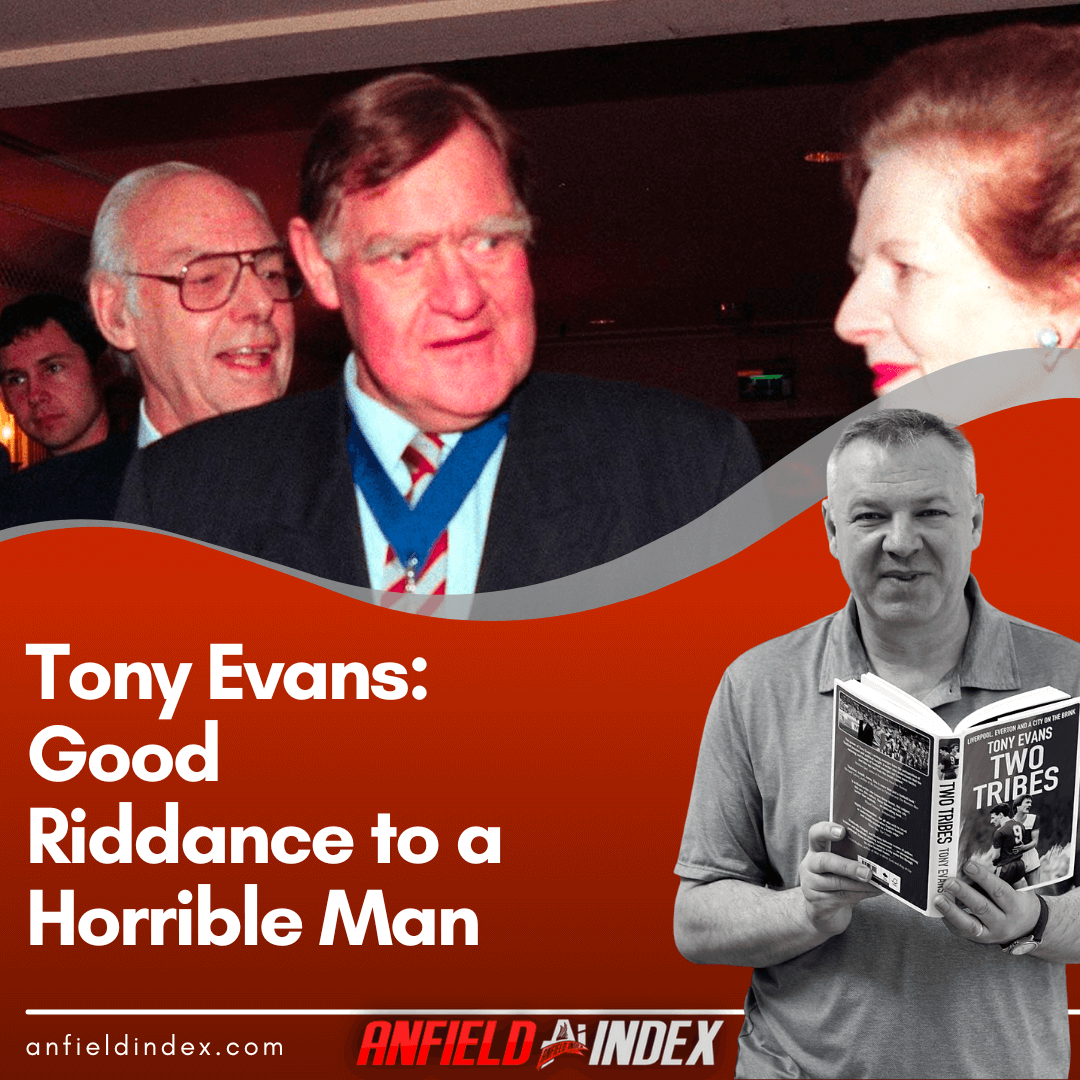 Tony Evans: Good Riddance to a Horrible Man
The guilty men of Hillsborough will die in their droves in the next few years. They go to their graves with their reputations intact, having enjoyed the honours and status bestowed on them by a rancid country. Those honours should have been stripped from them.
Sir Bernard Ingham died last week. Margaret Thatcher's press secretary was arguably the worst of the Hillsborough liars. He seemed to delight in upsetting those who suffered at Sheffield Wednesday's ground on April 15, 1989. His 1996 letter to Graham Skinner, whose friend Eric Hughes was unlawfully killed, is one of the ugliest pieces ever written and offensive in the extreme.
The "tanked-up yobs" line is famous. But he went on. "I have, however, one suggestion to make: for its own good, Liverpool – with the Heysel disaster in the background – should shut up about Hillsborough," he wrote.
That advice was backed up with this succession of noxious statements: "Nothing can now bring back those who died – innocent people who, by virtue of being in the ground early, had their lives crushed out of them by a mob surging in late.

"To go on about it serves only to confirm in many people's minds that Liverpool has a very bad conscience about soccer disasters. I think it a disgrace to the public service that South Yorkshire policemen have won the right to compensation.
"But it will do Liverpool no good whatsoever in the eyes of the nation if, egged on by ambulance-chasing lawyers, those who saw their relatives killed at Hillsborough now sue for compensation for the 'trauma'. Is the pain of losing a relative to be soothed away by a fat cheque?
"Take my advice, Mr Skinner: least said, soonest mended for Liverpool."
Ingham never recanted. Despite all the evidence – the Hillsborough Independent Panel stretched to more than half a million pages and the inquests that ended seven years ago were the longest in British history – he refused to back down. His job was to form and manage opinion from Downing Street and Ingham had enormous influence. He used it to protect the guilty and blackened the reputation of the innocent. Every word he said or wrote about Hillsborough pissed on the dead and pushed a knife into the psyche of survivors.
Some people on social media thought it disrespectful to speak these truths and to reflect that the nation – and the world – is a better place for his death. I can only hope he suffered a millionth of what the families of those who were unlawfully killed and the survivors have had to endure since that horrible day 34 years ago. Good riddance to a horrible man.
*
Then there were those who praised Ingham. Let's talk about Mike Parry.
'Porky,' as he's known, tweeted a tribute. "I'm so sorry to learn of the death of Benard [sic] Ingham .. Sir Bernard Ingham .. He was a giant of political communications and when I was running the Daily Express in the Thatcher years he was an explosive mix of 'it's good' or 'it's balderdash' .. As honest as the day is long RIP."
Just think about that last sentence. As honest as the day is long.
Now, one of the disagreements I have with people within the Liverpool fanbase is over how we react to people outside it. For example, if a Birmingham City supporter (club selected at random) is a Sun reader, then I don't have a problem with that. Ideally, I'll explain why that paper is destructive – not just to football fans – and hope that they will review their reading habits. If they don't, they're written off as stupid. But I don't take offence at them buying the paper.
Our fight is not their fight. All you can do is explain the wider ramifications – like how a Hillsborough Law would have an impact in so many areas – from Grenfell to the veterans of atomic tests scandal – and hope they see sense.
It's a different matter if it's a Liverpool supporter. They should know better and any unacceptable behaviour like Sun reading/buying needs to be explained and stopped. I do take offence at purported LFC fans who think that paper is acceptable.
Evertonians are different to other sets of fans. They have been our strongest allies since the unlawful killings. We expect high standards from them, too, because they have delivered their backing for decades. No wonder. Their families, friends and neighbours were involved and Blues have shared our pain in the long, long, aftermath of 1989.
Parry supports Everton. He is 68 and should have strong memories of Hillsborough. Not only that, but he was a press officer for the FA before moving into broadcasting. No one can deny he knows football.
So he knew exactly what he was doing when he praised Ingham. He was sending out a message to the Hillsborough deniers within his own club's support and further afield.
There's a creeping backdoor shithousery going on where people like Parry send coded signals out but react in horror when you say it's a Hillsborough jibe.
Well, we know what you're doing, you cowardly gobshites. And we won't forget. You're either with us or with the likes of Ingham. Don't pretend otherwise.
Parry is as trustworthy as Ingham. If that's as honest as the day is long, these people must live in permanent darkness.
*
The LFC accounts are out. If it's not bad enough that things are going awry on the pitch, all the amateur fiscal experts are squawking about the lack of spending and Fenway's failure to keep the club at the game's top table.
The sport's finances need to be overhauled. The FSG Out crew might be better putting their energies into agitating for change across football's entire landscape. Never, not once, did JWH and his mates suggest that they were going to do anything other than run Anfield on the money the club generated. They've made many, many mistakes – which have always been pointed out – but they've always been prudent and lived within their means.
That means Jurgen Klopp and the recruitment team must use the budget allocated to them. There's a two-fold problem there. First, Liverpool can't compete with Manchester City and the state-operated clubs. Second, you have to buy better and sell better than they have been doing.
Naby Keita is a great example. He cost £53 million, which was a fair amount six years ago. Right from the start of his Anfield career there were suspicions that he could not cope with the pace and physicality of the Premier League.
When that became clear – and it should have been apparent after a couple of seasons maximum – move him on, buy someone else. That ruthlessness has been lacking.
Two years ago he was substituted before half time against Real Madrid. Klopp said it was tactical. Yes, it was. He was shite. It's not good tactics to persist with shite.
I'm sure he'll move in the summer – for free – and be great in Germany or Italy. The pace and physicality will suit him more. But this hanging on, hoping he'd become the player everyone wanted, was destructive to him and the club.
During the glory years, the likes of Bob Paisley, Joe Fagan and Ronnie Moran prided themselves on being decisive. If he's not good enough, cash in and move on was their mantra.
Liverpool don't have the resources in this financial environment to sit around and wait for players to come good. Keita is a symbol of a stale approach. He's not the only one, either.
*
The result against Wolves was pleasing. If the team were in a title race it would be the sort of performance you could take satisfaction from. As it is, the jury's still out on whether they've turned the corner. Still, things look different when Van Dijk and Konate are together in central defence. Jota was lively. Salah passed 20 goals for the season despite an apparently underwhelming campaign. The striker has scored 10 goals in the past five games against Manchester United. There are reasons to be optimistic even against Erik Ten Hag's resurgent side. Let's hope Palace away was the last ugly display of the season.
*
The first game I can remember against United was in 1971, a 2-2 draw. They had Best, Charlton and Law in the side. Best set up goals for the other two.
But in the first half Liverpool ran them ragged and were 2-0 up. I remember being disappointed with the draw but my dad telling me to cheer up, I'd seen Best, Charlton and Law.
It was a rare occasion when he was remotely positive about Mancunians. The next year he took me to Old Trafford for the first time. We were standing on the forecourt with skinheads everywhere, many with their AirWare sprayed silver (nobody I knew called them Doc Martens until the 80s). I said, "Dad, how do Mancs speak?" I was asking about their accent.
"With forked tongue," he said.
We got beat 2-0. The scorers were Ted MacDougall and Wyn Davies. My 'arl man was fuming. When Charlton and Law score, you can live with it. Those two, though…
*
There was always a different dynamic for games against United compared to Everton. The derby was a big deal but that's because you went to school or work with Blues. You had some in the family (only in-laws for us). They were people you knew and liked.
You didn't know any Mancs back in the 70s and 80s. They were a remote tribe who you feared and despised. Few Liverpool people worked in Manchester, hardly any Mancunians were based on Merseyside. The demarcation lines were clearer.
If it was the 'friendly derby' (and it was never quite that friendly), the United game was the festival of hate. It was great.
It is still the match I look forward to most and they're still my favourite team to beat. Plus, it annoys modern-day Evertonians when you say, "you're not the enemy, United are." They hate that.
Let's stuff the Mancs on Sunday. Football's rarely better than when you're beating United.