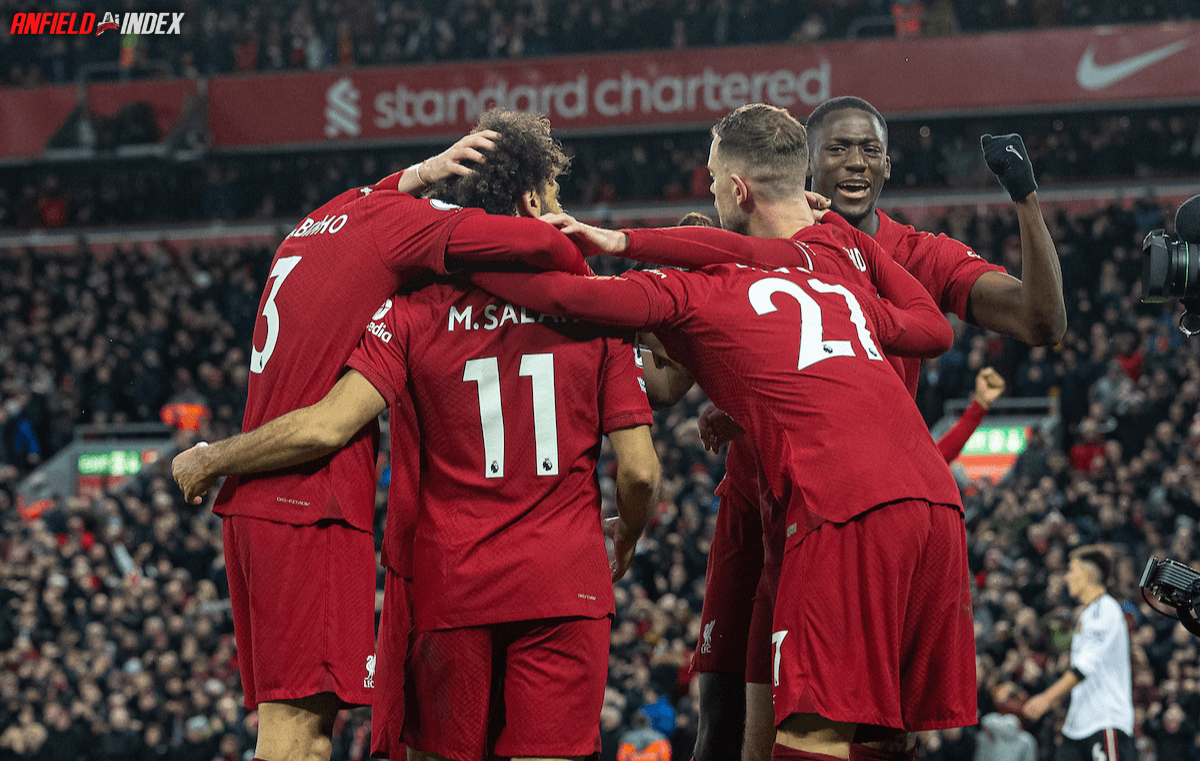 Liverpool 7 - 0 Manchester United - PL Player Ratings
Liverpool 7 – 0 Manchester United – PL Player Ratings
Alisson Becker – 9.0
Had such little work to do, with the reds ramping up as the game progressed. Was smart in possession and dealt with the couple of half chances that came his way. I'm rating him high, as it's that kind of result.

Trent Alexander Arnold – 9.0
A very good game, that showed his instinct in the defensive third can be relied upon, whilst his playmaking was on point. Such an important asset, with massive credit to how he is responding to a tough period in his career. Seemed determined to banish those Rashford memories once and for all.
Andy Robertson – 9.0
A great game from the Scot, with a perfect blend of energy and aggression. He was perhaps lucky to oust Kostas (after his own good game against Wolves), yet he showed that when the system is ticking, he can become so valuable. Will be happy with the assist for the opening goal, which set him team on their way.
Ibrahima Konaté – 9.0
Perhaps the second-best defender in the league, just behind his Dutch partner. So combative, so quick, so impressive, and so crucial to the next ten years of this Liverpool side. He strangled the United front line at all avenues, and was happy to power his team forward.
Virgil van Dijk – 9.0
It seemed the commentators tried to underplay this man at times, yet all I saw a master controlling nearly everything around him. The odd moment aside, this was a clinical and dominant performance from the world's best defender. His aerial dominance was clear, and showed that you need this to be an elite entity.
Jordan Henderson – 9.0
Such a great response, showing what some sensible rotation and competition can bring. He was alert, controlled, eager, and always in control of his emotions. A good display from the captain, who should maintain this role of managing his minutes in order maintain his output.
Subbed – 78 mins
Harvey Elliott – 9.0
How things can change. He's gone from being a liability, to becoming a key central and wide figure in the red's best patterns of play. Great strength and attitude that was in stark contrast to his opponents. He continually linked well with those around him, and is becoming an important member of this squad.
Subbed – 85 mins
Fabinho – 9.0
Was the stronger of the Brazilian midfielders on the pitch, which was so unlikely before the game. He snapped and harried his way around the central area, as United seemed intent on overcomplicating their strategies. He held that middle ground with ease, within a unit that overpowered their opposition.
Subbed – 78 mins
Mohamed Salah – 10.0
The world's greatest in waiting could be about to remind the world just who he is. A deadly showing of ruthless intent and clinical striking. So strong and robust under the challenge, and seemed intent in torturing his adversaries. Sensational man of the match display. Was a brilliant goal with his weaker foot.
Cody Gakpo – 10.0
In the week where Bobby announced his intention to leave, we have perhaps unearthed the natural successor. His opening goal was a delight, and his stature grew in tandem with the score line. He and Darwin could become the next terrorising duo under Klopp, after a display that was top tier. Great work rate and that second goal was the sign of someone that could reach the level of his predecessor.
Subbed – 78 mins
Darwin Núñez – 10.0
The contrast between him and his attacking colleagues is mind boggling, but it's now showing signs of that unpredictability that we hoped. He was unplayable at times with his power and desire so infectious on this team and our support. The Raging Bull of our attack.
Subbed – 78 mins
Subs;
Stefan Bajčetić – 7.0 (on 78)
Looked bright and energetic.
Diogo Jota – 7.0 (on 78)
The competition to start is real.
James Milner – 7.0 (on 70)
Shame he did not land his customary crunch.
Roberto Firmino – 9.0 (on 84)
A legend, scoring in his last game against this lot as a red.
Curtis Jones – N/A (on 85)
The Manager;
Jürgen Klopp – 10.0
The magnificent display and score line was impossible to predict, yet it seems that the humbling against Madrid has created the fire to emerge.
His team selection was probably as expected, but the system and strategy of overloading the middle whilst his striking wide men created havoc was sublime. Cody showed so much of what we adore Bobby for, and it really pointed to the system we needed to reinvent. The newer parts looked set on destruction, whilst their manager stood proudly on the touch line.
I think we are back, and the attacking destruction beside the central defensive dominance may just be about to strangle those that think we have a weak middle.
This team looks angry, which could carry them to a top four finish, we are all craving.
Pre-match Prediction;
Liverpool 1 – 0 Manchester United