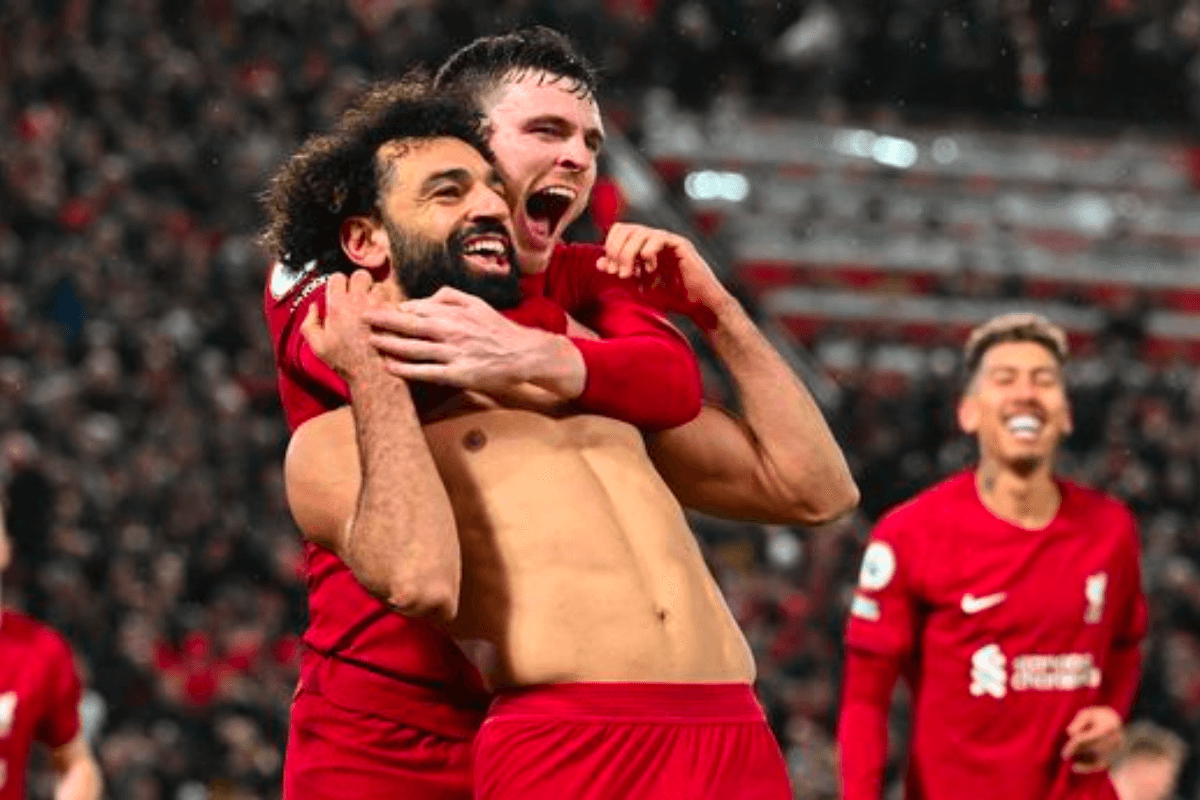 Andy Robertson: Liverpool's Other Record Breaker
Liverpool's flying Scotsman charged into Manchester United from the first minute yesterday. He's not one whose been grabbing the headlines in recent times, but Andy Robertson's upturn in form has interlinked with his own clubs' recent improvement. The former Hull man now has a place in the record books on the back of Sunday's victory and Jurgen Klopp was ready to go to town on the pitch invader that nearly took him out late on. Liverpool have a great deputy at left-back in Kostas Tsimikas, but they'll be needing Robertson fit and firing from now until the end if they'll salvage anything from this season.
Sunday was almost a reminder of the Robertson of old. From minute one he pressed them back, reminiscent of his relentlessness in the City 4-3 back in 17/18. The 28 year-old nullified Antony, time and time winning the ball off the winger and showing a greater desire throughout. Desire is only part of the story though, as patience then a clever through-ball for Gakpo to open the scoring in the first half was a true moment of quality. On another day, the Scotland captain would have been enjoying a man-of-the-match award for his endeavours.
It sounds crazy to think that for all his quality, it was Robertson's first assist in the league since Boxing Day against Aston Villa. It shouldn't downplay his contribution in anyway and what was more fitting was discussion post-game with Jurgen Klopp abut his achievements. He's well underway to obtaining double figures for assists again (nine as it currently stands), whilst a place in the Anfield record books is now assured. It won't have grabbed the headlines on a day when Mo Salah scored and assisted two goals, then became our record Premier League goalscorer, but his contribution should be helped in a similar accord.

Since 2017, only Kevin De Bruyne has more assists in the league, whilst Salah has the exact same number. More importantly it puts him level at the top of the all-time charts with Paul Scholes. Except one was an attacking midfielder whilst the other one is a left back..and took 259 games less to reach. Everyone else in the top five plays or played in an attacking role, so this achievement of Robertson's should be placed in that context alone. Even more telling is Robbo always appears keen to praise his friend, team-mate and 'wingman' Trent Alexander-Arnold when talking about assists.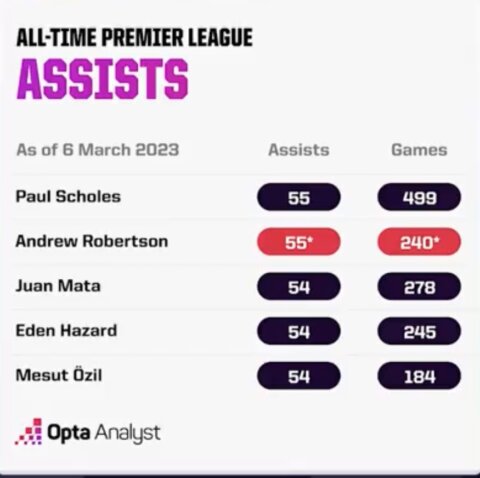 If anyone gets the importance of these games for Reds then it's Robertson. Who can forget the laughing moment against Everton and Jordan Pickford that set everything off on our current run. He was quick to gesture at Anthony to get up and the first to the big celebrations for Gakpo and Salah. He's a member of the leadership group for a reason and no-one respects his contribution on these days more than Jurgen Klopp. It wasn't just Mo Salah that got a place in the record books against Manchester United. The contribution of Liverpool's Braveheart shouldn't be forgotten.