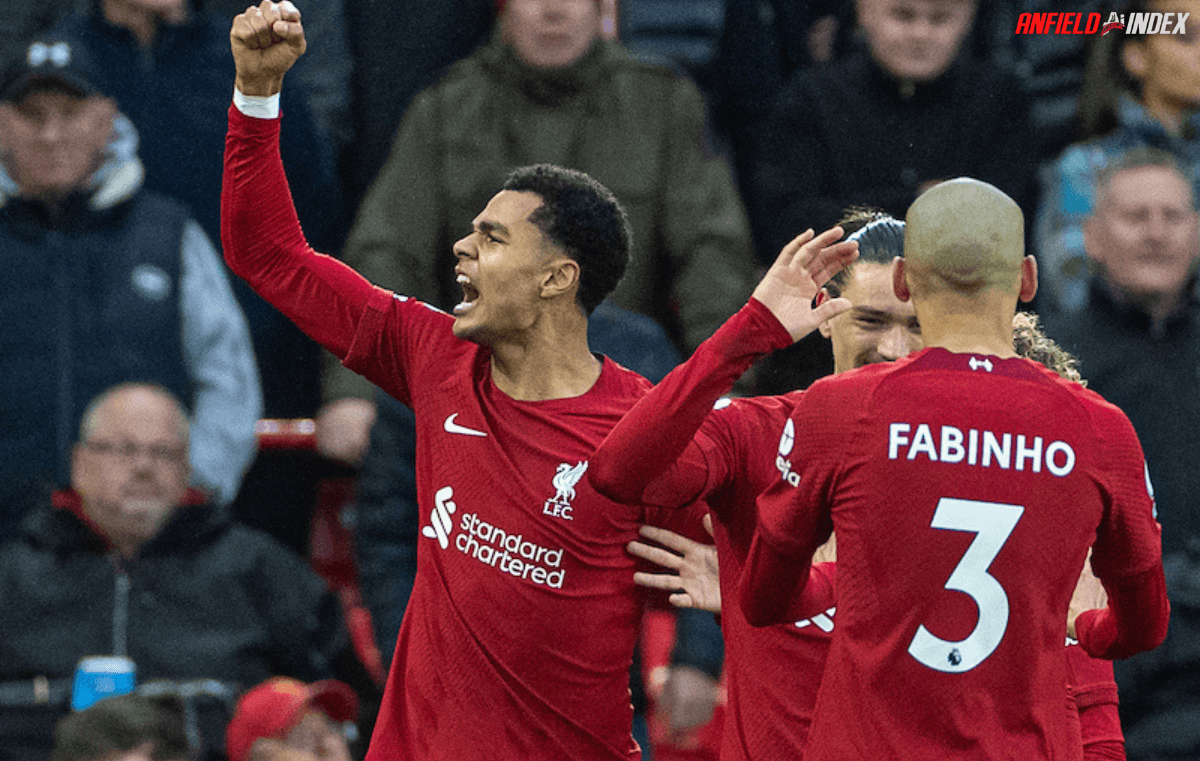 Cody Gakpo - Our Diamond Player to Replace Bobby
In a recent article from a few weeks back, I stated that I saw Cody Gakpo as a return to the false nine. I get the feeling that the ultra-attacking system (that was in mind last summer), is now making way for a more trusted and positional savvy system. As I have said before, when every team was deploying a low block, it allowed all of our influential assets to express themselves freely. With Fulham taking the game to us (on the opening day of the Premier League), it let everybody know that our previous levels of power and dominance could be overcome. This system alteration coincided with a managerial decision to go with an out and out centre forward, alongside our wider versions. That idea was also undertaken by Manchester City, who have at times struggled with their own forward line adaptation.
Clearly, there was a meeting of minds during the winter break. It became abundantly obvious that our once robust and energetic midfielders were no longer able to dominate the pitch, especially without the fabled work-rate of Roberto Firmino just ahead of them. Despite Darwin Núñez offering explosive and instinctive attacking attributes to this team, he was never going to be the like for like Bobby replacement. the Uruguayan Striker has now been a shifted into (temporary) wider role, which was once taken up by Sadio Mané. Darwin's game is much more like the Senegalese version than the Brazilian forwards, which is why the recruitment of a working false nine was ordered in January.

In the opening month of Cody Gakpo's tenure at Anfield, it was not entirely clear what type of forward player Klopp was working with. Some were considering him to be an upgrade on the back-ups, whilst some were seeing it as a short term solution, with Diaz out injured. I will admit that I was unsure about the former PSV man, in those opening bunch of games. He looked slight, he looked unsure, and I didn't see an explosive nature, which is usually customary with our wide forwards. What is becoming apparent, is that he was never going to be that type of player, and that he was always going to be the long-term successor to our legendary number nine.
Last week, Roberto Firmino answered the question which has been lingering all season long. There was probably an even split within the fanbase, when the debate arose as to whether to offer him a new contract. The simple fact is that he can no longer carry out the specific tasks, which once made him so important to the system. With an existing deal that's paying in the region of £200k per week, there was going to have to be a significant drop off if his salary, given his reduced playing time. With new blood coming into the squad, it was perhaps inevitable that this would be Bobby's last season. 
With a good few months left to say goodbye to our 31-year-old, it can at least run in parallel with his replacement's understanding of the role. Our winter recruit looked sensational against Manchester United in Sunday 7-0 destruction, and his patterns of play a look like the perfect fit between Darwin and Mohamed Salah. I am expecting us to move to a 4-2-3-1 system next season, as this will be a team that will soon be welcoming back Luis Díaz. The regeneration has every chance of migrating into a midfield double pivot, and allowing our new number 18 to work in behind Núñez. With a perfect blend of raw ability and experience in our forward line, it really does look promising going forward. At times (in that hammering of our rivals), you could see that diamond system emerge, which allowed our wide men to cut inside. Too often this season we have seen Mo pinned to the touchline, yet with the in-game diamond being employed, it really did cater to many players within our team. The issue always was having the right component to carry on that role, which could have just been discovered.
Certain games will undoubtedly call for adjustments in the style of player, yet in Cody, we may have just found a player that can both protect and link much of our group together. It seems we may have witnessed the start of the next wonder to work under Klopp, and with a top four finish to chase, Gakpo could just become the man to steer us home.