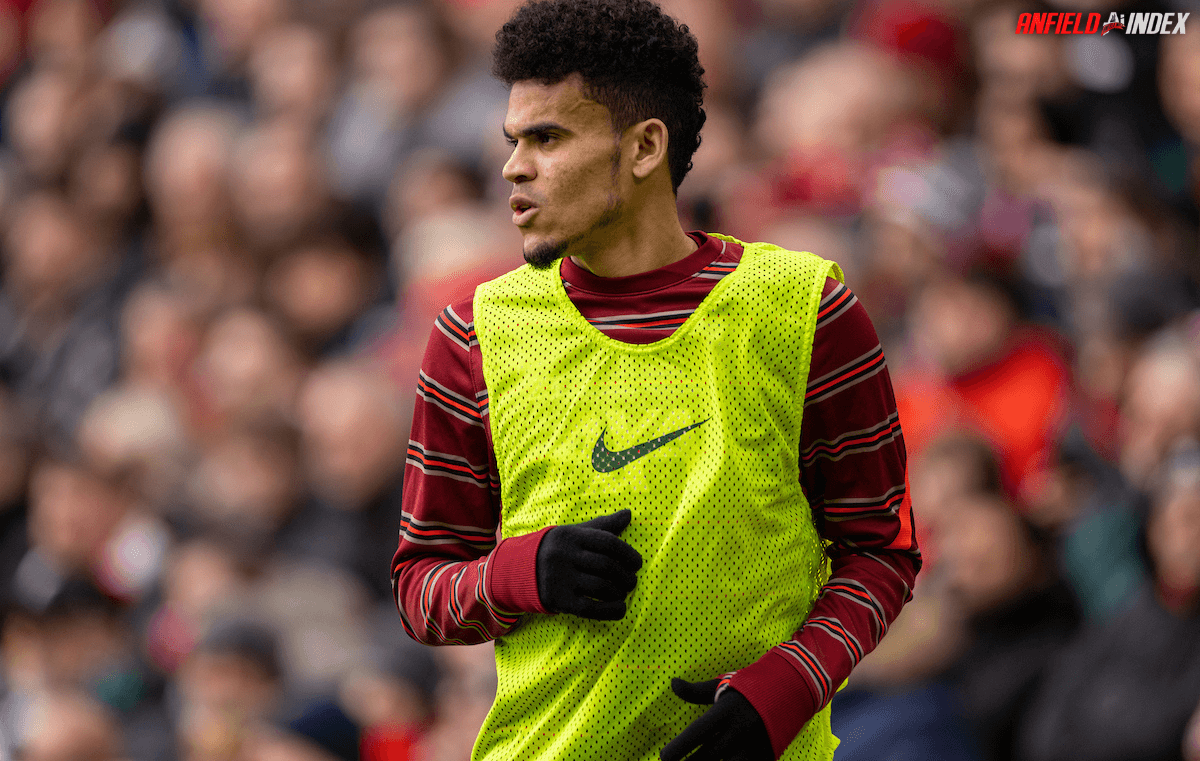 How to Reintroduce Luis Díaz into the Reds Team
How to Reintroduce Luis Díaz into the Reds Team
In the aftermath of the Manchester United demolition, much has been made of the new-look strike force that were able to supply six of the seven goals scored. Despite Mohamed Salah being at his scintillating best, it was possibly the performances of his two young striking teammates which garnered the most praise. Many questions had been asked about the suitability of both Darwin Núñez and Cody Gakpo, with both taking their time to find their rhythm within a new side. The Uruguayan forward arrived in the summer in a deal that could cost £85m, but his early performances had rival fans sniggering and reds supporters concerned. When you're looking to replace the likes of Sadio Mané, there will inevitably be questions when the shoes to be filled are so vast. With this past Sunday's game, however, everything seemed to click into place, with our biggest rivals on the end of our new attacking intent.

With Roberto Firmino set to leave the club in the summer, you can now see the logic in Gakpo's winter signing. To have the former PSV forward immerse himself into our forward line (whilst working alongside the outgoing Brazilian) makes all the sense in the world. Last season saw a similar scenario unfold, with a certain Colombian flyer brought in ahead of Mané leaving the club. We can be confident that Jürgen Klopp is well aware of his senior player's future intentions, therefore it's no surprise that he has been looking to add certain attacking pieces before specific players leave. Though it's a shame that this has not been undertaken within the midfield area, we can at least be confident that the rights choices are being made in the forward line regeneration.
In a few weeks' time, the reds will be welcoming back the South American wide man, Luis Díaz. Though we are currently showing the required level of scoring form, he is still a vital component that can help galvanise this group into a fruitful top four charge. In all likelihood, we will be looking at just one competitions worth of fixtures (upon his return), therefore the management of the team can be engineered solely into that direction. With a more familiar false nine being incorporated in recent games, the 4-3-3 system is looking far more like that which achieved so much silverware. With a messy first half of the season creeping into the second part, there is now genuine hope that we have unearthed a new found structure to our side.
With so much criticism of our midfield, it could become logical to simply overwhelm teams with attacking purpose. We are already seeing very good movement between the current three forwards, which could allow us to lose Harvey Elliott for Diaz, for instance. In the much called for 4-2-3-1 system, you could absolutely absorb yourself in seeing four forwards on the pitch. Despite being the lesser known of the group, it is looking like Gakpo is the facilitator type that can bring these individuals together. With him operating in the 10 (behind Darwin), that would allow our former Porto wide-man to resume his duties from the left. With so much positional change against Manchester United on Sunday, the adaptability of our attacking pieces could cause no end of confusion and carnage in the next few months.
Like so many of our fanbase, I am still riding high after the 7-0 win against our biggest rivals. It's very easy to get carried away with such an emphatic win, yet there is a logical reason for our dramatic return to goal scoring form. Ibou returned shortly after Virgil, which brought a new sense of confidence to our side. When you see elite level players return to your team, the impact can be resounding. With Thiago and Luis Díaz also primed to return to full training, it once again adds the competition that has so often been lacking. I am eager to see how this group of ferocious forwards interlink, and despite the slaughter that was handed down at the weekend, our Colombian dribbler could still allow that terrifying group to become even more ruthless.
It will be very interesting to see how Bournemouth set up this weekend.
Steven Smith