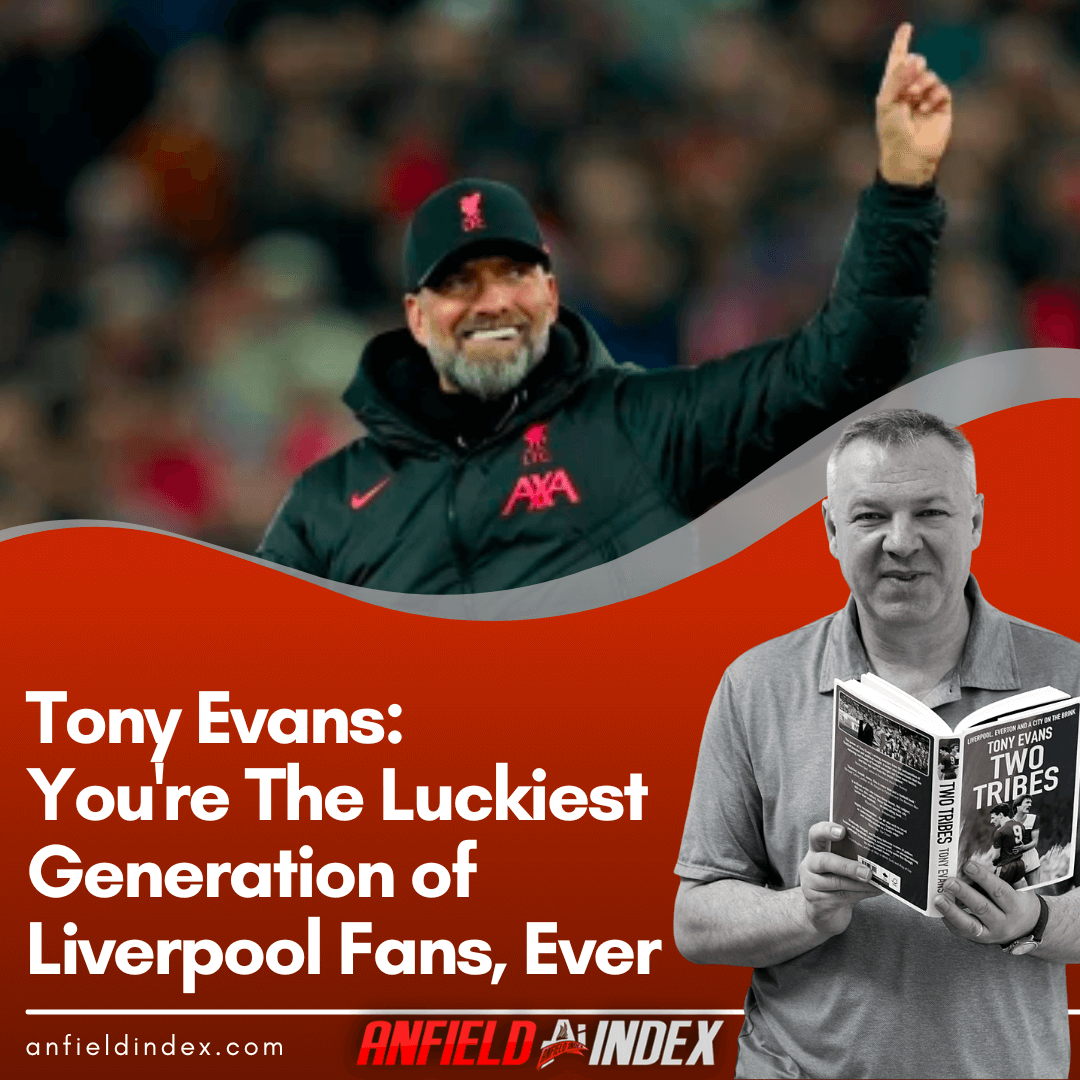 Tony Evans: You're The Luckiest Generation of Liverpool Fans, Ever
Sometimes, in the cacophony of cryarsing that surrounds football, you forget what makes the game great. It should be fun but some people make supporting a club seem like hard labour.
And then Liverpool spank Manchester United 7-0. It was an experience of pure, uplifting joy.
I've always thought that I came from the luckiest generation. The first team I watched had Yates, Hunt, St John and Thompson in it. Then it got better. Emlyn Hughes, Keegan, Toshack, Uefa Cups and titles.

It was barely conceivable that things could improve but Liverpool won the European Cup the year I was 16 and then we got Dalglish and Souness, Hansen and Rush. Not one of us ageing scallies believed we would ever experience anything like those heady days of the late 1970s and first half of the 80s.
Houllier's treble was great and Istanbul was wonderful but sustained glory? No, that time seemed long gone.
Then came Jurgen Klopp. Seriously, do you realise what you're watching? This has been the maddest, most life-affirming time in my 50-plus years of going the match. The kids of today are watching stuff I've never dreamt of seeing. Against clubs owned by nation states whose budget is inexhaustible.
Seven goals against Manchester United? Last season's 4-0 and 5-0 were pretty spectacular but what happened at Anfield on Sunday was mindblowing.
In a wider context, winning two trophies last year and taking the other two competitions into the final week of the campaign was unprecedented. There were people moaning because we didn't win the title or Champions League. Blimey. Last season was just about the wildest football ride you could have had.
This season might be underwhelming – at least so far – but then a game like Sunday's comes along and confounds every expectation. Yeah, I know there are no medals for humiliating the Mancs but there's something better. Memories.
This is the most memorable time to be a Liverpool supporter. Cherish it. Stop worrying about the summer transfer business or moaning about Henderson. You're the luckiest generation. Jammy bastards.
*
In Naples, someone wrote on a cemetery wall after Diego Maradona led Napoli to their second title. The words were addressed to the dead. "You don't know what you missed," they said. Those sentiments should be scrawled on the burial grounds of Merseyside. Except for Goodison, that graveyard for players and dreams.
*
Uefa are refunding the money for tickets for Paris. Thanks mates, but we'd rather not be placed in life-threatening situations. Stick your money up your jaxy. This is not the end of it. Just the beginning.
*
The result against United won't mean much if the team don't get three points at Bournemouth. They played well against Arsenal last week and aren't quite the easy touch they look.
One of the interesting subplots to the game is the presence of Dominic Solanke. Liverpool fell out horribly with Chelsea when they signed him. The bad blood persisted for years.
He was supposed to be the next Daniel Sturridge. In one way he was – neither lived up to their potential at Anfield. His ceiling was much lower than Sturridge's, though.
This would not be a good time for him to finally show Liverpool what he's got.
*
At least the club turned a £14 million profit on Solanke. Too many going out the door this summer will be off for free. Not clever.
*
John W Henry spoke this week. Same old story. The club will not overspend, they'll be sensible in the transfer market.
In my dealings with the owner he always said that money would be available for the right player. Obviously, everyone thinks Jude Bellingham is the right player.
But should the budget be spent on one man – assuming he'll spurn the lucrative advances of Real Madrid and Manchester City?
The squad is not in as bad a shape as we've sometimes thought this season. A centre back would be good, a couple of midfielders, too, but the forward line looks set. Bellingham didn't look great against Chelsea and the strapping on his leg was worrying. We'd all love to see him in a red shirt but any available money might be spent more cleverly. The 19-year-old would change the shape of the team. Are we ready for that?
*
Thiago. Lovely to watch. Strokes the ball around. Too often from side to side.
He needs to play more killer balls. Why isn't he slide-ruling passes through the defence like Andy Robertson sent to Cody Gakpo for the opener again United? That's the sort of thing I expected from him when he joined.
According to the Premier League website, he's had four assists in 63 league games (and two goals). Nah, not having the wankfest that some of his sideways passes provoke. He has the talent to really hurt teams but slows the side down the way he's played. We need him to step up.
*
Are you twitching Real Madrid? Probably not.
The tie was over at the final whistle at Anfield. We know that. But I'm reminded of a scene from Help!
In The Beatles movie there's a moment where the Fab Four escape their potential killers on bikes. They get away but start getting angry and circle round discussing whether they should go back and sort their enemies out. The Scouse bluster kicks in and they ride back into danger. "Who do they think they are? Not having that," is the basic message.
Let's hope Jurgen and the boys are cycling in a circle and getting angrier and angrier.
*
Bollocks. Whatever happens from now on, we beat Manchester United 7-0. It's not quite die-happy time but it's sodding close.