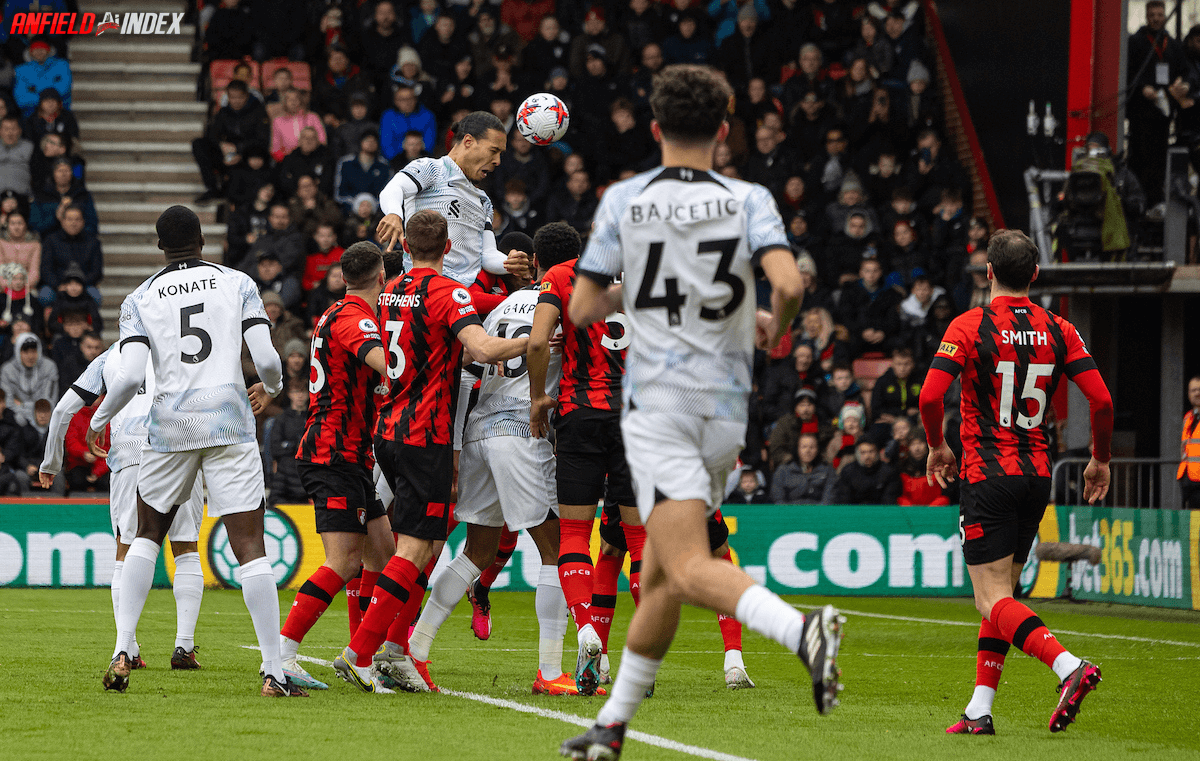 Bournemouth 1 - 0 Liverpool - PL Player Ratings
Bournemouth 1 – 0 Liverpool – PL Player Ratings
Alisson Becker – 6.0
A steady first half, which saw him repel an advancing counter attack wide, before being let down for the opening goal. Was a relative bystander for much of the second half, as the reds looked to get back into the game.

Trent Alexander Arnold – 3.0
A poor first half full of indecision, suspect defensive work, and a lack of positional intelligence. Did little in the second half to warrant staying on.
Subbed – 64 mins
Andy Robertson – 3.0
A very poor first half, where he could neither cross or offer solidity to the back line. Was often caught out of possession, whilst being unable to link further forward. Needs to add consistency, and was part of the reason we conceded.
Ibrahima Konaté – 6.0
Perhaps rash with some lunging first half tackles, as the rest of his defensive line seemed unable to carry out their duties. Was left far too open for the opening goal. Was the better of a bad bunch.
Virgil van Dijk – 4.0
Far too casual and should have been stronger for the goal. Should have scored early on with a powerfully guided header, but it was his defensive lapses which were a worry. The first half were shades of Brentford, and had little defensive work to deal with in a very long second half.
Stefan Bajčetić – 4.0
Brought back in for the skipper, yet did little to improve the middle ground. Was caught chasing back a few times, when better initial positioning was needed. The traits of a young man learning his trade.
Harvey Elliott – 4.0
Very ineffective and unable to offer too much at either end of the half, through a very frustrating first period. Lost his man for the goal, within a failing period. Withdrawn at the break to enable a far more attacking system.
Subbed – 45 mins
Fabinho – 5.0
Was slow and unable to react quick enough through a tedious first period. His passing wasn't as crisp as we needed, with too much quick action around making him look slow again. Not the same presence.
Subbed – 64 mins
Mohamed Salah – 3.0
A very unimpressive first half, with a clear lack of urgency through that first half. Had possession in a few good areas, yet couldn't link with those around him. The penalty miss was a horrible moment. A bad game all around.
Cody Gakpo – 4.0
The first half drifted by him, as he struggled to make an impact. He had a few bright moments where he looked to travel with the ball, but showed too much restraint in low block scenarios. Learning.
Darwin Núñez – 4.0
Pretty off colour, with some aimless running and bad decisions making his contribution irrelevant through the opening 60 minutes. Had a couple of instances where you though he could impact, which quickly seeped away.
Subbed – 64 mins
Subs;
Diogo Jota – 5.0 (on 45)
Came in to create a 4-2-3-1 overload.
James Milner – 5.0 (on 64)
In for a very underwhelming Trent.
Roberto Firmino – 4.0 (on 64)
Back in to add some unpredictability.
Jordan Henderson – 5.0 (on 64)
In to add some renewed energy to a lethargic middle ground.
The Manager;
Jürgen Klopp – 4.0
This game was always going to see a drop off in the players intensity, especially after the record breaking 7-0 win against Manchester United last Sunday.
The starting eleven was positive, yet the first half performance was not. It was a case of Bournemouth waiting for their moments, whilst the reds were happy to let them have them.
In fairness to the manager, he was proactive with his changes, yet he could not unleash a team anywhere near that which was set on destruction last weekend. The whole game so close to shambolic though, with a lack of desire (away from the bright lights of last week) clearly systemic.
The false dawn was confirmed with yet another horrid day for Liverpool.
Pre-match Prediction;
Bournemouth 0 – 2 Liverpool