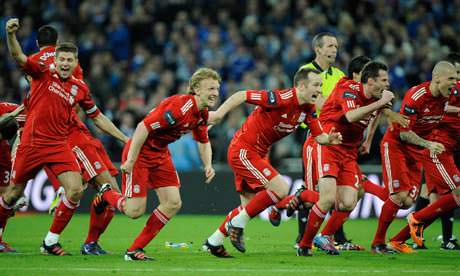 Liverpool FC win the Carling Cup | Full Stats Analysis
Liverpool won their, record, 8th Carling Cup and did it the hard way once again. Sitting in the new Wembley stadium wasn't easy for the travelling Kop as their Mighty Reds edged over the finishing line with a nail biting penalty shoot-out in which they'd missed their first two penalties!
Goals from Martin Skrtel and Dirk Kuyt looked to have been enough with a few minutes to go in extra time however Cardiff City never gave up and squeezed the ball over the line so the match was forced into sudden death.
Below are statistics that we collated manually using the Performa Sports iPad App. This app allows us to record each statistic manually whilst watching the game. A very long winded task so we hope you enjoy the statistics collated in this article.
Please note that these statistics are not from Opta and will not match their accuracy as they have replay free match feeds whereas we can only collate stats from whatever is shown by the television channels. Therefore we may have missed passes, duels or tackles due to replays shown on the screen.
Also note these have been collated by myself and not a group of statisticians.
Passing Performance
So without wasting any more of your time let's get onto the statistics. To begin with let's look at Liverpool's passing statistics. A 120 minute match resulted in 650 passes for Liverpool. No way near as many as Manchester City managed against Blackburn in 90 minutes but still a large amount of passes (believe me I've had to record each pass!).
Here's a column chart to show the passes and accurate passes: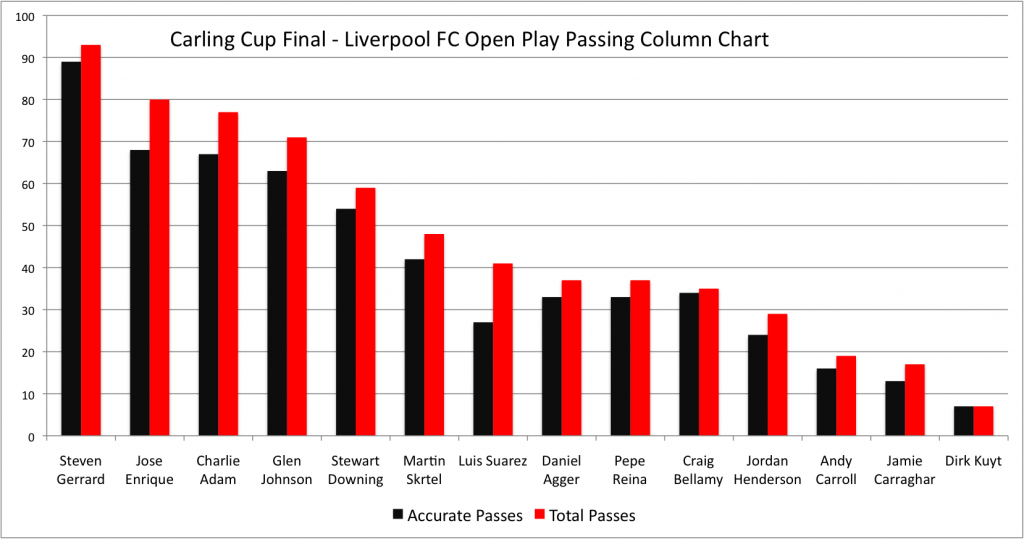 If you're looking for the raw numbers we've added them in a table below. As the table shows Steven Gerrard attempted the most Open Play passes and was accurate with 95.70% of them. An outstanding amount of passes completed. On watching the replay yesterday (to collate these stats as I was at Wembley myself – Block 121) I appreciated Gerrard's performance a lot more.
Yes, he was very wasteful in front of goal but he had an off day in that area however he made so many driving runs forward with the ball and there were also so many occasions where he'd made a run only for Henderson or Suarez to not find him with the first time flick on. When those passes and positional moves come off it looks very impressive but we take them for granted. Some Liverpool players didn't get the timing right of their passes especially Suarez who's passing accuracy was the lowest in the team at 65.85%. Bellamy almost made as many passes as Suarez in the game however Bellamy does tend to drop pretty deep to pick up the ball whilst Suarez will work in between the lines of defence and midfield or run down channels trying to make a lot more difficult passes.
[table id=24 /]
Other notable mentions were Bellamy who achieved a 97.14% pass accuracy, Stewart Downing managed 91.53% and there were two players on exactly the same number of passes and accuracy: Pepe Reina & Daniel Agger. For information purposes we've included Pepe's distribution by hand as a pass too. They both achieved 33/37 passes resulting in an 89.19% accuracy.
On the whole Liverpool achieved a Pass Accuracy of 87.69%, their highest of the season so their passing was on top form.
Crossing Performance
[table id=25 /]
The table above shows that Stewart Downing was the most active in the crossing department; attempting 11 crosses. Unfortunately he only found a team mate with one of these.
However you've all seen the match as I have and you know that Stewart put at least four or five very dangerous crosses in which required a striker to attempt to run in front of the defender and on countless occasions both Suarez and Carroll failed to make this run for him instead standing on their heels waiting for the ball to come to them. Unacceptable for strikers really so although Downing's stats will look poor his crossing performance was pretty commendable.
Steven Gerrard was the other serial crosser with eight crosses. However with Steven there were a lot that weren't getting passed the first man. The one cross he did plant on Agger's head was from a set piece and Heaton easily saved.
[table id=26 /]
It was a different story when you look at crosses via Corners. Liverpool had a staggering 19 corners (full table below) and Craig Bellamy found a teammate with all three of his. Steven Gerrard was accurate with 2 out of 3 whilst Stewart Downing found a team mate on 4 occassions out of his nine.
Adding Stewart's crossing attempts together he attempted 20 crosses with 25% finding a team mate. The twenty crosses that Stewart attempted was over a third of the whole team's crossing attempts (34.48% to be precise) and it shows just how involved he was in the game constantly tearing McNaughton a new one! He was still involved in the game when he switched flanks with Bellamy however he wasn't as effective.
Duels & Tackling
[table id=27 /]
Charlie Adam attempted the most ground duels but won only three. There were only three stand out performers in this statistical area and they were Glen Johnson, who won four out of five, and Daniel Agger, who won all three ground duels and Martin Skrtel who won 6/9 duels. The rest of the side were below par and as a whole Liverpool won less than 50% of their ground duels meaning Cardiff had the edge in this department. Cardiff on the whole threw themselves in front of everything and gave it their all. A very impressive defensive performance from them.
[table id=28 /]
These stats probably don't tally up with Opta (maybe due to a difference in perception of an aerial duel) but we had Martin Skrtel down with 20 aerial duels and that he'd won 75% of them – a very impressive number there. Next was Andy Carroll with 14 aerial duels and we noted that he'd won 12 of these achieving an impressive 85.71%. Andy even helped out at the back at set pieces and was unfortunately taken off before Cardiff's two dangerous corners at the end of extra time.
Daniel Agger won four out of six aerial duels but the rest of the side struggled with Cardiff's front man dominating them. Especially Glen Johnson who found himself constantly targeted Cardiff and they did that well as Johnson won only 4/10 aerial duels.
[table id=29 /]
Sliding tackles were few and far between, most of the tackles counted in the game were noted as ground duels (a little confusing for us but we must try to separate the two – for now take these as sliding tackles), and the two impressive performers were Skrtel and Agger once again. Both players have been tremendous for us this season and it's great that they've got themselves a winners medal. It would be superb to see the squad push on from here and start to regularly compete for trophies.
Chances Created
Steven Gerrard, Stewart Downing and Craig Bellamy were the creative forces in the game for Liverpool. Bellamy is particularly impressive as he played 55 minutes less than the other two players yet still created four chances for Liverpool.
[table id=30 /]
Shooting
An astonishing fifty shots were aimed at Cardiff's goal (including blocked shots). What was more astonishing is that Liverpool only managed 16 of them on target. A tally of 24 shots off target tells you everything. Steven Gerrard was, surprisingly, wayward with all of his shots. I believe it may have been the first time that Steven hasn't managed a shot on target when he's had seven attempts at goal.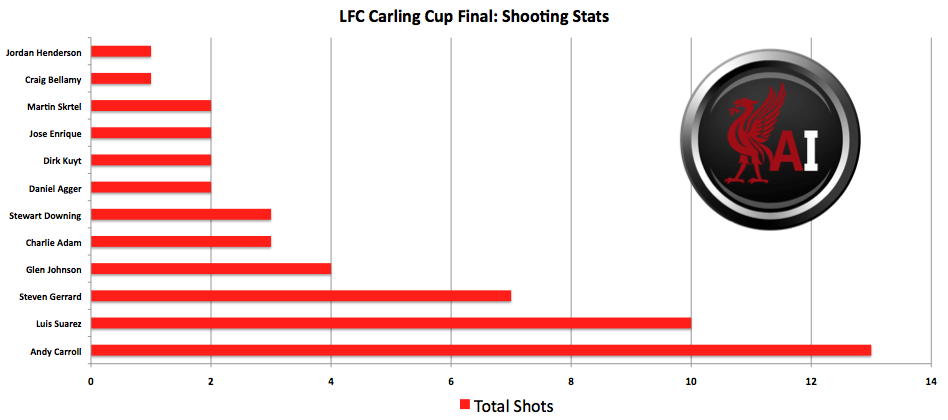 Andy Carroll also wasted many chances as well as Luis Suarez. Both of them combined managed 23 attempts at goal with less than 50% on target. That was the story for Liverpool on the day and it told further when Martin Skrtel had two attempts and got both on target with one resulting in a goal.
The old foe, woodwork, was at it again denying Liverpool twice (although one actually helped us score). Glen Johnson's peach of a shot especially as that would have been an ideal start and would have probably settled nerves in front of goal. Glen had a few attempts at goal and also went close with a shot that went just past the post. Luis Suarez didn't really have his best game for Liverpool FC but he was quite dangerous. He hustled and harried the Cardiff defenders and got into some great positions but let himself down in front of goal, as has been the case this season, but he's getting into the positions at least.
[table id=32 /]
At the end of the day all that matters is that Liverpool FC have finally ended their trophy drought and now have more goals to achieve this season; mainly a charge for 4th spot and a good FA Cup run. Let's hope this Cup win is the catalyst for an epic end to the season and more moments like the one below.