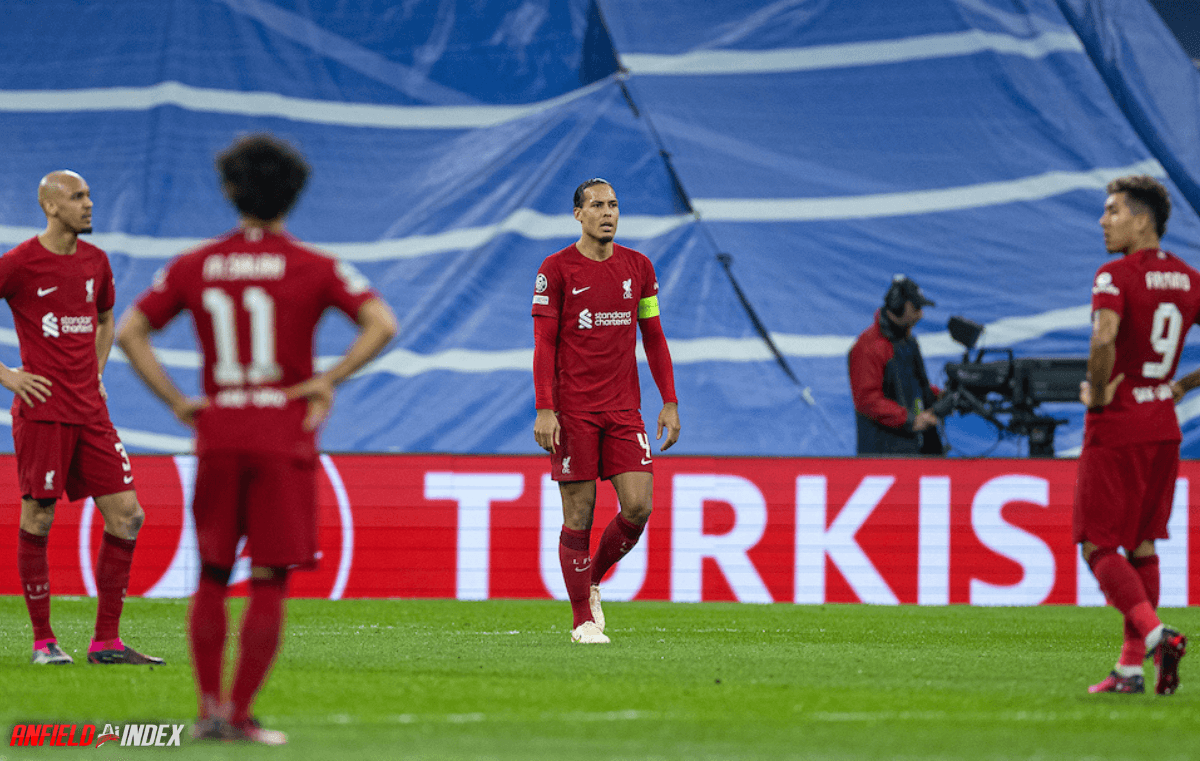 Real Madrid 1 - 0 Liverpool - CL Player Ratings (6-2 agg)
Alisson Becker – 9.0
A simply emphatic first half display, with number of world class stops that kept the reds in the tie. The second half saw him continue to show his world class credentials, with one marvellous one on one stope from Valverde. He could nothing for the opening goal, which ended a tie he had just about kept them in.
Trent Alexander Arnold – 5.0

An okay first half that was often leaving himself open against Vini, yet the risk was clearly intended. He showed some desire to support his back line, yet could not find that telling ball to make an offensive impact. Too rushed at times with his passing.
Andy Robertson – 5.0
An energetic first half where the Reds scrambled and hustled to try and get back into the mix. Continues to work through an underwhelming second period. Struggling still with a lack of fluidity in the side.
Subbed – 90 mins
Ibrahima Konaté – 6.0
Perhaps stretched at times, with the Reds looking very open through a frenetic first half. Dealt well with what came his way, with his power and physicality on show. Was keen to match the gifted Madrid forward line through a good second half performance.
Virgil van Dijk – 5.0
A staggered display, with his defensive leadership lacking in the first half. Did put his head in the way of some good home attacks, though struggled to match his young partner, and still way below his normal levels.
James Milner – 5.0
Worked hard, showed desire and was a reliable red through the frenzy-filled opening half. His legs started to fade through the second period with a gutsy if ordinary performance.
Subbed – 74 mins
Fabinho – 5.0
The more disciplined of the double pivot duo, his role was about occupying space through a crazy first half. Did his job fairly well, and looked to stopped counters before they truly evolved. Struggled to maintain a fluid Real middle ground, through a tough second period. Offered little on the ball.
Diogo Jota – 4.0
Was the spearhead and probably the foil for the wider forwards. Plugged away but still looks painfully rusty. Needs more minutes if he is to start impacting games.
Subbed – 57 mins
Mohamed Salah – 5.0
A frustrating first half of a few half chances that did not pan out. Kept running, kept offering support and was a danger when the reds looked to exploit space. Part of an attack that looked disjointed again.
Cody Gakpo – 5.0
A first half of moments, at either end of the field. A good sighted was well saved, but it was his off-ball work and intelligence that allowed the shape to operate. Worked hard through a difficult second period, as he had to spend much of the game as a utility third midfielder.
Subbed – 90 mins
Darwin Núñez – 5.0
Pretty well handled through a tough first half for the Uruguayan. His running and desire were there, but so was Real's defensive shape. Starting to look unsure on that left hand side, with defensive lines reacting well to his speed and direct nature. Needs to move into the central attacking role.
Subbed – 57 mins
Subs;
Harvey Elliott – 5.0 (on 57)
Came on to add that final ball, with some hard work on show.
Roberto Firmino – 5.0 (on 57)
Couldn't impact the game as was needed.
Alex Oxlade Chamberlain – 4.0 (on 74)
Unable to roll back the years.
Kostas Tsimikas – N/A (on 90)
Fábio Carvalho – N/A (on 90)
The Manager;
Jürgen Klopp – 4.0
This was a ballsy line up that required his keeper to be magnificent, which the Brazilian obliged.
It was so open at times in the opening period, with the system built more upon trying to catch the home side out, than any patterns of play. The desire was sporadic, but Real Madrid were just so well drilled and talented, that they were able to contain and offer more threat in that first 45 minutes.
The second half had the Reds creating a little more, yet the threat was always within the Champions League holders' hands. His keeper continued to over-perform, with his side working relentlessly to try and score that first goal of the evening.
The game was lost a few weeks ago, but this effort was more encouraging than the first leg collapse. The substitutions offered very little as Klopp started clutching at straws.
Pre-match Prediction;
Real Madrid 2 – 2 Liverpool