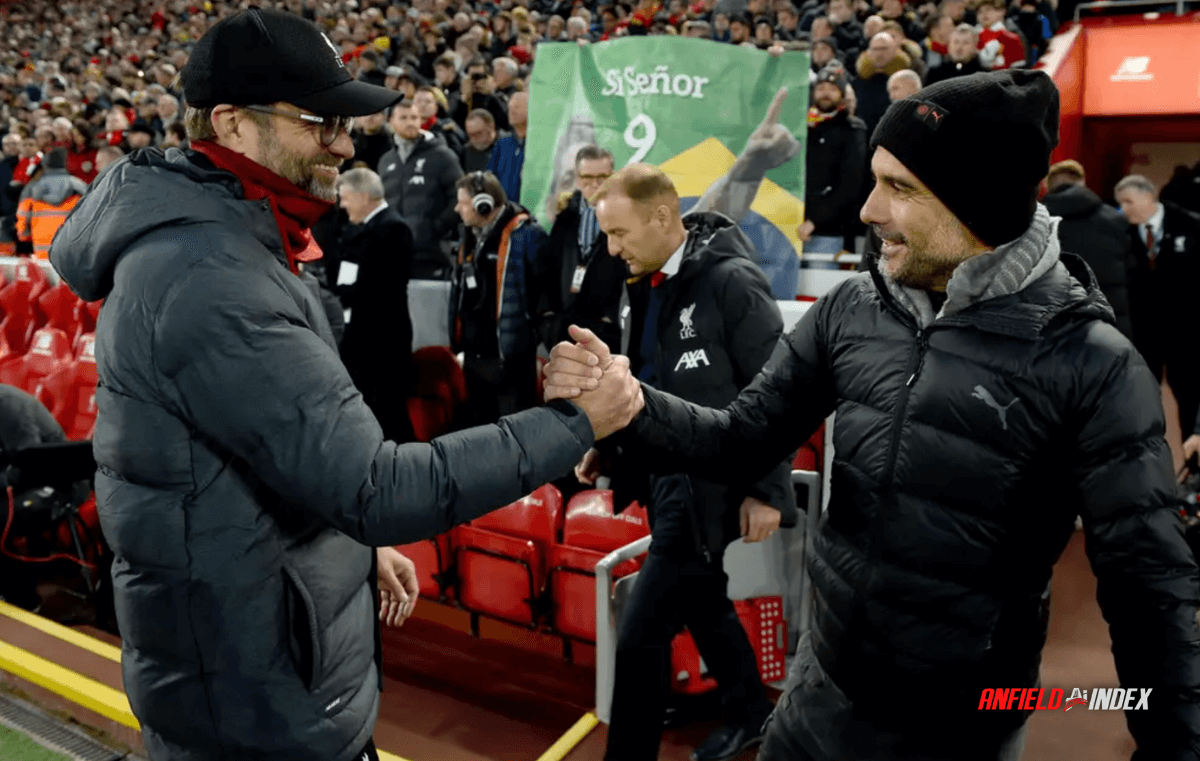 How Liverpool Should Prepare for Manchester City

With this seasons Champions League run now officially over, the Reds have a short break in which to recalibrate their stuttering form. Though the international break will take many of the players away from the club, it can still be a moment for the coaching team to really evaluate and establish a way of improving. With twelve games remaining (in Liverpool's Premier League schedule), there is still much to play for, despite the recent (and hefty) two legged defeat to the reigning Champions League holders, Real Madrid. With a few players currently out injured, we could have a very strong group to choose from, as we embark on the final two months of this campaign.
Below are the current or recent injuries, with their stated return dates.
Calvin Ramsay
Expected return – 5/6/23
Thiago Alcantara
Expected return – 1/4/23
Luis Díaz
Expected return – 1/4/23
Joe Gomez
Expected return – 1/4/23
Jordan Henderson
Expected return – 1/4/23
Stefan Bajčetić
Expected return – Unknown
In terms of our little Guinean, I do not believe him to have been injured as such, but merely cast aside. His last appearance was against Crystal Palace, in a painfully boring 0-0 draw. That game was not so much about a bad performance (from Naby), but more a poor attitude. He seemed intent on receiving a second yellow card in that game, which forced Klopp to withdraw him at half time. Given that, I believe his extended return to football, will be with another club.
With most of the above expected to be back for our lunchtime visit to the Etihad (in a few weeks' time), it's important to resume our season positively. Whatever is causing ill effect with these lunch time kicks offs, must be ironed out before this match, or it could be a case of offering Liverpool's lambs to the slaughter. The significance of the three points is all that matters in each and every remaining game, therefore the strongest possible line up needs to be fielded in each one. For me, an initial return to the double pivot would make sense (much like against Madrid in the second leg), with certain future games allowing for a three man middle. We have to be able to shock City on the day, whilst perhaps shocking ourselves into action. We can assume that the captain would have been used for England in the week prior (or still recovering), so with that in mind, this would be the side I would pick for the away game against our recent rivals, Manchester City
GK – Alisson Becker
RB – Trent Alexander Arnold
RCB – Ibrahima Konaté
LCB – Virgil van Dijk
LB – Andy Robertson
CM – Thiago Alcantara
CM – Fabinho
RW – Mohamed Salah
ACM – Cody Gakpo
LW – Luis Díaz
CF – Darwin Núñez
Darwin Núñez was not signed for a fee of (potentially) £85m to the. be shifted from his natural position. The former Benfica man was signed due his brilliance at centre forward, therefore the remaining schedule should be about immersing our front line together. Too often this season, have we seen players unable to connect with one another. Moments against Manchester United showed great promise, yet moments do not last and will not bring about sustained success. The future of this attack needs time together on the pitch, therefore with Luis Díaz back from injury, he must take up his own natural position also. With Gakpo signed to be a versatile second forward, I believe we must continue to roll out the 4-2-3-1 that the current personnel can all relate to.
We know the midfield is lacking in dynamic aggression, which is why I believe we must look to blow teams out of the water. We have one of the worlds most talented controlling midfielders, yet the Spaniard is lacking the surrounding cast to help carry out his genius intent. We know that Fabinho and the former Barca man can work well as a two, so with Cody prowling ahead of them, this may enable the system more fluidity and unpredictable patterns of play. Pep Guardiola will be looking to come for us, therefore our current nature and commonality of being overrun, needs to be averted, which can be undertaken with a more aggressive system of play.
We must assume there is to be a shift from our fabled 4-3-3, for the recent signings of Gakpo, Fábio Carvalho, and Darwin to make sense. So much of our squad (and off ball requirements) would benefit from a condensed central area, thereby creating new ways to hurt teams. The next raft signings are surely forthcoming (in the summer), though I admit the level of expenditure is still unclear. If we must be smart and productive with our funds, then so be it. The most important element of our regeneration is the acceptance of change, which must start now. We have an opportunity to gate rash the top four, but we must also take this opportunity to prepare for next season.
This disaster of a campaign has been widely accepted by our frustrated fanbase, especially with many alterations expected to be carried out in the summer. As it stands, we can now focus in on one competition and start to build towards where we want to be. That starts with City away, our next most important game of the season.
Let's hope April 1st isn't a day for this Liverpool team to be made fools…