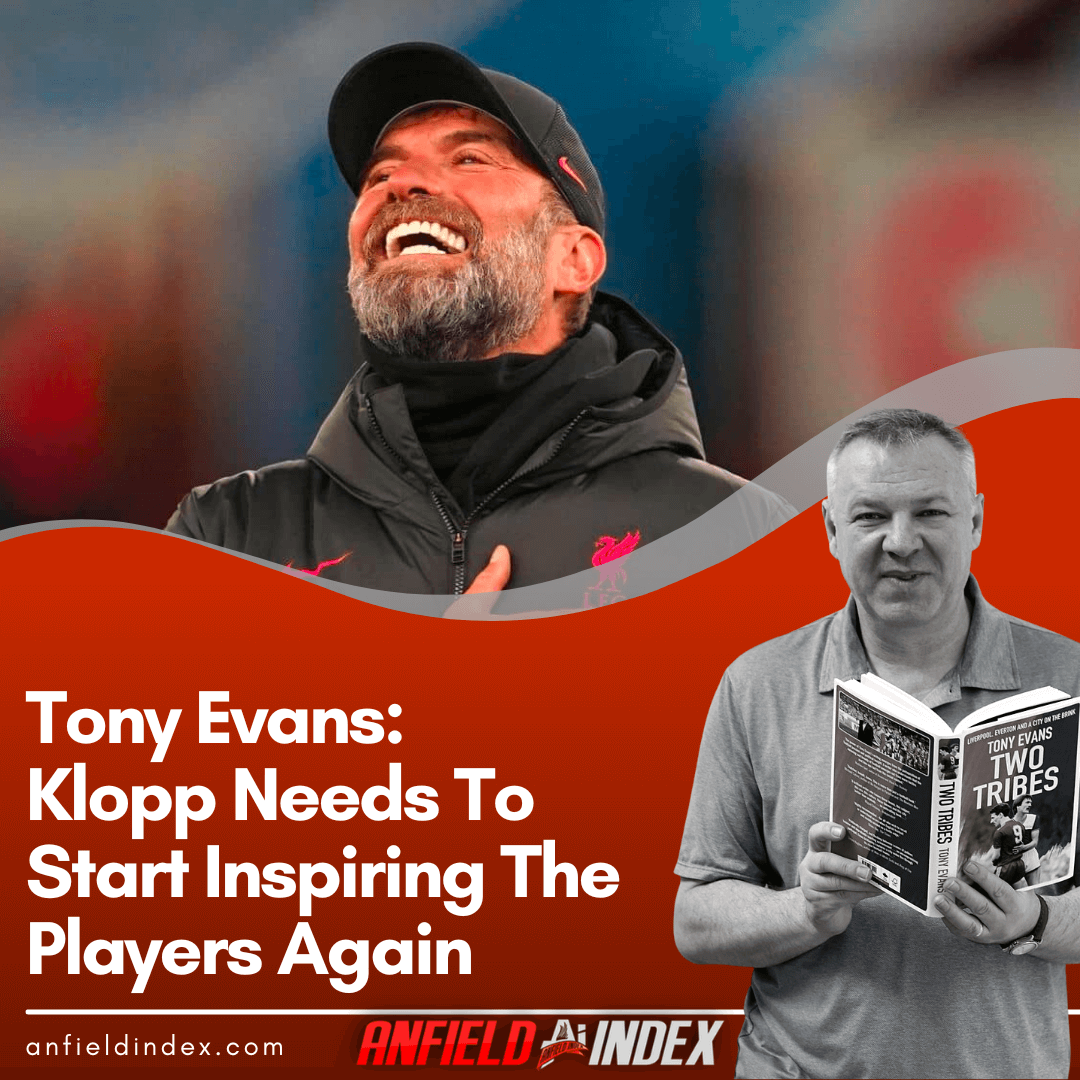 Tony Evans' Column: Klopp Needs To Start Inspiring The Players Again
What's worse than an international break? An international break that's overshadowed by a sense of crisis.
Bournemouth. Madrid. Neither performance was good enough, neither was acceptable. Jurgen Klopp's demeanour in the Bernabeu afterwards was worrying. He is a bad loser but that didn't show.
You can moan all you like about FSG – and, yes, the owners could do a better job of running the club – but there are enough good players at the manager's disposal to be doing better than this.

The second half against Manchester United showed the heights they can hit. That performance was an exclamation mark on a mad five years of success (and I stand by my assertion that there's never been a better time to be a Kopite than this past half decade). But there are concerns.
The work in the transfer market is questionable yet Liverpool had three world-class players in the team in Madrid: Alisson, Van Dijk and Salah. Alexander-Arnold, despite his poor form, is arguably a fourth.
Konate, Robertson, Gakpo, Jota and Nunez are in the pretty good category. Fabinho's had a bad season but he's also a fine player – unless you're carrying a bad injury, you don't drop off overnight the way he has. And Milner is reliable and knowledgeable.
So, even going into the worst-case scenario in that second leg, you've got to get more out of that group. They offered so little it was shocking.
Klopp has never really been a tactician. The team's style evolved organically when the emergence of two exceptional raiding full backs pushed the side in a direction. There's been relatively little tinkering with the tactics. What Klopp does so well is draw people together and instil belief. Against Real, he didn't seem to believe himself.
No one wants to turn on the manager and let's not get this out of proportion. But if you question the players, then the same scrutiny applies to their boss. He, after all, is the man who sets the tone.
We know he's short-handed in midfield but it would be nice to see some creative attempts to address the problem. Playing four attackers in Madrid could be seen as doing that but it meant going all-in too early. One of the quartet might have been held back for when Real began to tire. Or an even bolder approach would have been to send on Firmino for Milner and go for broke.
Taking off Nunez seemed perverse. Mind you, Klopp's substitutions sometimes feel confusing, even if the bench looked somewhat lightweight.
The lack of spending does not let anyone off the hook – including the manager. They are all better than they are showing.
Neither does the 'it's Real Madrid' argument wash. Yes, they're good but Liverpool have been close to their level over the past few years and, without a blinding game by Courtois in Paris (and with better finishing) the Reds would have beaten them in May.
Just saying that a massive rebuild is needed in the summer is not good enough. This squad is underachieving badly and everyone – Klopp especially – needs to ask tough questions of themselves.
*
It's hard to be churlish about Real playing YNWA after the game in thanks to Liverpool for showing solidarity after Amancio Amaro, their honorary president, died before the first leg. It's the sort of nice idea you can have when you're 5-2 up going into the second leg. Had they been 5-2 down would they have been so feely-touchy?
*
That nice Aleksander Ceferin apologised to Liverpool and Real supporters over the events in Paris. Thanks mate. Only 10 months late.
Meanwhile, in Portugal, Inter fans were placed in a dangerously chaotic situation before their team's game against Porto. The scenes were reminiscent of the approaches to the Stade de France.
Football supporters are regularly placed in perilous circumstances. It's always happened and it will never stop until someone takes the problem seriously. Part of you wants to say that this won't happen until people die but the lesson of history is even avoidable fatalities don't make much of an impact.
So, the message to the Uefa president is simple: stick your apology where the sun don't shine. And I don't mean Manchester.
*
Stefan Bajcetic's injury is a blow. The 18-year-old has been ruled out for the season.
You always worry about young players being played too much at an early age. It's a delicate line. Too few appearances at top level can send their development down a blind alley. Overworking them can be detrimental, too.
Bajcetic also carried the hopes and expectations of everyone at a time when his older and more experienced colleagues failed to pull their weight. Let's hope he bounces back in August.
The concern is that after being ruled out for the final three months of last season with injury, his 19 appearances in this campaign might have been a bit much. It will be great to see him thriving again. His ceiling is so high.
*
The videos from Naples this week were mindblowing. Eintracht Frankfurt and Napoli fans were involved in serious anarchy and the police were at one point running for their lives.
Just a reminder that England go to the Stadio Diego Armando Maradona (the only time I don't call it the San Paolo is when the English are in town).
More bold work by Uefa and the Italian FA. It's almost like they're asking for trouble.
*
The top four is still in sight. Hopefully the Champions League exit will focus minds.
The last thing we need is the international break. The team are back in action on April Fool's Day against Manchester City. That looks ominous but, even after criticising Klopp and the players earlier on this page, there's a nagging feeling in the back of my mind.
The fools could well be those who write off Jurgen and his boys. Roll on April. The sooner it comes round the better.