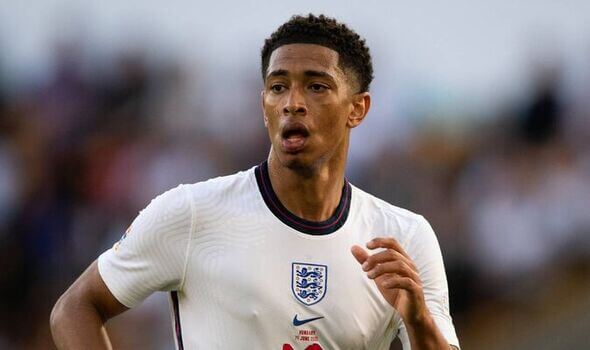 Bellingham Blow-Up: Hold….For Now…

For anyone familiar with tune, the Boomtown Rats had it right when news comes through in the morning like it does. If you'd believed that the international break would be a quiet and calmer period after all the turbulence of the current campaign, David Ornstein did his best to dispel that myth with his news that Liverpool are looking 'increasingly unlikely' to sign Borussia Dortmund's Jude Bellingham this summer. One glance at social media will show you a variety of opinions and comments, but the feelings and tension among the fanbase is clearly palpable. Whatever does happen between now and the start of next season, all Liverpool's eggs are in this basket and a lot appears to be riding on it, for many.
In essence the article didn't rule the club completely out of the running (tin hat on for this part). Ornstein is a well-respected and renowned journalist so this isn't to cast any negative aspersions against the author in anyway. The combination of the 'expected price and financial power of rivals' added with the potential lack of Champions League football have been cited as the key rationale, with rivals now seen as in a stronger position. It does need saying this does go against other recent stories, with varying Spanish suggesting Real Madrid have been playing hokey-cokey around moving for the England International, whilst a top four position has been commented upon by other journals as not being a deal-breaker for the player. Bellingham has apparently been keen to take a wiser, long-term approach to his next move.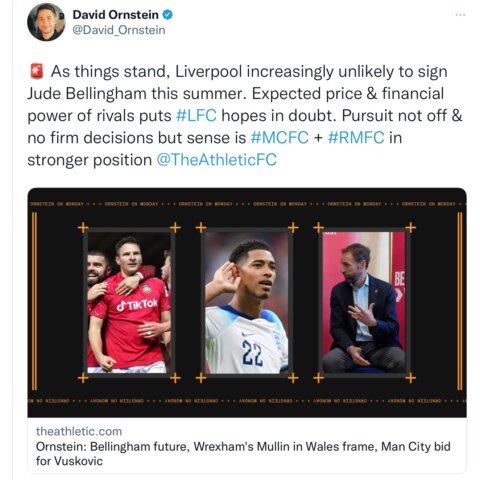 There appears to be multiple schools of thought based upon the varying social media reactions and the flavours that you're looking for. Some reds have gone down the bitter 'this was always coming' approach with a sprinkling of 'FSG Out' added in for seasoning. Others have looked to a milder 'let's wait and see' mantra, believing the taste of 'no smoke without fire', whilst those most cynical of the articles truth and substance have even gone for the 'chip paper for the international break's takeaway', with the hint of nothing we didn't know mixed in. In truth, it's too early to award any places or medals as some like to do just now, but it's understandable the questions and debate this will raise.
Timing is everything as they say and whether Bellingham or Trent Alexander-Arnold had planned for a quiet catch-up, it was never going to be that. Two of England's brightest talents are intelligent and savvy characters, who would have been fully aware of the headlines this would bring regardless of their plans. Whether you're a just two normal lads enjoying a night out, strange as Trent's not even in the England squad or Agent Trent bringing this one home person, essentially it's not a right or wrong scenario as very few will know the real answer. Even a Jack Grealish comment on Bellingham's Instagram is seen as a desperate last attempt by some whilst raising concern amongst other reds, such is the clamour and desire to secure a player many view as a generational talent.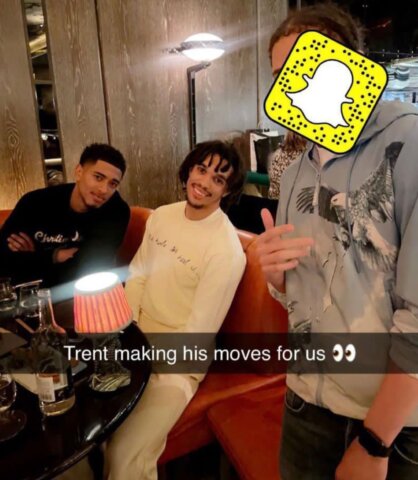 The issue of investment will always refocus the discussion, helping bring it back into view and could potentially be key if anything is to change 'as it stands'. Liverpool's midfield was always in need of an overhaul and with links to Matheus Nunes and recently Mason Mount intensifying, the question of funding was always going to be key. Previous articles by messers Joyce, Jones and Pearce etc had suggested funds had been set aside for this move but Joyce's most recent story lauded to Liverpool being 'better served' by moving for Mount as an alternative. On the back of Dave Powell's article for The Echo where he'd interviewed John W Henry, there was an affirmation that FSG had identified the potential investors needed. Based on the picture now, it's difficult to see any move coming to fruition without a serious cash injection into the club.
In the short-term, the focus will eventually return quite rightly to on-the-pitch matters where the club as Jurgen Klopp put it 'will try and squeeze everything they can' out the end of the season. The longer-term implications may still to be felt, but if by any scenario Jude Bellingham doesn't arrive at the AXA Centre this summer the minimum feeling of embarrassment at not landing a clear top target and frustration as other moves appear to have been sacrificed will be more than justified. There's still a long time between now and the end of the season. This isn't a defining 'to you the listener', the end of any monologue or an attempt to validate any thoughts, but we won't know anything for a while. It's worth holding off … for now.