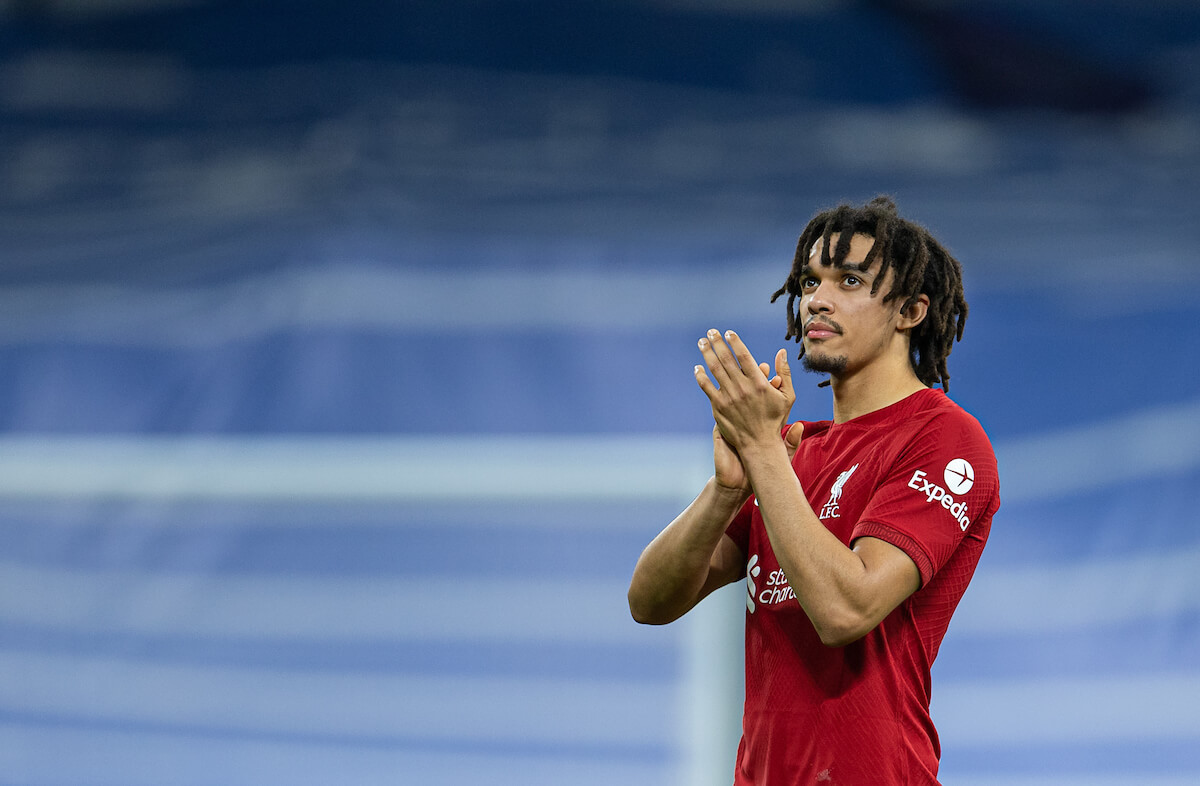 Trent Alexander Arnold & Lacklustre Attitude
When Jürgen Klopp's Liverpool were at their rampaging best, they were the world's most feared football club. The system and its components were designed to undertake their bespoke tasks, with opponents commonly beaten into submission. Whenever the Reds lost the ball, they would merely take it back and resume their assault. There was a time when the opposition would be limited to just a couple of half chances, which would inevitably cause Virgil to get angry at having to defend. Apart from the odd poor performance or period of nonchalance, the team was a superior force to everyone they faced. During that wonderful time, a good few players were elevated to world class status. The likes of Mohamed Salah, Bobby Firmino, Sadio Mané, Virgil, Fabinho and Alisson Becker, became one of the world's best (in their position), with one homegrown player perhaps becoming the undisputed best attacking fullback on the planet.
Trent Alexander Arnold was designed to unleash an ultra-attacking style of play. His starting position was merely a formality, as his role was to be a destructive wide man, that would service the best attacking unit in Europe. An elite holding midfielder would cut out passing lines, whilst two numbers 8's pressed and occupied space, thus allowing our number 66 a licence to create carnage. What we have seen this season, however, is the 24-year-old having to defend far more than he had been accustomed to, with his midfield unable to strangle the life out of their opponents any longer. I imagine this is very much like what David Beckham would have looked like, if he were cast into a fullback position. With teams now more than happy to attack this stuttering Liverpool, it has created scenarios that are not customary to certain players skillsets. Trent is by no means a bad defender, yet he is still being driven to play high, being a coward thinking playmaker, while supplementing a team struggling for ideas. This campaign has seen him let down by either ageing middle men, or teenagers that do not know how to shield a defensive line. Regardless of all this, our 18-cap England international is neither showing the desire or aggression to overcome this new dilemma, with a rather sulky demeanour now emanating throughout our games. Harvey Elliott has spent the entire season playing a position he is neither designed or coached properly for, yet will give everything to his manager and teammates. The major question surrounding Trent, is whether he has the internal desire to become that world class player we are aching to see once again.

When our German manager arrived on the scene, we were an absolute mess of a side. Almost immediately, the former Borussia Dortmund man brought intensity and a new style of play. It seemed that everyone bought into this ideal, with anyone not so keen, ushered out the door. Up until this very season, you would have bet your life on anyone of these players running through walls for their boss. The rise of our ultra gifted right back was somewhat staggering, as the new patterns of play gradually started to revolve around the teenage prodigy. With 262 appearances for his boyhood club, it would be a stretch to claim his lacklustre attitude is linked to his tender years. This is a very experienced and aware footballer, that has won just about everything for Liverpool Football Club. With Andy Robertson recently defending his fellow wingman, it pointed to a dressing room awareness of TAA's recent shortcomings. The fanbase seems to be a yo-yo of opinion on many of our stars, with Trent now the most talked about.
I'm very much of the opinion that the regeneration and recruitment of new players, should be designed to enhance the abilities of key personnel. I believe Virgil needs to be rotated far more, alongside the likes of Thiago and Mohamed Salah. Our reliance on certain players means that we must improve the overall standard of our squad, so that injuries (caused in part by fatigue) can be averted. I believe that our three-time Premier League winner falls into this category, yet am very concerned with his current lack of ambition. His willingness appears very sporadic, with a spoilt nature coming out far too often. I am sure there have been certain conversations between him and the coaching staff, yet we still see his lack of fight far too often. Whether or not he wants to become embroiled in defensive battles is beside the point, he simply must show the required level of fight to the club and the supporters, that cheered him when all was well. This disaster of a season will hopefully be nothing more than a snapshot in time, yet if this young man has any aspirations to one day wear the armband, then a level of maturity and leadership has to be shown. 
Talent will get you very far in life, yet an unwavering commitment to work for this club is what will eventually create legend. Steven Gerrard is my absolute poster boy for how a Liverpool player should represent this club, which is surely the level our right back strives to be. My hope is that once this season is at a close, we will see many problems eradicated with change. But right now, in this troublesome moment, Trent Alexander Arnold is making the haters' words very easy, whilst proving why his latest omission from the England squad is warranted.
Again, we wait in hope, whilst this latest break in our domestic calendar descends. At some point the penny must drop, with our world class talents driving our club back up the table. I just hope Trent can become one of the shining lights, as right now, he a little more than a feint glimmer of what he once was.