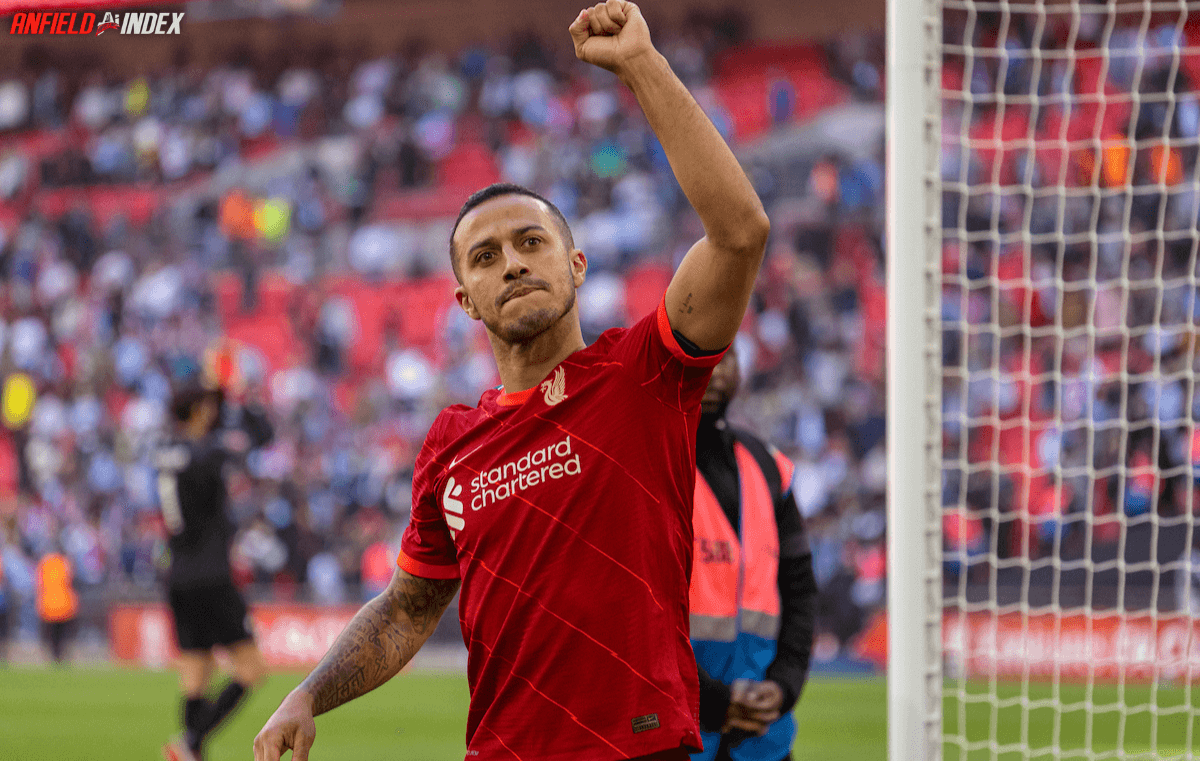 The Return of Thiago, A New Hope

When Liverpool signed Thiago Alcántara from Bayern Munich, any games where we struggled, pundits would start making all sorts of weird claims. Despite needing an elite controlling midfielder, he would commonly be accused of slowing down our play, or some other strange rhetoric. What his arrival actually did, was enable far more invention against the low block, as teams happily sat on their 18 yard lines for ninety long minutes. That 2020 acquisition was a huge requirement in order to combat the new and ever improving defensive shape of our opposition. If not for the unstoppable Manchester City (and their charge ridden antics), the Reds would have completed the quadruple last season. The Etihad fiasco saw Liverpool fighting until the season death, with their cheating methods creating a two horse race that should not have existed. Last season, Klopp's side were often brilliant, with our Spanish number 6 often the guiding light of a world class team.
This season has seen the intentions of our competitors alter, with a new desire to attack our beleaguered and exposed side. This is a team that did very little defending (for a good few years), with so many teams previously happy to have us occupying their half. This new reality coincided with the integration of a new striker, which has exposed much of the limitations our ordinary midfielders currently possess. This entire campaign has been a shit-show, with the team badly set up, badly coached, and unable to sustain any form of consistency. Many players have struggled to adapt to the new requirements, with some horrendous performances transpiring. It always seems that when one player returns, another key asset gets injured. What we have in a few weeks' time, however, is a scenario that will see both VVD and our former Barca man within the same starting line-up. With Luis Díaz also back in team training, this could create the fire that can ignite a much-needed resurgence.
I'm convinced that a slight alteration in our system can see us through to the season's end. With either a false nine or number ten operational ahead of Thiago & Fabinho or Thiago / Fan / Hendo, I can see a level of control returning. Clearly, we are no longer equipped to be as open as previous years, however with a world class operator controlling our patterns of play, it would enable us to limit our vulnerabilities. There is no better on pitch tactician, than our Spanish international, therefore we need to facilitate the likes of him and Trent. These two players represent the playmaking model that we have been lacking, therefore the surrounding pieces need to make sure they are both facilitated and supported. Our off ball deficiencies are very apparent, therefore our resurrection must be more about how we can hurt teams, and which players can help deliver that. 
This final leg of the season needs to be about proving our ability and commitment to the cause. Our 5ft 9inch midfielder maybe close to 32-years-old, but has shown his leadership qualities throughout his Anfield stay. We need players to hold others to account, which is another facet that he can drag from the surrounding cast. We are all desperate to see our rampaging ways return, yet until there is a serious change in personnel (this summer), then a new way of play must take its place. To control football matches is to nullify the threats posed by our adversaries. We need that April 1st trip to the Etihad to be about matching the quality of our opponents, which means we need Thiago Alcantara to orchestrate our way through that battle. 
I believe we can still achieve top four in the Premier League this season, I just know we need our magnificent Spaniard to get there…