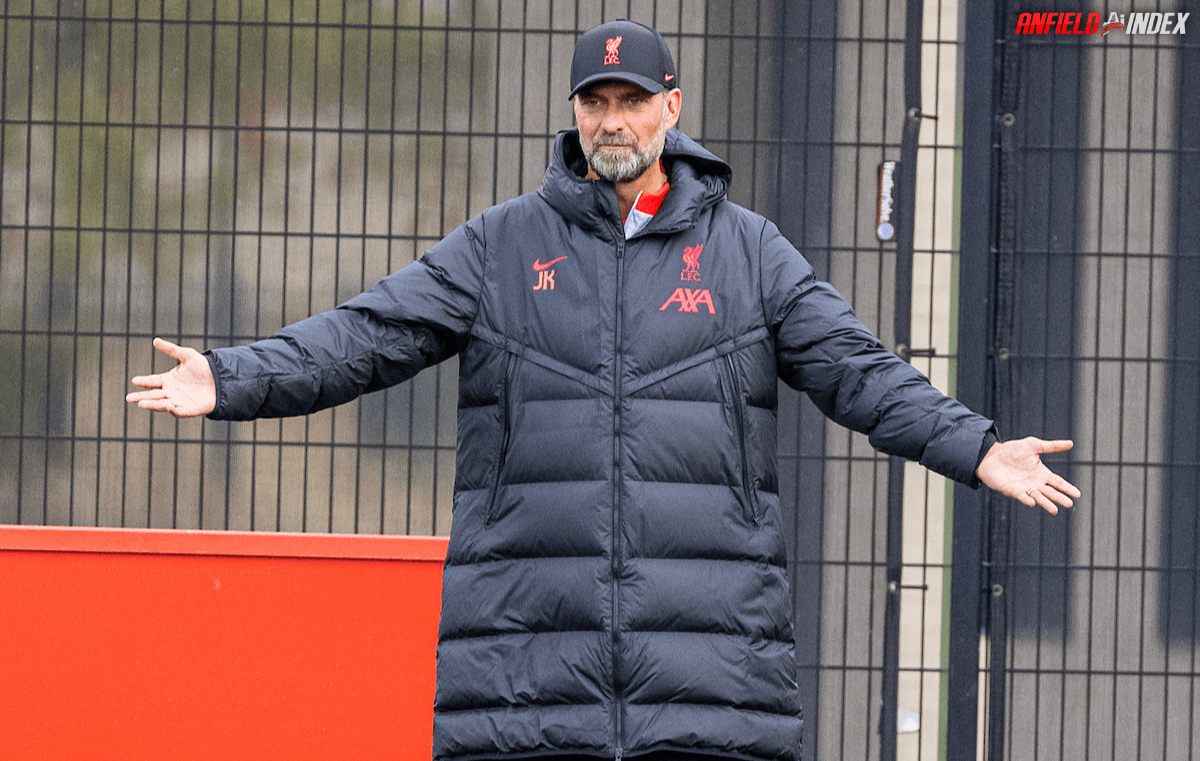 Klopp Must Be Banned from The Recruitment Process
Much of the Reds' recent success has been garnered due to the brilliance of Jürgen Klopp. His galvanising of a footballing squad is key to his methods, whilst his coaching abilities helped to revolutionise the way we view modern football. There is no doubt that he was right manager at the right time (when appointed), with the achieved silverware to back up that claim. Despite all of this, he was far from alone in achieving the success that followed his arrival. In terms of how the club operated, FSG had installed a very efficient and desirable method of scouting and recruitment, led by the world class Sporting Director, Michael Edwards. With a brilliant group consisting of Ian Graham, Julian Ward and Dave Fallows, certain players were identified and recruited, which enabled the special talents that the former Dortmund manager required. With Mike Gordon overseeing the whole process, his role as FSG's president extended into Anfield more than any of the Fenway Sports Group, which allowed a firm and fruitful structure to run effectively.
In the past 10 months, we have seen Michael Edwards step away from his Anfield post, whilst his successor (Julian Ward) is set to leave this coming summer. At some point there will be a book written that will detail why both handed in their notice, but that will not happen any time soon. What we have right now is speculation as to likely reasons why. With a raft of senior players being held onto, big contracts handed out to players in regression and a manager potentially demanding too much of this, it would have undermined the role of either Sporting Director. What we are seeing now, is a team way past its sell by date, with a manager clearly reluctant to see a regeneration of his beloved squad of players.
For me, it's clear that neither Edwards or Ward was able to coexist with Klopp (any longer), with a clear power shift in the direction of our legendary German. The fundamentals of our success were aligned with both smart recruitment and tremendous sales. Both these avenues have stuttered of late, which has seen the squad age out, whilst the incoming monies have slowed to a halt. We are all aware of the infamous FSG model, which is something they must now revisit, in order to ensure the process is operating as required. Though the manager should absolutely have a hand in what players he needs (and those which he believes should remain), there has to be a decision maker above him. that can make choices that are void of emotion. The likes of James Milner, Bobby Firmino, Naby Keïta and Alex Oxlade-Chamberlain, will all soon leave on free transfers. All these assets could have brought in significant monies, due to their standing at one of Europe's leading clubs. If new contracts were not being signed, then certain players should have been marginalised in order to help fund their replacements. There has been become a common theme of holding onto players far too long, which is an ignorant and harmful attitude to running an elite football club. With so many limitations on our ability to spend, there has to be a recalibration of our overall transfer model, which decreases the involvement of our head coach.
Below is the list of (significant) senior players that have been allowed to run down their contracts, thus being allowed to leave Anfield on a free transfer. I have also added an estimated value, that would have been attributed to one year remaining on their final Liverpool deal. I have included those that are due to leave this coming summer.
Loris Karius – £2m
Alberto Moreno – £5m
Nathaniel Clyne – £5m
Jon Flanagan – £1m
Emre Can – £25m
Georginio Wijnaldum – £30m
Adam Lallana – £8m
Naby Keïta – £20m
Alex Oxlade-Chamberlain – £10m
James Milner – Free
Sheyi Ojo – £2m
Ben Woodburn – £1m
Lazar Markovic – £2m
Daniel Sturridge – £15m
Divock Origi – £15m
Roberto Firmino – £20m
Total £161m – Potential transfer fees lost.
Imagine what the reds could have done over time, with over £160m added to their limited war chest. The acquisition of new assets would have allowed for others to be sold, thereby allowing the process to regenerate more funds. Obviously certain cases are exceptional, but even if £100m could have been brought in (during Klopp's tenure), it would have enabled our recruitment department to make a number of signings, which could have seen the current struggles averted. It is not the Sporting Director that is holding onto these players for too long, which is why I believe we cure currently looking to appoint yet another body into that role.
Jürgen Klopp is a world class coach, an elite system builder and a wonderful leader of the reds dressing room. What he is not, is the person we need to spearhead either our recruitment drive, or have final approval on existing contracts. The shift in power has had a damning effect, which the returning Mike Gordon needs to navigate and regain control of. The hierarchy and roles of our management group must have clear definition, with a line between the training ground and the recruitment department. This season of transition should be nothing more than a momentary blip, but only if lessons are truly learned. Liverpool Football Club need to make sure that all its staff are pulling in one direction, otherwise this campaign of hurt could become a long-term struggle to overcome.