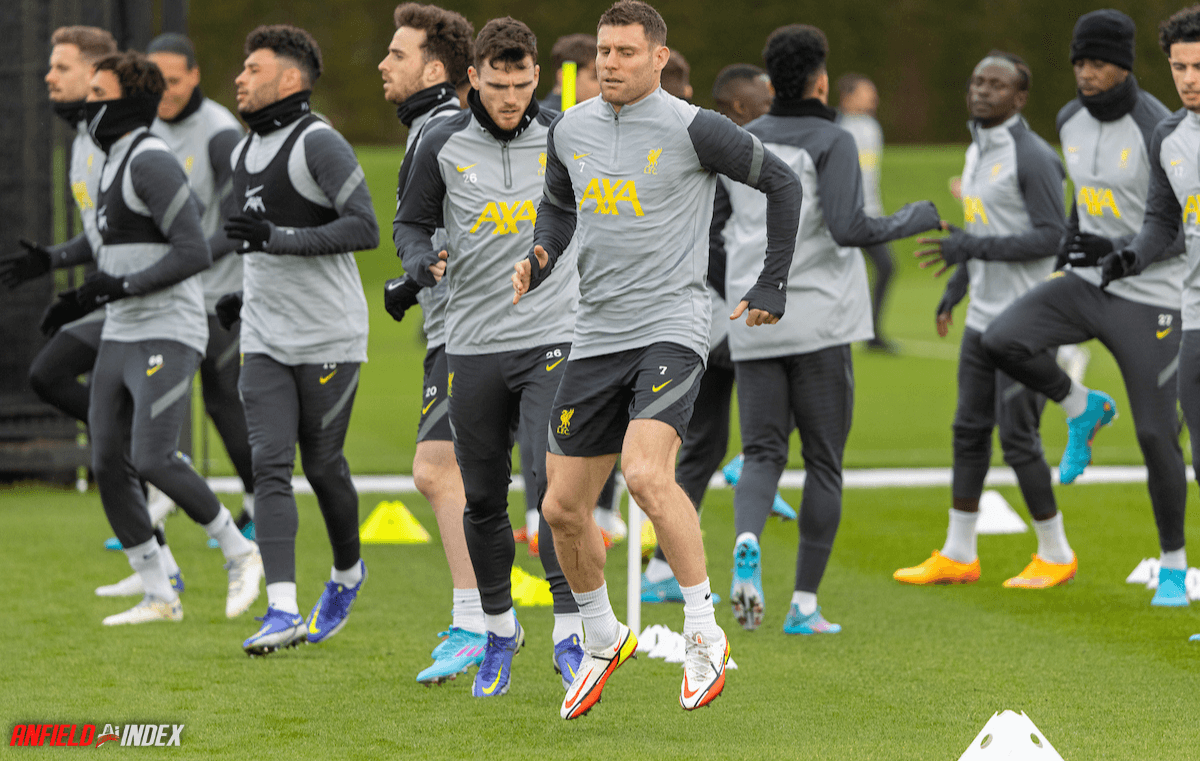 Renewing James Milner Is a Step Backwards 
Another year goes by, which brings us to the moment where James Milner is primed to be given yet another 1 year's contract extension.
I'm a fan of James Milner, as I believe he has a superb attitude for football, can offer vast experience (to younger players) and can be a senior presence on the training ground. For the last two years, I have wanted Adrián to have his own contract renewed, as it offered a great level training of ground support, which made sense to ensure the day-to-day requirements. This is a vastly experienced goalkeeper that evidently works well within the Alisson Becker group; therefore he became an asset to that list of stoppers. Though James Milner is of a similar age to his Spanish teammate (Adrián is 36-years-old, whilst Milner is now 37-years-old), both would be receiving their respective contracts for differing reasons, which is why I believe it is time to close the door on our vice captain's Liverpool playing career.

Every manager has favourable players, certain persons with a large squad that they can rely upon. Often, the likes of Jordan Henderson and James Milner have been heralded as lieutenants to their manager, Jürgen Klopp. There is absolutely nothing wrong with having ultra professional footballers within a club, that can help galvanise the varying parts and be an extension of the coaching team. The key element is, however, being able to improve and help advance the team with their continued abilities and impact on the pitch. With regards to our former Leeds midfielder, he has been in regression for many years, whilst being over-relied upon. The fact that Curtis Jones has continuously been overlooked, is problematic for both the player and the team, with his energetic performances being preferred for loyalty. Our manager has always said how much he appreciates his 61-cap former England player, which is part of why we are struggling so much this season. The regeneration only comes (for any environment) at the cost of others, so that much needed change can be implemented. Stagnation in the process leads to poor performance, which leads to unrest and disappointment. That is our current season, due to a clear inability for the manager to let go of components that have far exceeded their worth.
Below is a list of some of the more senior players within the squad, that have either been peripheral figures or have seen sharp regression in their performances. I have also included those that will see their contracts expire this coming summer.
Adrián
Age – 36-years-old (DOB 03/01/1987)
Contract expires – June 30, 2023
A player that was signed and then retained for training back up purposes. He has had some very good moments, so should be retained (as a 3rd choice) if it suits the goalkeeping group and quota needs. If he were to leave, a player of similar stature would be needed, ideally with a quota friendly passport, which he does not.
Verdict – Retain if he wants, though will probably move on.
James Milner 
Age – 37-years-old (DOB 04/01/1986)
Contract expires – June 30, 2023
A man that should have been a back up to the backups for many season, yet is often thrust into situations that his body can no longer keep up with. Desire is not the issue, it is just his best years were built upon energy and thrust, which create moments rather than good performance levels. We cannot regenerate with such players getting minutes.
Retain – Migrate into a coaching role at the club, potentially the academy.
Joël Matip
Age – 31-years-old (DOB 08/08/1991)
Contract expires – June 30, 2024
A player who hit incredibly good form a couple of years back, though has stuttered alongside the failing system. When Virgil is at his best, he is good. When he is relied upon to be the strength in our rear-guard, he is often seen crumbling.
Verdict – Sell & replace accordingly.
Jordan Henderson
Age – 32-years-old (DOB 17/06/1990)
Contract expires – June 30, 2025
A very tricky situation arose when Klopp handed down a long and lucrative contract extension to his captain. That very same contract may have kept Gini a red, which could have seen us winning four trophies last season. The skipper is not the same player, however he can be a used back up and impact player, though only late in games. He starts next season as a 33-year-old, therefore the energetic style which no longer exists, simply must be managed accordingly.
Verdict – Back up role, with a long contract already secured.
Alex Oxlade-Chamberlain 
Age – 29-years-old (DOB 15/08/1993)
Contract expires – June 30, 2023
Such a shame for a wonderful man, that once offered so much promise. It's time to move on and have a couple of years of regular football, with a warm reception certain, whenever he returns to face us.
Verdict – Time to say goodbye.
Naby Keïta
Age – 28-years-old (DOB 10/02/1995)
Contract expires – June 30, 2023
The door has almost closed on his underwhelming Liverpool career. He should have become an elite level player; however his body simply wouldn't allow him to ascend to those predicted heights. 
Verdict – The final days of his Anfield stay.
Roberto Firmino
Age – 31-years-old (DOB 02/10/1991)
Contract expires – June 30, 2023
It will be a sad day when Bobby leaves Liverpool, but he will depart as a legend and a player that enabled so much joy and success.
Verdict – Leaves upon expiry of contract.
Likely, our former Newcastle, Aston Villa and Manchester City player, will receive a one-year extension. If we are to sign three starting midfield players, then I can almost see the logic. The quota situation could become a tight one (if Curtis Jones and Joe Gomez were to leave), therefore we may have little choice. If it were from a playing point of view, it just is not the step forward we need. This club has been in turmoil all season, with a lack of energy and intensity now rife throughout the ranks. I would like to see Milly drafted into the back room set up, as the next generation of academy graduates will surely respond to his undeniable enthusiasm. 
With 219 appearances for Liverpool and a plethora of silverware, it is time to close the book on James Phillip Milner the player, whilst seeing what he can offer the club in others ways.