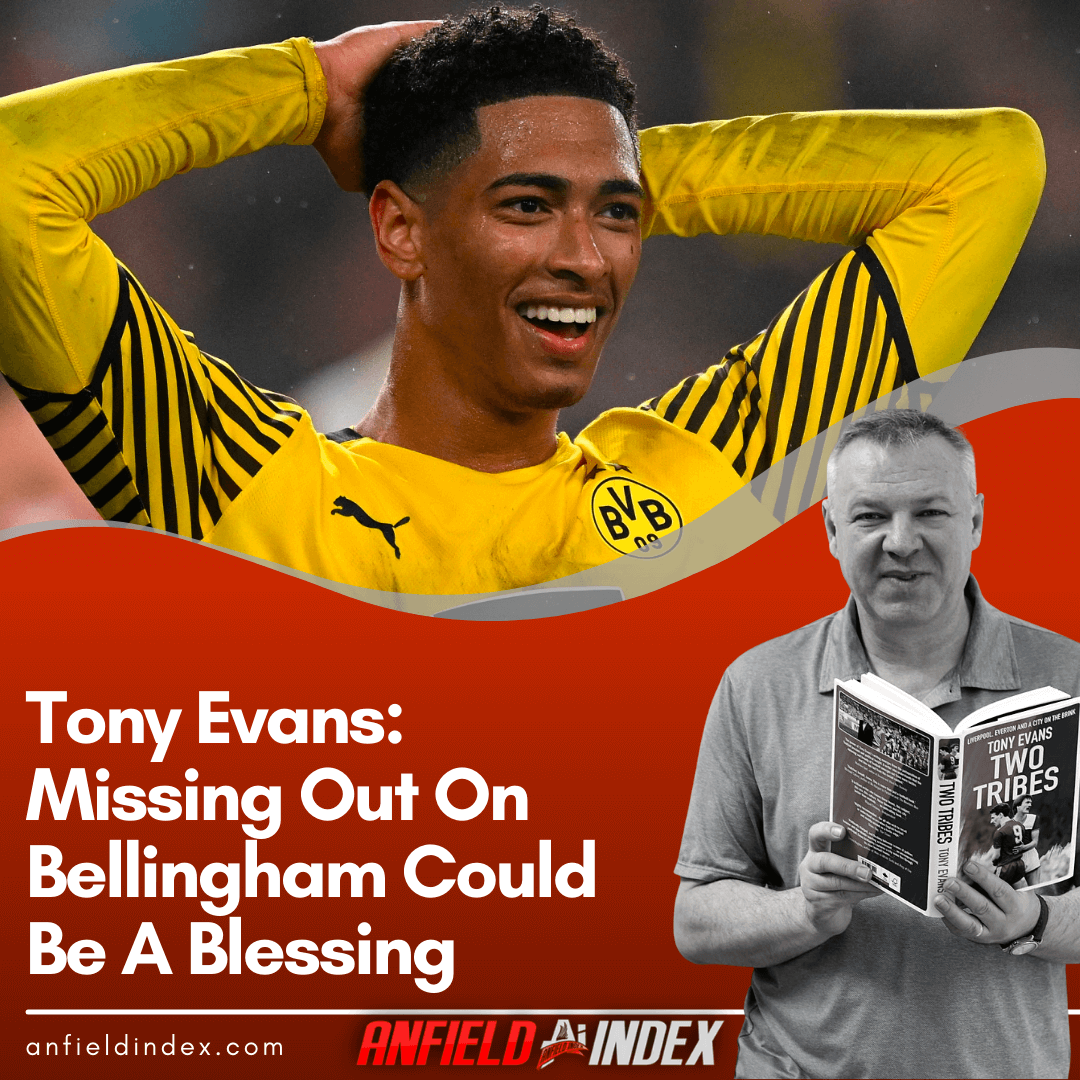 Tony Evans: Missing Out On Bellingham Could Be A Blessing
The international break gives everyone a chance to take stock. Where do Liverpool go in the final third of the season?
The ideal scenario would be to knock Manchester City out of the title race and then bring them back into play by beating Arsenal – dispatching Chelsea on the way. It is a tricky run of games, though. The season could be over very quickly.
Is there any reason to be optimistic? It's still hard to believe that a squad that was bouncing along this time last year has dropped off so painfully. There is so much talent available to Jurgen Klopp. Even given the midfield's travails, it's easy to make a case for this team going on one of those unbeaten runs that have become so familiar over the past few years.
Then you remember the Bernabeu. And Bournemouth. All positivity goes out the window.
There are certainly problems that are physical – injuries, age. Yet it still feels that the majority of issues are psychological. The Mentality Monsters have lost belief. That makes it a dangerous time for a manager.
Peter Wall, who spent three years at Anfield in the late 1960s – a period when Bill Shankly's great team were drifting towards their end – once talked to me about the difference in managers he'd played under. The first he spoke about was Malcolm Allison, who won the title in tandem with Joe Mercer at Manchester City before going to Crystal Palace. Alisson, he said, could make a dressing room believe – but only for a season or two. His schtick never changed. It got old. The players stopped listening to him. They'd heard it all before.
Shankly was different. He always had a twist, a quirk that would surprise and re-energise his team. That's one of the rarest talents in management. Normally, when a dressing-room stops listening their boss is a dead man walking. After all, it's generally cheaper to change the manager than the players.
The other manager Wall spoke about was Terry Venables, who wasn't a motivator but had a knack of giving players tips to improve their game and an eye for the faults of the opposition.
Klopp is at the 'motivator' end of the scale. He's proved that he can bring back a dressing room that seems to be drifting away – no one will admit it now, but certain players doubted the German back in 2017 – and he needs to refocus some of the squad now.
Get their minds right and the results will show on the pitch. When belief flows through the team, they are dangerous. Manchester United will tell you that.
Liverpool are good enough to finish in the top four. If their mentality is right. The coming weeks will be a test of Klopp's leadership skills as much as his team's ability.
*
There's always been a school of thought that Trent Alexander-Arnold should play in midfield. It's not the worst idea – and we may be in try-anything territory soon – but one thing is clear. The 24-year-old would not work in the 4-3-3 that's characterised the success of the past five years.
The shape of the side would have to change significantly. Would that be a good thing? Possibly. Everyone knows what to expect from Liverpool in terms of tactics. It's too radical a move for the moment but the idea's time may come.
*
Jude Bellingham will probably join a lengthy list of players whose name became almost synonymous with Liverpool but who ended up not joining the club. Then he'll likely be regarded as some sort of traitor because, in some people's minds, he was already at Anfield.
He looks a very good player but a concern would be that he has never played in the Premier League. He wouldn't be the first to shine in the Bundesliga and struggle to adapt to the English top flight. Jadon Sancho hasn't made the transition yet. Naby Keita never will.
What Klopp's midfield needs is mobile, intelligent operators. Gini Wijnaldum is the closest to a template. Creative abilities are relatively low down the list in the skillset required to thrive in Liverpool's shape.
Thiago is another who's never been quite the right fit. He's brilliant, his passing is sometimes breathtaking but I expected him to be playing balls like Andy Robertson sent in to Cody Gakpo for the first against United – on a regular basis.
The system appears to have worked against Thiago. He always feels a little short of his personal maximum level. Even when he's been excellent, there's the distinct impression he'd be more dominant in a different tactical setup.
That's not a criticism of Thiago. It's just that workhorses suit Liverpool's midfield more than wonderful players.
If they miss out on Bellingham, it's possible we might have dodged a bullet. Two or three less talented players with Premier League experience may be a preferable option.
*
Tyler Morton looks set to get some playing time in the summer. The 20-year-old has done well on loan at Blackburn Rovers and those who watch him regularly say he's even more suited to the Premier League.
There's be a chorus of complaining that his potential involvement with the first team is an indictment of FSG's transfer policy. That's a kneejerk reaction. It's good that young players get their chance. Of course, it's not so good if you have to rely on them.
It'll be interesting to see what he can do. One of the best things in football – at least for me – is seeing youngsters come through the system. I prefer that to big-money buys (there's a place for both).
The transfer ultras will be fuming – when are they not? – but giving kids a chance is a fine thing.
*
It's the women's derby at Goodison tonight. You have to love derbies in whatever form they come. This one's a belter because 1) the standard of football is great; and 2) tickets are cheap ­– £4 to £8.
Inexpensive football and a trip across the park. What's not to like? It's better than watching England, that's for sure.