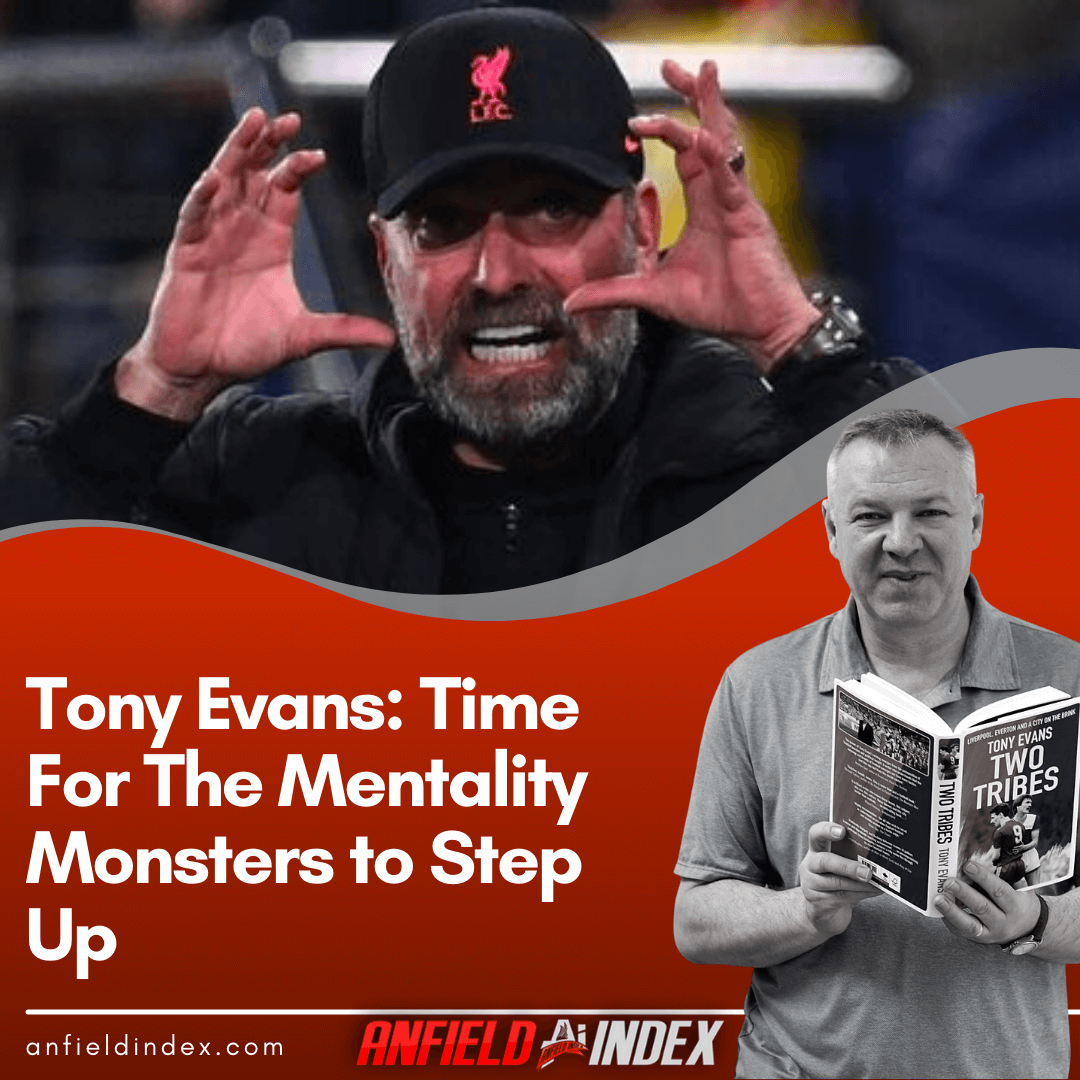 Tony Evans: Time For The Mentality Monsters to Step Up

This is where all the cliches ring true. It's now or never. No hiding place. Take responsibility. No excuses.
At the Etihad tomorrow everybody needs to show up. If anything is to come from this disappointment of a season, Liverpool need to take something from Manchester City.
And let's be honest, one point will probably not be enough.
Many of the players have been on international duty but Jurgen Klopp has had two weeks to think about this. He's got almost his full complement of attackers back. The midfield, as always, will take some juggling. The defence should be set.
Both Liverpool and City have fallen below their standards of the past five years this season. Pep Guardiola's side have not dropped off a cliff like the Reds but who thought Arsenal would be in prime position to win the title in April? That has got to give some hope — that and the fact that Klopp's team have saved their better performances for classier opposition. The 3-1 victory over City in the Community Shield in July gave us a shedload of false hope for the campaign and the 1-0 win at Anfield in October papered over a lot of cracks. Repeating the form of either of those games is essential.
Let's hope the final third of the season won't turn into two months of fingerpointing. But let's get some of it out of the way now. No one has been good enough. Well, apart from Alisson.
FSG needed to supply more resources. Yet if that was the only problem we'd be laughing. The recruitment department needed to be cleverer.
The attack has not scored enough. Darwin Nunez and Cody Gakpo are both raw and learning. Nearly 35 per cent of league goals came in two games. Mo Salah's passed the 20 mark in all competitions again but more was expected from a man who'd signed a big new contract and got a nice break while the World Cup was on.
The midfield? It's too boring to go over yet again. Suffice to say, sort yourself out Jordan Henderson and Fabinho. Both have shown flashes.
The full backs need to get a grip. TAA is a wonderful player but he's been sub-par so often that he'd have been better off as a sub. His problems have caused a knock-on effect on the other flank and Andy Robertson hasn't quite gelled with the new faces in front of him.
As for VVD, you don't mind his form slipping a bit but his attitude has been slack at times. At the Etihad he needs to be spot-on. If ever he needed to put on a show, it's tomorrow, especially after Marco van Basten said that "he talks a lot but says nothing." Ouch. He needs his football to make a statement.
The harsh truth is that Van Dijk hasn't provided the level of leadership expected of him. Mind you, the same could be said of his manager. Klopp's selections, substitutions and tactics have too often been questionable. Make all the excuses you want — club up for sale, inadequate recruitment, backroom departures, tiredness from last season and this strange, interrupted season — but in the end none of that matters. You have to find a way.
So, with that all said, let's start with a clean slate tomorrow. The moment has arrived. All that matters is the result. Everything will be forgotten if the Etihad marks the start of a winning run.
But if it doesn't, the shitstorm will commence. No one wants that. No one will emerge with much credit from it.
*
This whole 12.30 kickoff thing. Liverpool have failed to score in the last four of them.
I get that it's a crap time to play — it's even worse to watch — but it's not like the players have been in the Conti all night, is it? (One for the arl arses and Jan Molby)
Crowds are flat at that time, too, but they soon get up for it if the team set the tempo. The attitude needs to be right tomorrow. From now on all kick-off times have the potential to be zero hour. Zero as in worthless season. Cryarsing afterwards from players or manager will not go down well.
*
Went to Wembley last Sunday, booed the anthem, watched Bellingham. He's good, yeah. Still have some reservations. He's played a lot — it'll be more than 200 appearances by the end of the season if he stays fit. That's some miles on the clock for someone who doesn't turn 20 until the summer.
If he had that sort of wear and tear from the Premier League, it'd be a bigger concern. The Bundesliga is far less physical.
I'm not sure why I'm writing all this because he's not coming to Anfield, is he? But after seeing him in the flesh for the first time in a year — he only got 10 minutes last time — he's definitely the real thing. Probably the Real thing, too, sadly.
*
If the Mentality Monsters are ever going to do a farewell tour, now's the time. The dropoff in conviction and the lack of belief this season have been horrible to watch, particularly in comparison to what we've seen in the Klopp era.
The psychology of a dressing room is a delicate thing but ultimately the responsibility of the manager. Klopp needs to turn it round. He's done it before. Do it again, Jurgen. Do it again.