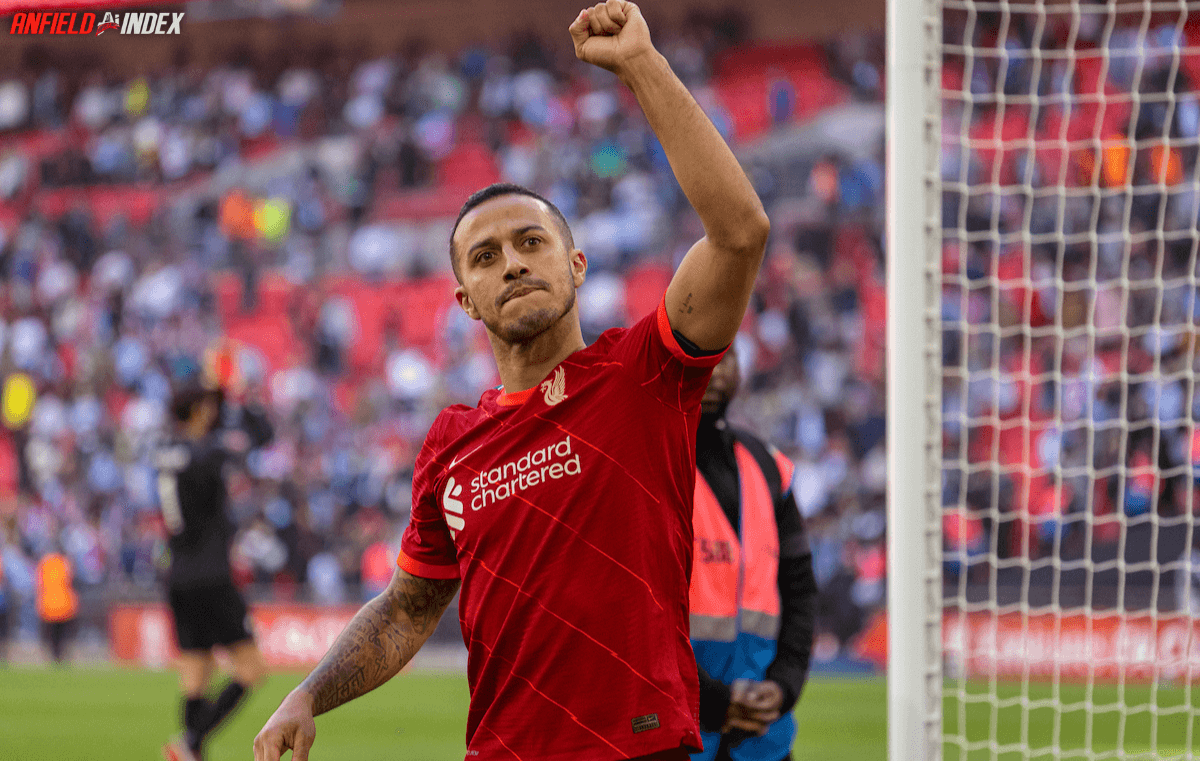 What next for Thiago at Liverpool?
When Thiago arrived at Liverpool in the summer of 2020, it was almost impossible not to feel ecstatic at the news, with the Spaniard one of the most gifted midfielders of his generation.
The Reds had enjoyed so much success with a hard-working, functional midfield of Fabinho, Jordan Henderson and Gini Wijnaldum, as well as a strong supporting cast, but Thiago felt like the icing on the cake.
Suddenly, Jurgen Klopp had a unique footballer at his disposal in the middle of the park – someone capable of dictating a game, producing passes that few are even capable of seeing, not to mention bringing with him an elite winning mentality.
The one downside when Thiago arrived at Anfield was an injury record that had proved problematic throughout his career, meaning he is yet to complete more than 26 league starts in any season.
Many of us chose to ignore that and focus solely on the positives, however, seeing him as someone who would make then-Premier League champions Liverpool an even greater force than before.
In the two-and-a-half years since Thiago made the move to Liverpool, things have panned out rather predictably, with brilliance on show but also far too many spells on the treatment table. Just 71 starts in all competitions is so frustrating.
When fit and firing, the 31-year-old has looked like the best midfielder the Reds have – by some distance at times – combining both metronomic brilliance and tackling tenacity.
It hasn't always been perfect, with a lack of pace occasionally an issue, as well as a penchant for doing something mad now and again, on or off the ball, but he has often been a joy to watch.
The problem is, that next injury is never far away and that is never going to change between now and the time Thiago decides to eventually hang up his boots.
With Liverpool about to embark on a defining period in their top-four challenge, with Manchester City, Chelsea and Arsenal all to play in the next week or so, the midfielder is once again out injured.
What was supposedly a short-term absence how turned into a lengthy period on the sidelines – honestly, it feels like this has happened about 10 times now! – and Thiago hasn't featured since the 3-0 defeat at Wolves in early February.
His current Liverpool deal expires at end of the next season, and while Fabinho and Jordan Henderson both feel like bigger problems currently, there is no doubt that their fellow midfield teammate also doesn't represent the future.
You simply cannot rely on someone so injury-prone to be a key part of the Reds' plans moving forward, so from this point on, he must be viewed as a luxury player and nothing more.
If fit, he has every right to force his way into Klopp's plans over the next 12 months, but it must almost be treated as though he will be injured for much of the time, with any spell of availability an added bonus.
At 31, Thiago is also generally not quite the all-round force he once was, and even when fit there is an argument to say that he could struggle to regularly start in a new-look Liverpool midfield.
Some may even call for him to be sold this summer, in order to receive a fee for him, but Liverpool should see out his contract, accept the injuries and look forward to some sporadic moments of magic before he departs on a free.
Ultimately, it is this upcoming period that will likely define whether or not the signing of Thiago has been a genuine success – as things stand, the positives clearly outweigh the negatives, but it could have been so much better.