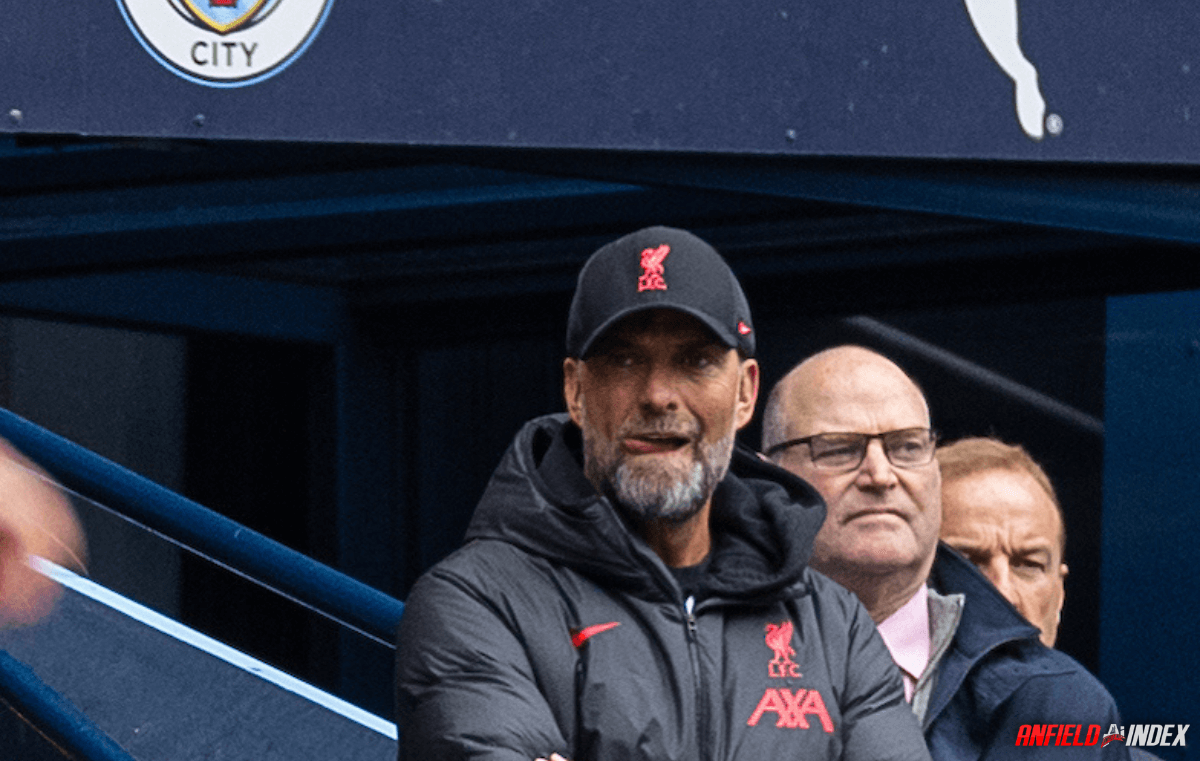 Manchester City 4 - 1 Liverpool - The Post-Mortem
Another away game and yet another loss. This was probably the most anticipated result of Liverpool's season, with a complete difference in both class and endeavour from the two sides. Where this game had previously represented the meeting of England's top two sides for 4-5 years, this was a million miles away from that point in time. My pre game prediction was a 3-1 home win, which showed my naivety in all honesty. The result should have been more damning, with the reds giving up the fight after just it 45 minutes.
GK – Alisson Becker
RB – Trent Alexander Arnold
LB – Andy Robertson
RCB – Virgil van Djik
LCB – Ibrahima Konaté
CM – Fabinho
RAM – Harvey Elliott
CM – Jordan Henderson
LAM – Diogo Jota
ACM – Cody Gakpo
CF – Mohamed Salah
Substitutions;
69' Darwin Núñez – Diogo Jota
69' Kostas Tsimikas – Andy Robertson
69' Roberto Firmino – Darwin Núñez
69' Alex Oxlade Chamberlain – Harvey Elliott
82' James Milner – Cody Gakpo
With the line ups and substitutions as shown above, the match started with the reds looking to compete with their opponents. Despite some early ambition and subsequent opening goal, the reds soon became a team overwhelmed and unable to raise either their interest or intensity.
The scores went as follows…
17' Manchester City 0 – 1 Liverpool
Mohamed Salah (Diogo Jota)
27' Manchester City 1 – 1 Liverpool
Julian Alvarez (Jack Grealish)
46' Manchester City 2 – 1 Liverpool
Kevin De Bruyne (Riyad Mahrez)
53' Manchester City 3 – 1 Liverpool
İlkay Gündoğan
74' Manchester City 4 – 1 Liverpool
Jack Grealish (Kevin De Bruyne)
This was the starting line-up which was built around a 4-3-2-1 system. With two holding midfielders, Harvey was tasked with giving width on the right-hand side. Darwin was deemed unready to start this game, therefore Mohamed Salah was tasked with a sole striking role. The formation was designed to add numbers to our middle ground, whilst using the Egyptian Kings pace on the break. With some good end to end football on display, it allowed the away side to take an early lead and give some hope to the expectant tracking fans. Diogo Jota had a bright moment of offensive play that allowed Salah to score his 23rd goal of the campaign, however that was the only real bright moment in this game.
Much like when Liverpool's first leg game against Real Madrid, the superior side was able to raise their game and pick apart a team without purpose or organisation. Each period of Manchester City possession had Klopp's defence pulled apart, as the inevitably of goals on the horizon. Once the equaliser was achieved, it was only a matter of times before further goals arrived. As the second half began, so did the match as a competition. The well-oiled Etihad machine were ruthless without ever having to overextend themselves, as the visitors struggled to match the quality of the reigning champions. Each goal solidified the massive gulf between the two sides, including the opposing managers. With one side fighting for the Premier League title, the other was unwilling to show anything close to aggression, as the score line increased in line with the state of play.
This performance was a sign of the times, and another reason why the coming summer must produce wholesale change. Jürgen Klopp could do nothing to impact change, which is the only consistent facet within a disastrous campaign. No single player is close to their previous levels of play, as most continue to amble about the playing surface. To imagine this very same group was close to an unprecedented quadruple (just last season) is now beyond explanation. The list of issues is becoming impossible to comprehend as we prepare for our trip to Stamford Bridge. In a weeks' time we may look back and except this loss as something that could not be averted, yet if the reds continue this path, a slide into the bottom half of the table may well become a harsh reality.
I believe our manager can be the man to bring us back to our true level, though this is the kind of game that make that unwavering support very hard to justify. We have to react on Tuesday night, or this could be the last season of our German manager, which would be the biggest disappointment of all.