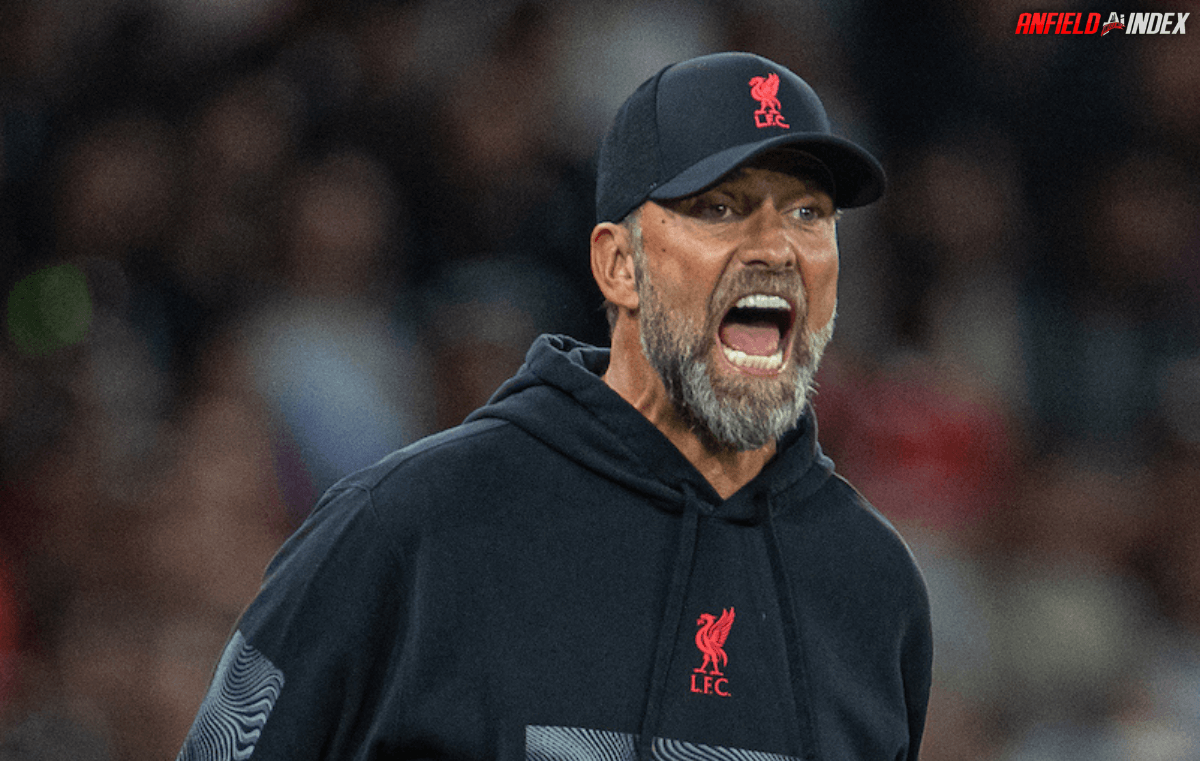 Either Klopp must Make System Changes, or We Need A Manager That Can…

A system was devised and implemented to adapt to the modern game, under the guidance of a brilliant German manager. VAR was a tool that helped revolutionise the game, which has benefited the game overall. The Reds' defensive high line is something that has always been negatively portrayed by pundits and commentators, yet was a system that was once expertly coached and implemented. Opponents would be pressed and harassed within their defensive thirds, before launching hopeful balls in the Liverpool half. The pressure and energy of the midfield once allowed very little finesse in the opposition build up, with low blocks and desperate clearance of lines a desired strategy. Apart from freak results (like Aston Villa 7-2 LFC), it was a tactical choice that helped keep Manchester City within touching distance.
This disheartening campaign has seen teams alter their fundamentals, with an entire footballing community now well aware of the lack of energy within the Reds' midfield. The pressing and ball recoveries have dropped off, whilst the sprints and distances covered are light years away from the pre-existing levels. These attributes are those which enabled much of what we needed, certainly in key areas. With regression in physicality came a huge drop off, with the weaker or ill fitting entities still labouring about the pitch. Jurgen Klopp has held onto to all his ideals and personnel, with both now failing to carry out the tasks at hand. We only got away with this deception for so long, because teams feared us. That fear has been replaced with something different, which is something Liverpool cannot overcome right now.
If in the coming summer a group of dynamic and intensity ridden individuals are signed, then it may make the fundamentals of his preferred system become logical again. One would imagine, however, that vital coaching would need to be undertaken for the on and off ball work, much like when Fabinho first arrived. Regardless of how next season unfolds, what is imperative is the now. At this moment in time the system is failing horribly, with a squad of midfielders unable to compete against nearly every team they face. Individual brilliance and an occasion invoking desire are what saw us dispatch United, yet that was clearly a fleeting moment in time. With a back line continually urged forward, this is done so whilst teams consistently play through a tired middle ground. This season of dissatisfaction could be about to descend to new depths, which is why a system change must be incorporated before the end of the season. The fullbacks do not know where to be, therefore a more drastic alteration is surely forthcoming.
I wrote a few words on how Europa League football was likely next season, as a top four finish looks a non-starter. I was probably being optimistic in my lookahead, as it's now a real possibility that no European qualification will ensue at all. I'm writing this as the Reds prepare for their trip to Stamford Bridge, for a game where predictions and form mean absolutely nothing. With no scheduled training day between the visit to the Etihad and Tuesday's trip to Stamford Bridge, it's unlikely that any major adjustments will evolve this week. This coming Sunday, however, Arsenal is due at Anfield for another critical game. Both sides will be desperate for a victory, with so much riding on its result. I do not know what must be done, but the mechanics of this Liverpool team must be realigned due to the poor showings of late. Whether it be a switch to a back three (and more freedom to our fullbacks), then so be it. It could be as simple as incorporating a box midfield, with an ability to offer more critical coverage. The defence is unable to carry out their duties to a respectable level, whilst the midfield is incapable off controlling their zones. The attack continues to look disjointed and separated from one another, whilst the only Intensity we possess lies within a book by Pep Lijnders.
These are not the questions that should be asked at this point of the season, with so much already lost. What must happen, is Jürgen Klopp finding the solutions that can create change. Failure to do so will mean FSG are forced into a major decision. Whilst I do not want our illustrious manager to depart this club, failure to excel in his tasks will only lead one way, which is new managerial leadership.