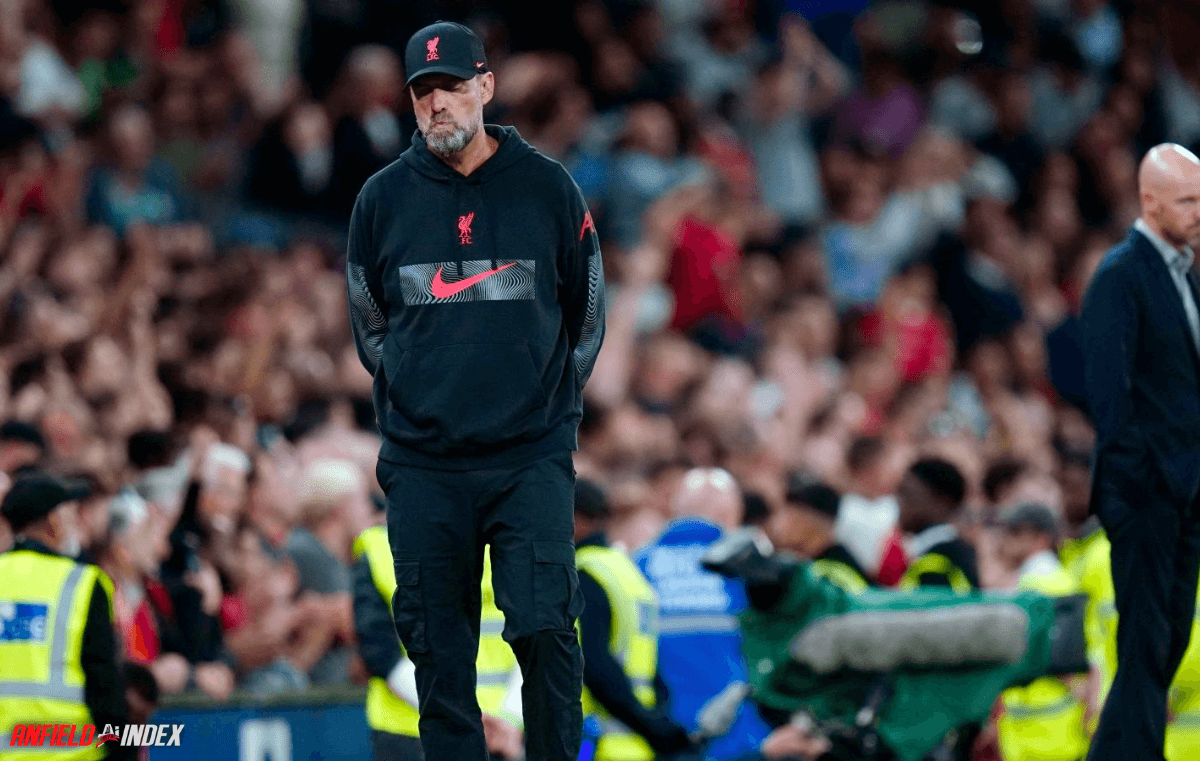 I Want Jürgen Klopp to Succeed, But What If He Doesn't…

It is completely logical to allow for a summer of reshaping after one disappointing transitional season, especially given the joy and success that has come the Reds' way under Jürgen Klopp. I desperately want our German coach to succeed once more, in turn recreating that which had been so enthralling and exciting. If we one day look back upon this season as a blip in the Anfield Road, then I (like so many) will be happy to see how the next phase of this team unfolds. Unfortunately, football is not always that straightforward. Our wants and our desires for Klopp to succeed is built upon our adoration for him, yet the question must still be asked…
What if he can't create a new team of challengers?
It's not disloyal, dismissive or disrespectful, to look at situations from unsavoury angles. I have been supporting this team for over forty years and have seen every up and down along the way. Our current manager has achieved super human levels of greatness (whilst at Liverpool), yet the undeniable truth is that all managers, no matter much they are loved, have a shelf life in their elite level careers. The likes of Arsene Wenger and José Mourinho, were once revolutionaries in the game. The magnificence in their coaching and ideals, helped evolve the game to new heights. The intensity and dedication must have impacted them greatly, given how much they dedicated their lives to the game they loved. Eventually, everyone accepted the drop off in their levels and they indeed dropped down from their world class status, to mere ordinary men. The even seemed to accept their latter career limitations, perhaps in knowing how much the expectation and intensity had taken from them.
For every old guard, there is always a new legion of tacticians and confident young coaches, who are looking to imprint their skills on the game. Once upon a time, the likes of Jürgen Klopp, Antonio Conte, Pep Guardiola and Diego Simeone, burst onto the scene with a huge intent to drive the game forwards. Varying styles, with combinations of budgets and jobs, made the level of each differ at particular times. All have risen to world class status (at some point), however, only Pep is able to still warrant that limited status. There are huge question marks over the other three, who all exude many of the intense demands that have surely had an adverse effect. All managers three have questions marks about next season, whilst a whole melee of young pretenders are desperate to replace them in Europe's biggest jobs.
When looking at the new guard of elite coaches, the likes of Brendan Rodgers, Frank Lampard, and Steven Gerrard, do not belong on that list. The huge limitations in their work mean they will likely never rise to where they hope. The next crop of coaches are different animals all together, ones who have become students of the game. They are also individuals who could potentially replace Klopp, if he were to struggle in overcoming his current predicament.
Roberto De Zerbi
Julian Nagelsmann
Rúben Amorim
Xavi
Xabi Alonso
The five names above are spearheading their way to the Premier League, with De Zerbi already at Brighton. The English top tier is the place to be right now, therefore it is very likely that the other three end up here in the next 2-5 years. Somewhere, someone will have a list of managers that could potentially replace Jürgen Klopp, despite my desire for him to rise from the mat. The man himself has even stated that past glories are what are keeping him employed right now, with clear knowledge of the massive drop off in his team. With no Sporting Director as yet identified, it's not entirely certain what sort of responsibility Julian Ward currently holds, as the outgoing head of recruitment. This lack of clarity and coordination was not present when Klopp took over at Liverpool, with only the perfect setting allowing for the success we have seen. For the former Borussia Dortmund manager to stand a chance in this summer rebuild, a proactive approach must be carried out to ensure stability.
As it stands, I just don't see Jürgen returning to his previous levels of greatness. There are just too many problems within the club, that will eventually make his role untenable. There are perhaps ten Liverpool players that will either leave this summer, or should be shown the door. The man that once built our wonderful group dynamic, just does not seem to be capable of tearing that squad down, and building a stronger LFC 2.0. I am desperate for a ruthless and brilliant Sporting Director to come in, with the intention to take all the squad re-shaping away from Klopp, allowing the great man to focus on the training pitch. In arriving, there was clearly a hierarchy that saw him able to focus on the players and the tactical aspects of the game. Michael Edwards was the man tasked with bringing him what he needed, whilst moving on players as he saw fit. With time and success comes more power, which is the stumbling block that sees Julian Ward leaving in two months, just a year after Michael Edwards stepped away. We need to revert back to the recruiting methods that worked, whilst supporting the manger and coaching staff with world class talents above him. If the current culture has grown stale, then it's time for a major shake-up of the coaching staff as well as the playing squad.
In this instance of unknowns and doubts, we will all rally round our silverware laden manager. To his last day, he will have the undying support and backing of this fanbase, given what he has delivered for this club. I don't see a time when he is shown the door (by FSG), yet I believe the man himself will know when to start heading in that direction. I hope that time is a good few years from now, but sadly, I think it may come at the close of the 2023/24 season. To be proved wrong would be a wondrous thing, as it would mean we have re-emerged under the man who holds that infectious smile. The next ten games will be painful, but to get there in the hope of a summer reshuffle, is what we are all clinging to.
Is this the beginning of the end of Jürgen Klopp, the world class manager…?
Possibly…
Yet, if this is the final stretch in his Anfield run, it was magnificent and magical ride that makes him a legend that can never be repaid.