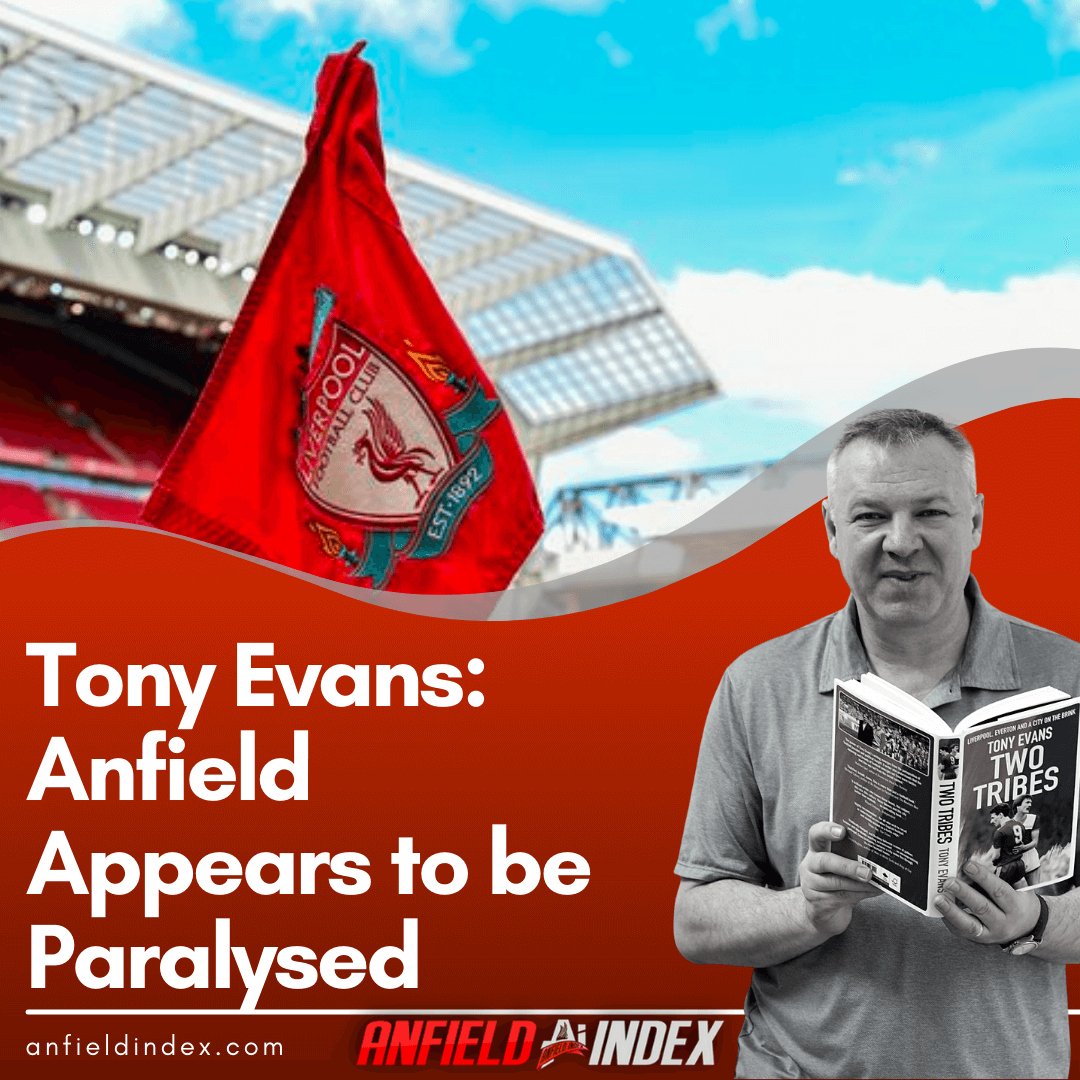 Tony Evans: Anfield Appears to be Paralysed
None of what we are watching is acceptable. The performance against Manchester City was appalling. Everyone knows that Liverpool cannot compete with the Etihad's spending. The players can work as hard as Pep Guardiola's team, though.
They didn't.
Chelsea wasn't much better. Jurgen Klopp talked about "small steps" forward. Didn't see that myself. Chelsea are crap. Liverpool were worse.

This will take more than one transfer window to fix. But the biggest concern is that it's not an issue of talent.
There is enough class in the squad to finish in the top four. If TAA was available to buy, there'd be a queue. VVD is still one of the best centre backs in the game. Andy Robertson would improve more than half of the teams in the Premier League.
Let's skip the midfield. Who wouldn't want Mo Salah? Er… Jurgen at Stamford Bridge. All the other forwards have enough quality — even those who are raw — to be doing better.
What's concerning is in the last year of Klopp at Borussia Dortmund the team had an abundance of talent. An agent of one of the players at the German club said to me at the time that Klopp's "schtick has run out." His words were falling on deaf ears.
Now, you have to consider that people have vested interests and you never believe what you hear until you double and triple source an assertion. But that phrase resonates now. Has Klopp reached that point at Anfield?
Every one of us — except for the blerts — hope not. Klopp has done so much for the club. When he came in there were senior figures who doubted him — although FSG were in thrall to their new manager from the start. The owners were right. His impact was so profound that he quickly joined the pantheon of Anfield's greats.
There is no danger of him being sacked at the moment. A bigger concern is that he will walk, as he did in Dortmund.
An even more concerning worry is that too much power is being concentrated on the manager. Klopp's relationship with Mike Edwards and Mike Gordon worked well. Edwards might not have been a full-on supporter of the German's appointment but the pair combined well. Gordon, the owner most committed to the club, was a good firebreak for Klopp's frustrations.
The lesson of Ferguson and Wenger is to spread the responsibility and power. It feels like control is being condensed at a time when the team is sliding backwards.
The blame always falls at the manager's door. Sometimes it's unfair. In this case a fair proportion lies with Klopp. This is a very dangerous time for Liverpool. Big changes are needed but Anfield appears to be paralysed.
Owners, manager and players seem to have no idea of how to go forward. In the end it will come back to Klopp. He's on the sharp end. He needs to find a direction and lead the way.
If it's like this in October, everyone will be looking at replacing a man who's been one of the best things that happened to Liverpool. Ever.
*
Who, though, in the right mind, would leave Salah on the bench at Stamford Bridge? It does not make the slightest sense. All the other changes for Chelsea were reasonable. But Salah?
I'd love to give you some insight into why it happened but I can't. The Egyptian was fit, had scored against City and was ready to play.
Resting him? After the international break? It's a joke.
Salah is Liverpool's highest-paid player. He signed a new contract last summer. He had the World Cup off. Yeah, I expected more from him this season but he's scored more than 20 goals in all competitions yet again.
Leave it out, Jurgen. Just don't leave Salah out.
*
If I was Jude Bellingham I'd delete all the numbers connected with Liverpool from my phone. If I was his agent I'd do it for him. Bellingham doesn't even begin to solve the problems at Anfield.
*
Another game, another apology from a club for the chants by their fans. You probably won't like this, but I'm no longer arsed.
All the 'sign on' stuff in the 80s never bothered me. The Hillsborough songs made me furious at first and if anyone does it in my presence then they'll be sorry. But here we are. It's never going to get any better. It will get worse.
Don't waste your energy moaning on social media about dickhead City and Chelsea fans. Put your efforts into fighting for the Hillsborough Law.
Expect the chants, ignore them and concentrate on doing something to change the country. The Hillsborough Law is not about us, it's about everyone in this pathetic, awful nation.
Those chanting are just too dumb to see it.
*
One of the things that has always made me laugh is the "self-pity city" stuff. How can you misunderstand us so badly?
Scousers are the most arrogant people on the planet. We think we are so clever, so brilliant, so stylish that we cannot fathom why we're treated like we are. And we're not having it.
If we perceive we are being looked down on, we're going to squeal. Not because we're whining, but because we're not taking that shit. We deserve better. And bollocks if you think we'll go away quietly.
It's not self-pity city. It's self-regard city. To be honest, the rest of you are not as good as us. We pity you. Born to be Scouse, victorious are we. And we will be. Because we're right.
Chant what you like at us. We're better than you. You know it. That's why you hate us.
*
I woke up today, as I do every year in early April, and went out into the sun. Spring was in the air. It was sharp but lovely. And, as every year, the thought came as a surprise. "It was like this. Just like this."
April is the cruellest month. Time does not diminish that. No chants could ever hurt me as much as the Spring sun.
*
Maybe as soon as Sunday night, if we lose to Arsenal, people will start saying that Liverpool should khazi the season to avoid the Europa Conference League. There's some logic there.
But no soul. Part of our identity is playing in Europe.
We should be trying to win every one of the last 10 games. If the team slack off for any reason, they're letting us down.
And I'd love to go to the continent's backwaters. And a final in May. Imagine the fun.
*
It's time to channel the spirit of 2021. Ten games left to mount a charge. Can't see it, like, but hoping, hoping…