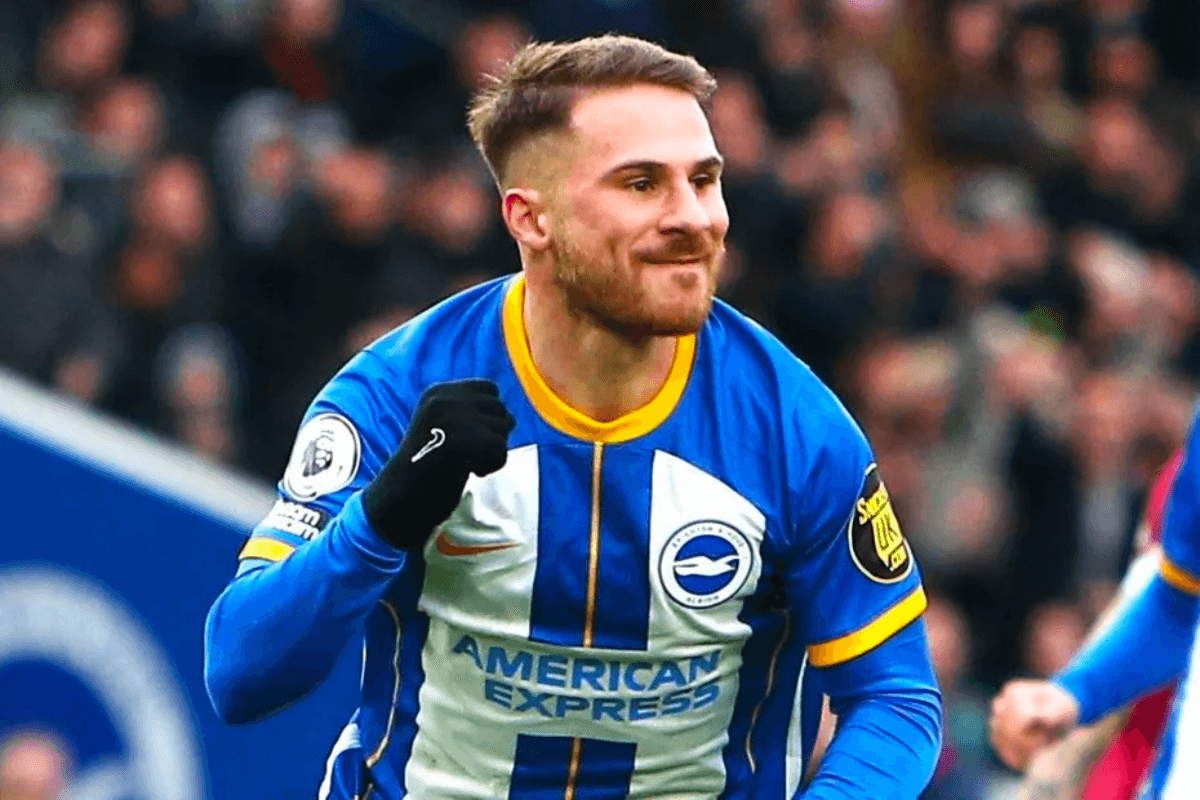 Scouting Report: Alexis Mac Allister

Another day of the week and another midfielder is linked to Liverpool. Similarly to the Bellingham, Mount and Nunes rumours there appears to be real credibility to this one which has been mentioned by a few different sources. A World Cup winner, a ruthless transfer negotiator combined with our clear and obvious need means that any chance of a bargain being struck appear next to zero, but this could be a decent investment if it can be pulled off. We won't be the only ones in and there's others who are more likely to be front-runners but this is one for Reds to keep an eye on.
What's Been Said?
Quite a bit about Alexis Mac Allister and Liverpool over the last week. Firstly, fellow Argentine and journalist Cesar Luis Merlo stated that ourselves, Arsenal and United are interested in the 24 year old whilst 'two clubs out of these three are already advancing to try to buy him in the summer'. Then renowned Italian journalist Matteo Moretto writing for Relevo confirmed that we have advanced talks with the Brighton midfielder ahead of a potential summer move. Social media has naturally pounced on both of these decelerations and reacted in different ways. However, there's no smoke without fire as they say and when rumours come from a players' homeland, they tend to have an element of truth as history shows.
What Does He Bring?
Ever since his full introduction to the Premier League in the 19/20 season after a couple of loans in his homeland, the former Argentinos Junior midfielder has gone from strength to strength. An exquisite passer of the ball who is able to play all of the central midfield positions, the World Cup winner has a proven pedigree in our league and would be a welcome addition for any team in the league. Mac Allister possesses a great tactical awareness and whilst being right footed, often pops up on the left-hand side of the pitch too. Whilst his physicality is sometimes seen as an area he needs to develop, it's not held him back in our league one bit. An assist machine whose more than decent from set-pieces ticks a lot of boxes.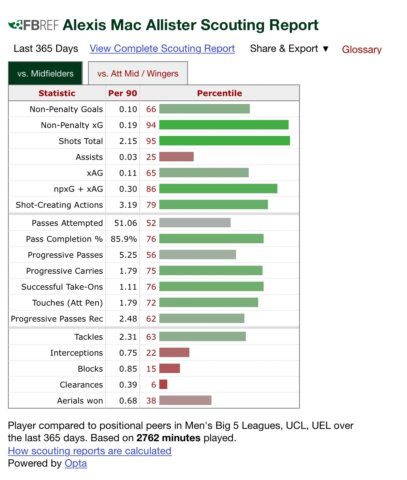 Stats and Info
The underlying stats for the 16-times capped player are outstanding when matched against others. This season alone he has ten goals and two assists in 29 appearances (2461 minutes in total) and still has an FA Cup semi-final to play. Compared to other midfielders, his non penalty xG (94th percentile) and shots total (95th percentile) really stand out. His passes attempted of 51 per 90 minutes is in keeping with what you'd be looking for from a Liverpool midfielder too. His contract runs until 2025, although Brighton have the option of another year and according to Capology.com improving the Santa Rosa natives weekly wage of £50,000 per week shouldn't be an issue for ourselves or any suitor.
Price Tag and Realistic
According to the main reports and with the potential of negotiation with Tony Bloom on the horizon, a figure of approximately £61 million has been mooted which appears about right given they rejected £70 million for Caicedo in January. The question of whether it's realistic is a tough one as there's a real credibility to the rumours linking him to us, but we'll be in a long queue. With no Champions League football likely to be on offer and other clubs likely to be as keen, it's a difficult one to see us landing. A move to replace a departing Gundogan at City are where the bookmakers are seeing it right now, although it's one to keep an eye on no doubt.