 Robertson Incident: Hypocrisy and Tribalism Afoot
To be honest, I'm pretty certain most fans wouldn't have recognised the name Constantine Hatzidakis before the weekend but when your elbow connects with the face of Andy Robertson you'll gain a certain notoriety depending on allegiances. The uproar, tribalism and arguments are now in full swing with objectivity the key item now under attack. When the dust does finally settle on the incident, cooler heads need to prevail and everything considered including any relevant witness statements. The noise needs to be blocked out and ignored, but it's fascinating to see the various views expressed in the meantime.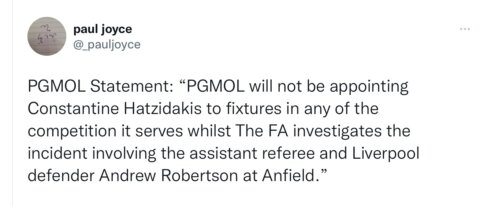 The PGMOL have been swift to take action and have confirmed that they 'will not be appointing Constantine Hatzidakis to fixtures in any of the competition it serves' whilst everything is investigated. The first sensible course of action in this sorry mess. Whatever provocation, it needs to be clear that raising your elbow to a player is completely unacceptable and there should be some form of punishment for the action. The FA now has the job of delivering the correct punishment which very few will likely agree with and the majority will have little faith in their ability to do so. Journalists, referees, media personalities and such have been quick to break cover and deliver their views on the situation.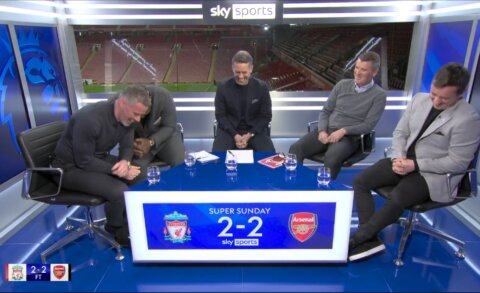 The most common and widely known at the moment is that of Roy Keane, who repeatedly accused the Scottish captain of acting 'like a baby' in approaching the official and needed to get on with the game. This prompted the usual visceral laughter in the Sky Sports studio from his colleagues when delivered by a pundit who has almost become a parody act, but whose views should be looked at. This is the same Roy Keane who repeatedly harangued referees during his time as United captain and who can forget the famous Andy D'Urso incident. Keane isn't the only one guilty of hypocrisy or a popular sound bite though by any means.
Queue Sky and their production teams wheeling out Dermot Gallagher ahead of schedule to discuss the incident and stating 'he'd never seen anything like it… and needed to ascertain all the information'. Bizarrely when pressed on whether Hatzidakis should continue duties this weekend, having heard his colleagues saying the official shouldn't react like that he was non-commit all. When asked again if it was up to him would he be taken out the firing line, Gallagher said 'he'd need to speak to him first'. To what effect Dermot? If he said I'm good, does that make it ok for him to officiate the next game? Thankfully, the PGMOL and Howard Webb have more sense. All makes for good viewing figures though eh Sky.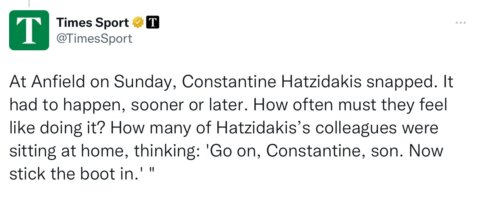 It used to be that journalists would write the stories rather than be part of them, but when you have Martin Samuel making comments like these it's always possible. 'The Premier League puppet' as Gary Neville referred to him the other day, stated that it was surprising that more officials don't snap at players and suggested other officials may have been subconsciously encouraging Hatzidakis to 'stick the boot in'. No I'm not making this up, these are official quotes from the Sunday Times Twitter account. It is tempered with an admittance that match officials can't go around elbowing players. Awfully good of you to clarify that one Martin.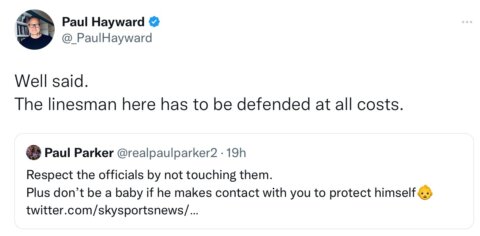 Samuel isn't alone with running to the aid of the officials though. The renowned and respected Paul Hayward, a fellow former Sunday Supplement alumni is usually level-headed and balanced in his opinions. Hayward was quick to state on Twitter that 'the linesman has to be defended at all costs'. He does clarify the context further in a continued conversation with the excellent Chris Williams, saying if the assistant was trying to 'reflexively protect himself then it's a different story'. The footage shows no clear evidence of Robertson grabbing or threatening him in anyway so how can he be defended at all costs? What are the costs if we do defend the linesman to the nth degree in this scenario?
The touching of officials by players and vice-versa ha been talked about this season and I find myself in disagreement with many whose views I seek and respect. One even suggested that he should be demoted to championship football and that we should be looking to bring in foreign officials anyway. Whatever the outcome and there should be action against Hatzidakis, the hypocrisy and tribalism on show from so many areas demonstrates how easy it is to whip up a storm for any media outlet. There's an element of fun to watching it all though and Sky are fully aware.