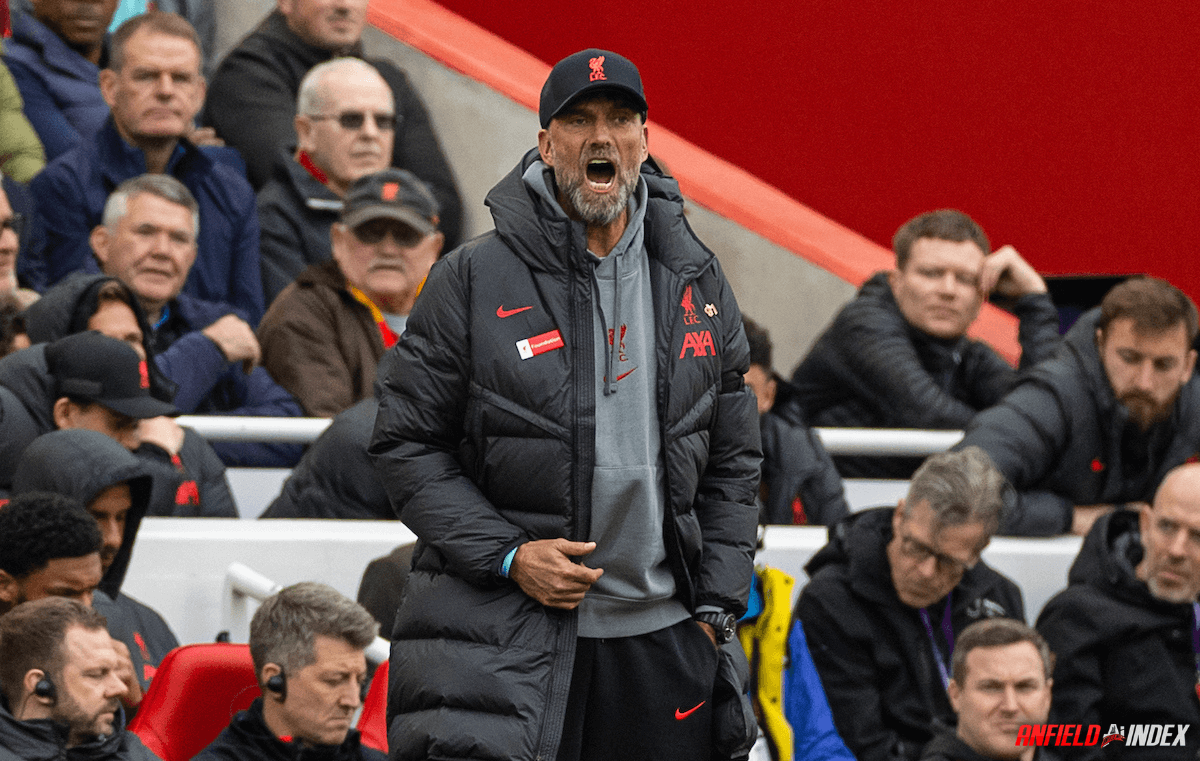 Liverpool 2 - 2 Arsenal - The Post-Mortem 
The best and worst of our turbulent season was presented to the world on Easter Sunday, as the once mighty Reds capitulated before a shell-shocked crowd, before being driven to an emphatic home draw by the same Anfield support. The game should have had a winner, with Liverpool desperate to land the knockout blow in the final minutes. This is despite the visitors pummelling Jürgen Klopp's men for most of the first half.
Rating this team (this season) is perhaps the hardest of all my Anfield Index work. It is very easy to score when the team is performing well, as the ratings flow somewhere between 6 and 8, with the odd 9 out of 10 for the man of the match. Very little would change from week to week, as the steady performances would simply follow and continue. Unfortunately, this season has seen a similar steadiness, though at the opposite end of the performance spectrum. At this point, I'm regularly arguing with myself as to whether 4 out of 10 is too generous, or whether 2 out of 10 is too harsh. This is a remarkable turnaround of events, given the last time I was stealing Easter chocolate from my kids, Liverpool FC were confidently chasing an unprecedented quadruple of footballing trophies. Though I had expected us to get something from this game, it is probably only the stupidity of Granit Xhaka that saw our reluctant team wake up, thereby remembering that Arsenal are team that can be bullied and overwhelmed. I had even thought up a contingency plan (in defeat), where my post-match report would be based upon a recent Anfield thumping of the Gunners, rather than writing about yet another horrendous loss. To offer up something positive and nostalgic seemed like a good way to resume work (after the four-day break), instead of reading about how dire we were, yet again. Luckily, it seems I can carry out the post-mortem on this very recent match up. Despite there were some bad moments (within that opening 40 minutes), it is still a game where positives can be taken.
Below is Jürgen Klopp's starting eleven.
GK – Alisson Becker
RB – Trent Alexander-Arnold
LB – Andy Robertson
RCB – Virgil van Djik
LCB – Ibrahima Konaté
CDM – Fabinho
LCM – Curtis Jones
RCM – Jordan Henderson
LF – Diogo Jota
CF – Cody Gakpo
RF – Mohamed Salah
Substitutions:
60' Darwin Núñez – Diogo Jota
60' Thiago – Andy Curtis Jones
78' Roberto Firmino – Fabinho
With the line ups and substitutions as shown above, the match started with the reds looking unsure of how to undertake the tweak in their on and off ball plan. As the Premier League's top side came for us, their ruthless nature rallied alongside with our inability to react, creating an early two goal deficit. The rest of the match up then became about showing just how poor this season's standards have been, as Liverpool made the North London team look very average, despite their own abysmal form.
This was the starting line-up which was designed to be more expansive in possession, whilst solid (supposedly) without the ball. It was clear from the outset that Trent was playing more central whenever we were moving forward, with a recent inability to create or hold onto the ball. Life without Thiago means the midfield are now lost whilst in possession, which finally saw Trent ushered into a more central position. Our over-reliance on the magical Spaniard, has always meant a lack of control without him, or indeed the outgoing Naby Keïta. With Alexis Mac Allister being considered as the Guinean successor, hopefully it's a sign that many of our current crop of midfielders have been deemed inadequate. Only time will tell what recruitment is undertaken.
The opening phase of the game saw confusion and a lack of energy from the Reds' middle ground, with Arsenal able to launch fast paced attacks at will. The opening goal saw the table toppers waltz though our midfield, as the defensive line retreated in panic. Neither Virgil or Robbo were able to clear their lines and we were 1-0 down to a simple goal. The second goal saw how the high line can create danger, if the opposition are able to take advantage. Martinelli (a man once linked to LFC) was able to spring an attack and deliver a perfect cross to the unmarked Jesus. Virgil could have been heralded for taking up a tactical position, though due to the pinpoint delivery, Arsenal's striker was able to place a free header into the bottom corner.
At this point, the game was gone and I was hoping the score would not get silly. Liverpool were about as good as they have been all season, whilst the visitors were primed to make amends for the plethora of beatings, we have delivered to them. Then, just like that, Trent & Xhaka had a little tussle, causing fortress Anfield to erupt. Gary Neville later said you should never wake a sleeping Anfield, with his words surely bringing bad memories to the fore. Within minutes, the Reds had pulled a goal back, as the tails of our men roared through the noise infested air.
Whatever happened between the linesman and Andy Robertson (at half time), I really could not care less about.
The second half was a 45 minutes spell of Liverpool attacking a wounded animal, who showed that they are unable to handle the physical and emotional pressure put on them. This Liverpool team has been bullied and pulled apart for much of the season, therefore the crowd's involvement was pivotal in invoking more intensity from its players. Though I hope Mikel Arteta's team go onto to win this seasons Premier League, I still see Manchester City as the ruthless hunters that will soon overtake them. This is a peculiar season that has seen many top sides in total disarray. I would liken it to when Leicester City won the league, with the standard of that season being so poor, it merely allows an average group to rise to the top.
With Mohamed Salah frustrating from the spot, it took a wonderful goal from Roberto Firmino to level the game. Trent was able to deliver a delicious ball to the back post, which Bobby was able to cushion into a semi open goal. At this point, the league's 8th best team had spent 45 minutes running their opponents ragged. Our gifted number 66 was in full creative mode by now, with Thiago coming on to dominate and control everything we did. What I saw in that second half was a true reaction, though it is something that could have ebbed away eventually. The 60th minute introduction of Alcantara saw a continuation of dominance that only his skill set enables. If we are to make a remarkable run at top four, this world class operator needs to start every game, before being withdrawn at the earliest possible moment.
With news of various players and rumours of new investment circling, I refuse to be too downhearted. We are where we are due to circumstances that can be corrected with smart signings. There is enough quality in this group to salvage the minimum from this campaign, with the second half of this game pointing to what can happen. Klopp did not have his greatest game, as taking off Curtis Jones ahead of a limited skipper was the wrong call. Darwin and Diaz have to become prominent within the starting line-up, with the next phase of this team playing together as much as possible.
It's two points from nine and twelve points between us and top four. On the 17th of April we travel to Leeds United. Let us see whether momentum can be carried into the next game, or whether we simply drop our levels back to normal.