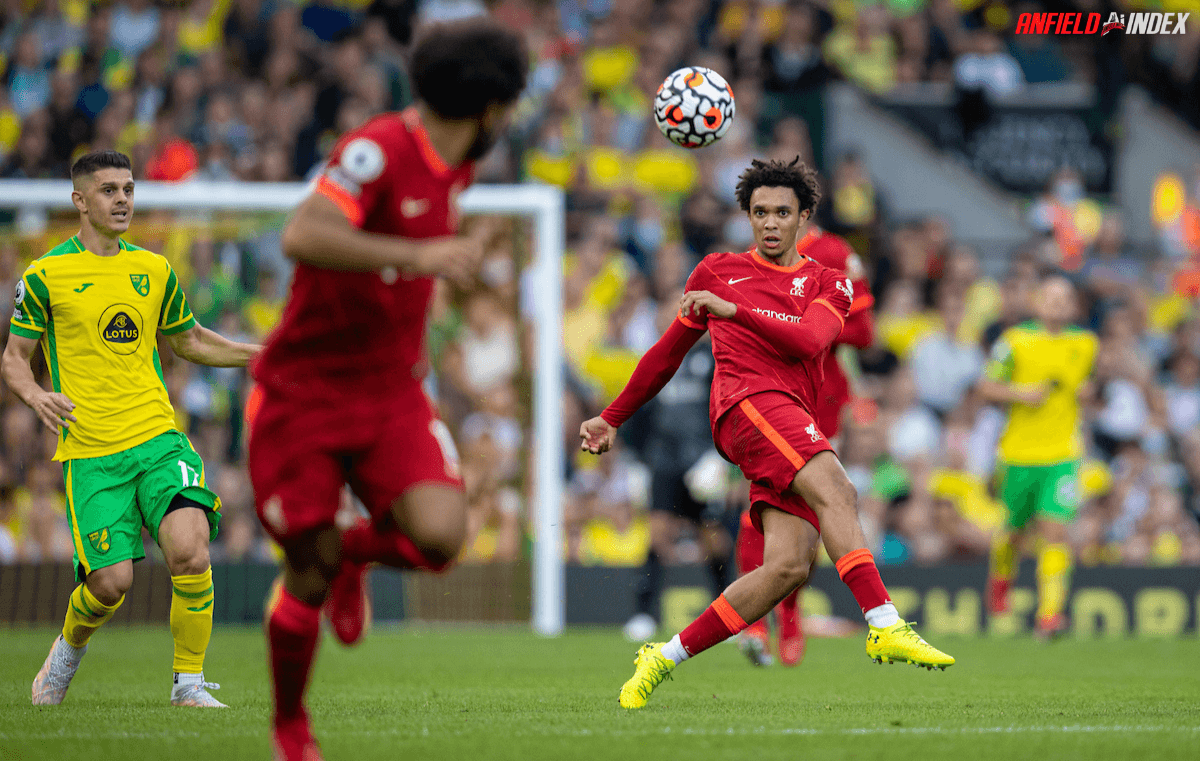 How The Trent Positional Shift Can Tell a Tactical Story…

At the weekend we saw a magnificent footballing spectacle between two of English footballs most historic clubs. Anfield played host to the current Premier League leaders, Arsenal, in a game which could still help decide who the eventual Champions will be. It was very much a game of two halves, as the North London outfit joined the list of opposition sides that have had their way with Liverpool this season. During the opening 45 minutes, the home side gave a defensive performance which was so uncoordinated, it was hard to fathom what Jürgen Klopp's actual game plan was.
After the hammering by Manchester City and the woeful 0-0 draw with Chelsea, there was always going to be some alteration to our faltering system or line-up. The starting eleven was pretty much as expected, with the tactical approach being the area of significant change. In the few days since Liverpool's trip to Stamford Bridge, the Germans' coaching team had decided to implement a different on and off ball strategy, to one area of the pitch. Whilst Liverpool were in retreat, the usual back four group would take shape. It was within our transition on the ball where pieces would start to move around the board. As the line started to push towards the half way line, Ibrahima Konaté would begin to migrate to the outside right, as Trent manoeuvred into a central midfield position. This created a double six scenario, with our 66 lining up alongside Fabinho. The theory is absolutely fine, yet the lack of training and experience of this evolving shape had too many of our players in no man's land. Henderson would wander higher and right, whilst Robertson would be tasked with a more defensive role. Though the latter two thirds of game allowed Trent to express himself, the unfamiliar nature in the initial third of the game allowed Arsenal a two-goal advantage.
This type of on and off ball switch of system is something that Pep Guardiola has used for years. Though he has now departed for Bayern Munich (on loan), João Cancelo would often replicate this shift from the left. With a solidity and confidence in possession, most of City's recent seasons have seen Kyle Walker move across (from right back), as either Aymeric Laporte (or perhaps Nathan Aké) would slide outside to cover the departed left back. This would enable a back three to securely lock down the defence, whilst enabling a playmaking fullback into the middle ground. Before Cancelo there was Oleksandr Zinchenko and Benjamin Mendy, who both had too many on ball limitations to make the movement pay off. At this moment in time, is appears that the Manchester City switch has flipped, as we now see John Stones moving between right back and defensive midfield, with his own on ball ability allowing him to progress forward.
I'm all for our illustrious manager looking for ways to solidify our formation, especially given how poor we have been this year. Ideally, I would have liked to have seen these thirty games ago, but at least now there seems to be a slight change in the stubbornness (from Klopp) we often see. Without Thiago, we have looked unsure in possession and very susceptible to turnovers as we build from the back. Neither Fabinho or Henderson can operate on the half turn, whilst both lack the cute nature to retain the ball in tight situations. When Thiago entered the field (on Sunday), he immediately took control of the game and you could see that Arsenal were more reluctant to press him. Whenever they tried to pressure the magical Spaniard, he would play through or around them, thus creating new avenues to attack. This would have been the thinking in trying to usher Trent into the middle, with his absolute desire to orchestrate from those central areas. Though all the pieces of the puzzles are yet to be assembled, I do see a clear pathway to this becoming a successful enterprise, though with one of the current back four eventually making way.
At various points in this season, we have seen Liverpool linked to new left sided centre backs. Not only are these players been left sided, but also left footed. with the ability to double as a very solid and defensive left back. On Sunday, the movement of Ibou to RCB placed Virgil as a more central figure, with Andy Robertson coming inwards to a more LCB role. We saw how clumsy Robbo could be in his defensive work, with the opening goal being helped along the way by the Scot's inability to clear his lines. With Joško Gvardiol and Levi Colwill being linked with a summer move to Anfield, it does make this trialled system very logical. The short-term solution is obviously not available right now, as we simply do not have a centre back that is able to comfortably move outside. With Robertson experiencing a very erratic season of form, it could make sense to add one of those targets on the left, thereby freeing Trent to become more of a central figure.
However we proceed, it does seem that the tactical penny may have finally dropped. To continue to limit and restrict TAA makes little sense, especially with such a limited middle group. Hopefully this is something that can be worked on over the next week, with a trip to Leeds coming next Monday. We must be proactive in our efforts and create a working system that can benefit our most talented players. Trent Alexander Arnold is a gifted footballer that needs to be more involved in our on-ball patterns of play, therefore I am eager to see how this new approach unfolds.