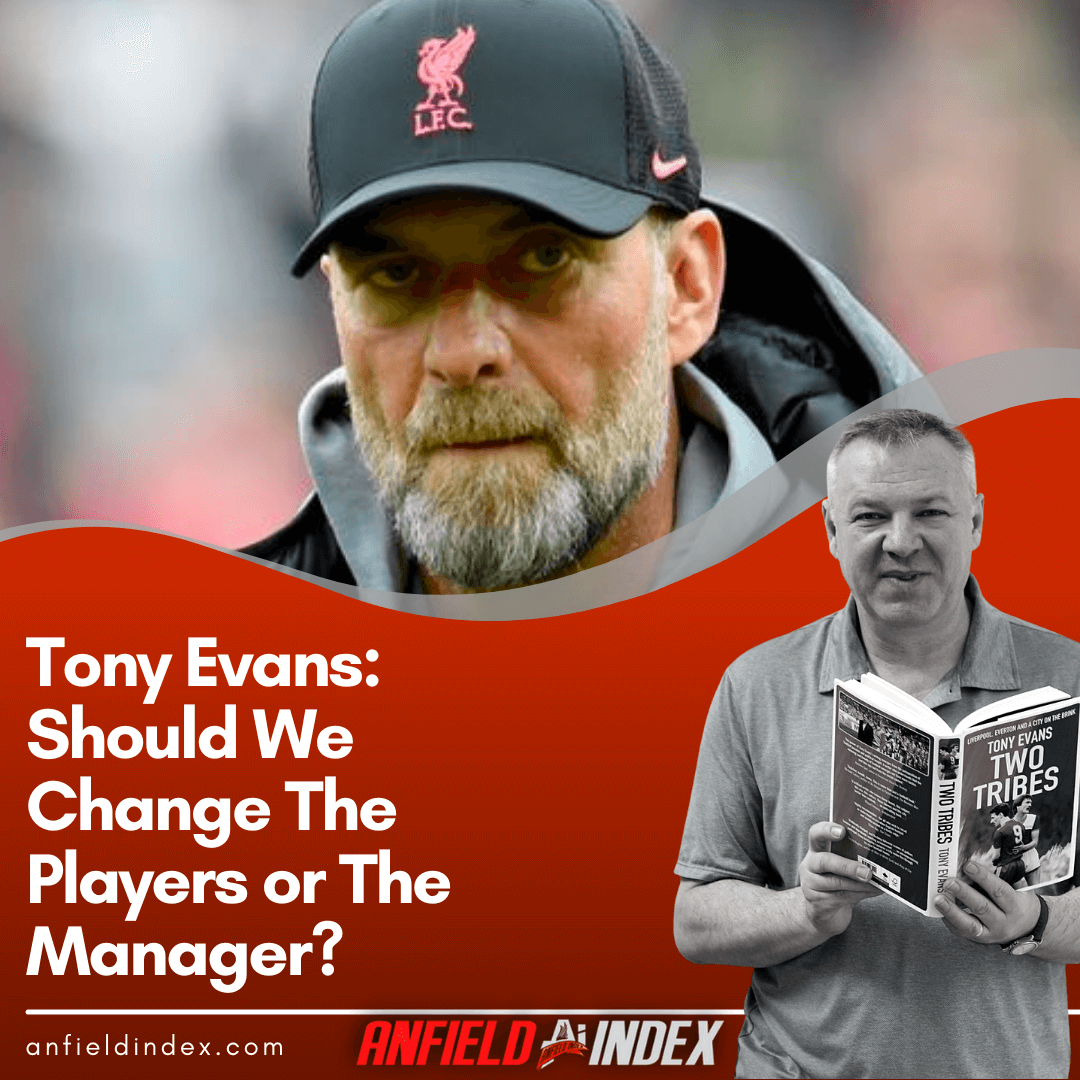 Tony Evans: Should We Change The Players or The Manager?

The winter of Jude Bellingham is over. The summer of discontent has begun.
There are so many things wrong with Liverpool Football Club that it's hard to know where to begin. Letting the Bellingham speculation get out of control was a bad mistake.
Killing it off this week is another error. Rather than suggesting the money would be better spent elsewhere — it probably will be — it may have been more prudent to keep up the fallacy until Manchester City and Real Madrid arrived with their piles of cash and promises of medals. If only Bellingham was the biggest issue at Anfield.
The second-half performance against Arsenal showed how this team can play when motivated. It took Xhaka's moment of idiocy and a linesman's elbow to galvanise the side. Ironically, the full backs were the catalysts — as they have been for most of the Klopp era.
The worrying thing, though, is these players can do it when they are motivated. That was clear. So why aren't they motivated for every game?
Back at the tail end of 2017 when Alberto Moreno was still the preferred left back, a couple of players were bewildered about what Klopp was doing. What bothered them was the lack of a plan B. The same concerns have arisen again this season, from the same people.
There are a number of individuals who are no longer responding to their manager. It shows in a variety of ways: results, body language during games and how players and manager relate to each other.
Where once there were hugs and love after games, you're more likely to see passive-aggressive shoulder bumps. The sense of purpose that radiated from the mentality monsters has evaporated. And then they suddenly get it back when Arsenal and the assistant ref upset them.
If the team that went close to winning four trophies 13 months ago had just gone collectively over the top it would be easier to understand and deal with. There's nothing you can do at that point but rebuild. It's much more worrying when you know what they're capable of doing.
When the trust between players and their boss fractures, it's hard to recover. No amount of money is going to fix that. Certainly, FSG won't put in the cash required to transform the squad completely. That brings us back to the old cliché: you either change the players or the manager. Changing the players on the scale needed doesn't seem like an option.
Jurgen has to have a chance to turn things around. He may need to change his approach. Too much power and pressure have been put on his plate as a result of the implosion of the recruitment department and the owners' quest to find buyers. If things get no better by October, people will start thinking the unthinkable — and I'm not just talking about internet crazies.
Klopp's position will get more precarious with every poor result. If relationships are broken, he needs to repair them because, as the Arsenal game showed, this lot can still do it.
*
The club is drifting. Klopp will carry the can but the blame should really be laid at the door of John W Henry.
That's not simply about money. It's about leadership.
Henry is the principal owner. He's also semi-detached. The American billionaire has phases when he's engaged with Liverpool but, for most of the time, he barely gives Anfield a second thought.
An engaged, proactive owner would likely have seen this storm growing and intervened. There's no sense that Henry's getting his hands dirty.
That's in character. He was one of the architects of Project Big Picture but when the backlash happened he didn't stand up and back his ideas. He remained silent and left the battleground to those who opposed them.
The sad thing is that when he gets involved he makes good decisions and gets things done. Direction should come from the top. For most of FSG's tenure it hasn't. Klopp filled the void for a long time but you can only do so much.
I collaborated with Henry on his open letter to fans in the summer of 2012. Over the years I've seen how impressive he can be — when involved, his decisions have generally been good ones. I've also watched as he let others set the agenda and come up with mindbogglingly stupid policies.
Put your head over the parapet, John. Tell us how this can be fixed and what you're doing to help. You never know, if you can arrest this slump you might even find a buyer for the club who'll match your value.
At this rate that's not going to happen in the foreseeable future.
*
Is the Europa Conference League shit? Yes. Would I rather be in it than out of Europe? Yes. Would missing out on European competition help in the league next season? Maybe. Does that mean competing for the title? No. Should Liverpool's squad be big enough, good enough and motivated enough to cope with the extra burden of Europe? Yes. Are they now? No. How many cases do you remember when a team missing out on Europe was the key to their success? Errrr, Conte's Chelsea and… Should you try and win as many matches as possible between now and the end of the season? You know the answer to that.
*
Another anniversary looms on Saturday. What is there left to say?
The idea of accountability for Hillsborough has long gone. The unlawful killings have become the subject of football 'banter.'
A decade ago it felt like we were in touching distance of justice. How wrong we were.
Still, we're not going away. Despite everything, they'll never knock the fight out of us.
Charlotte Hennessy, whose dad Jimmy died that dreadful day 34 years ago, has created a petition to make chanting about tragedies — any tragedy, not just Hillsborough —a criminal offence. It's here. Sign it.
We're not letting this go. We never will.
*
Constantine Hatzidakis was appallingly unprofessional. He looks like the sort of bulked-up gym rat you'd find on the door of a crap bar and he acted like that when he elbowed Andy Robertson.
But this should be seen as a sign that things have gone too far. Ever since football began to be televised live on a regular basis, the demonisation of officials has spun out of control. The whinging of Ferguson and Wenger ratcheted things up a notch in the late 1990s and Mourinho upped the ante when he arrived in the Premier League. Supporters picked up on this like never before and slow motion became the angry manager's accomplice. It's killed the reputation of referees and the spirit of the game. It's given you VAR.
Klopp's not blameless. He has a go all too often. He's not the only one.
Robertson shouldn't have gone into the linesman's personal space at half time. Hatzidakis should have kept his elbow by his side.
How about a little less bellendery and a bit more self-control from everyone? I'll believe that when I see it.
*
A Roy Hodgson team slammed home five goals against Leeds at Elland Road. Come on Jurgen, you've got to outdo Rampaging Roy. Surely?