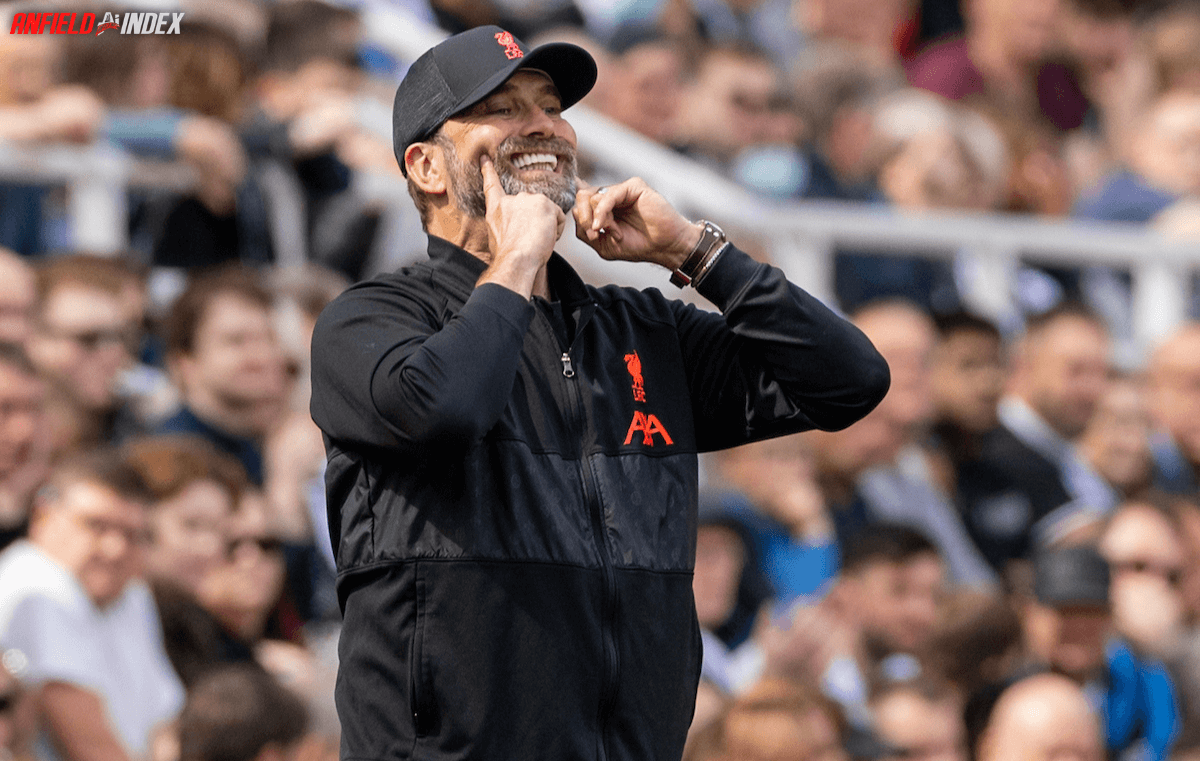 How Liverpool Should Tackle These Final Nine Games?
These are the remaining fixtures on the Reds' Premier League schedule, which may define how they undertake their upcoming summer recruitment drive.
Leeds United – Away
Nottingham Forest – Home
West Ham – Away
Tottenham Hotspur – Home
Fulham – Home
Brentford – Home
Leicester City – Away
Aston Villa – Home
Southampton – Away
With the much spoken about Jude Bellingham saga rumbling on, one would assume that only Champions League qualification would enable the Reds to make that deal feasible. This seems to have been the consensus that has been delivered this week, essentially by both Klopp and the related journalists. Liverpool are currently 14 points off top four (in the league at time of writing), with Manchester United, Newcastle, Brighton, and Tottenham, all vying to join Manchester City and Arsenal in next year's most prestigious European competition. How the Liverpool squad reacts in the coming weeks is very debatable, as consistent form is currently a rarity. It does appear that there could be some form of renaissance, however, with some very important players coming back into the starting line-up. With that, I'm keen to look at how our German manager could use these rankling nine game, in order to start building towards the pre-season.
With Luis Díaz and Thiago available to return to the starting eleven on Monday, it really does seem that Jürgen Klopp could look to blast his way to better performances. With so little to play for and such a big margin to make up, it could represent the perfect moment to unleash what many believe could be the common formation next year.
Below is the group I believe should start on Monday, in a 4-2-3-1 system. I believe the on ball shifting of Trent (that we have been seeing), would allow him to join the double pivot I'm hoping to see next week. I see this as a solid evolution of our side, which would allow the middle men to lock down that central area out of possession. We all know that Thiago & Fab have a history of dominating games, therefore to place them back into a tighter partnership could add the solidity we have been lacking.
GK – Alisson Becker
RB – Trent Alexander Arnold
LB – Andy Robertson
RCB – Ibrahima Konaté
LCB – Virgil van Dijk (c)
CM – Thiago Alcantara
CM – Fabinho
RW – Mohamed Salah
ACM – Cody Gakpo
LW – Luis Díaz
CF – Darwin Núñez
This may look a slightly cavalier approach, yet when you consider the personnel and their individual strengths, it could be a scintillating experiment. To deliver our number 66 some on ball freedom (to advance into the central midfield), may give licence to more than just him. It would allow a defensive shape to shift and allow more coverage (as a back three), whilst Salah could drift inside to join Darwin. With Trent pushing up into a midfield three (instead of merely farting down the flank), he could then undertake a wonderful pairing of creation with our Spanish controller. With our Brazilian controller screening the defence, we may finally see a more dynamic level of control from our two playmakers.
This seems the ideal moment to try new ideas, especially with so much ground to make up on the top four. Though Robbo may struggle to offer high level coverage as a defensive fullback back (coming across), that too would enable our Columbian flyer to roam freely. Though I struggle to take in the movement and interchanging that unfolds at Manchester City, it is probably more due to how they have attained such a superior squad. Regardless of the charges that have been levelled against them, they are nothing short of magnificent in their footballing efforts. They have never allowed themselves to regress (under Pep), with a constant ability to play their way through peril, with new players and adjusted tactics. If City are the team that has been able to grow, then the reds are surely the team that has welcomed the opposite.
Worrying too much about what we spend and who we could recruit in the coming months is pointless. Not until the end of the next transfer window, will we truly know how FSG will react and support the manager. What we have in this moment, is a period to try new ideas and allow more freedom to our stagnating group of players. We saw so much energy and drive in the final 60 minutes against Arsenal, as players started to remember how just good, they can be.
Opportunities to build towards a new dawn are rare, especially with a team that is so used to chasing glory at the end of a campaign. I hope the manager will now experiment and unshackle some of his downhearted assets. The morale is now constantly on a tipping point, which could be overcome with ingenuity and bravery in his coaching. I believe in our illustrious manager and this group of players; therefore I hope to see new endeavour when we resume our campaign. If we are to stumble home in a disappointing 6th or 7th place, I hope it's at least done in style.