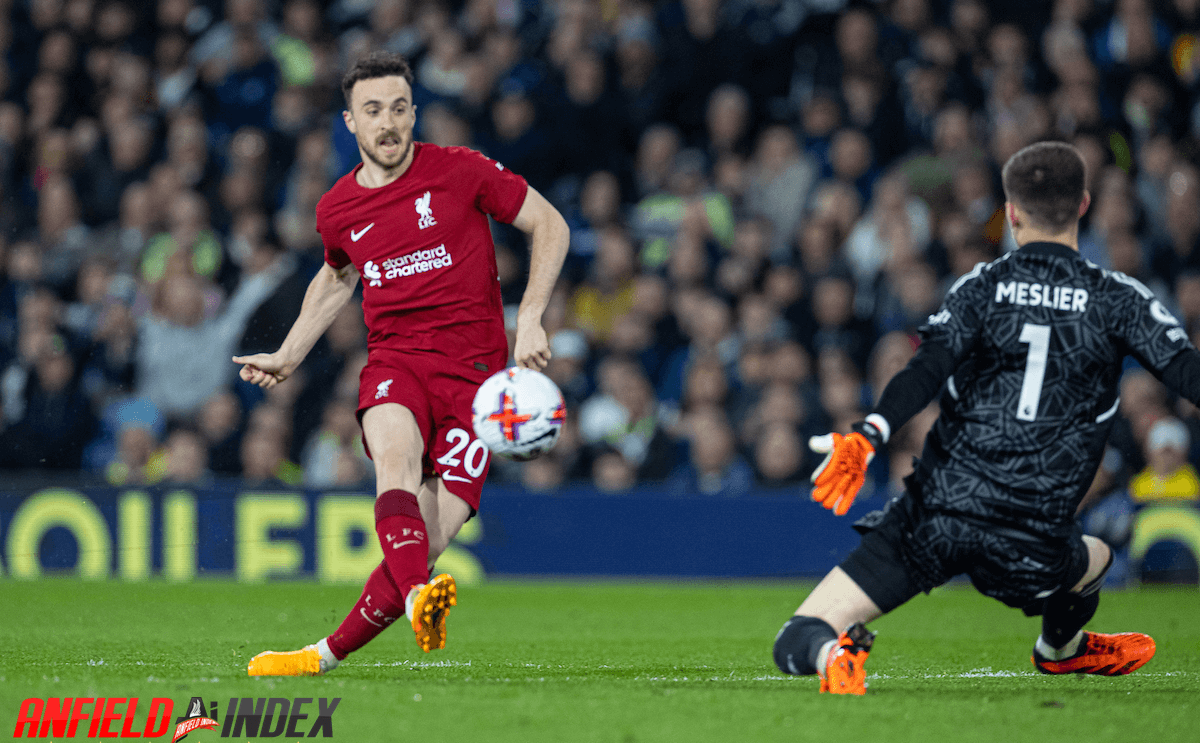 Leeds 1 Liverpool 6 - Player Ratings

Alisson Becker – 7.0
Shook off whatever issues he had before the weekend, in order to resume his duties in goal. Had to make some smart saves through the opening period as Leeds were able to break away too often. He could do little to stop Leeds's early second-half goal, as Ibou allowed a free run-on goal. Was angry and vocal as the home side sporadically had strikes on his goal.
Trent Alexander Arnold – 9.0
The multi-functional defender/midfielder is back in the limelight. Tried to progress the ball through the first half as the Reds' possession allowed him to roam. Eventually, he was able to create the opening goal with a solid slide cross for Gakpo. He grew tremendously into the game, as the freedom to create saw the best of his on-ball work. Was able to assist Fabinho in tightening the midfield holes, before producing a beautiful assist for Darwin.
Andy Robertson – 7.0
His second half against the Gunners enabled him to keep his place ahead of Kostas, though his season has still been a worry. Had to manage his play (as the more defensive fullback), with a solid first-half showing. A fair second half with more defensive work than offensive, before the Reds rampaged for the closing period.
Ibrahima Konaté – 7.0
The Reds' best defender may be the first name of our team sheet right now. Was his usual combative self, with his pace and power key to limiting the quality of Leeds' first-half chances. An unfortunate moment of indecision at the start of the second half led to Leeds' goal. Responded well with a crucial challenge to stop another break soon after the Reds third goal. Solid in a challenging role that allows Trent to move up one. The mistake is a non-issue for me.
Virgil van Djik – 7.0
Persevered with, in the hope that his class would see his form improve. Was steady and alert to the break, as Leeds looked to exploit any first-half chances to attack. Stayed calm on the ball with a common role of recycling possession. Did most things simple, with a switched-on display.
Jordan Henderson – 6.0
Struggled against Arsenal, yet retained his place once again. Tried to keep the ball moving yet was a little position-less at times, as he tried to facilitate the playmaking of Trent. A couple of hopeful crosses came to nothing before he found Jota for a long-range effort in the second half.
Subbed – 80 mins
Fabinho – 7.0
Kept his place as the holding midfielder, with an air of consistency being sought by our German manager. Looked less exposed with Trent beside him and was neat and tidy in his first half of work. Was pretty stationary in the middle of the pitch, as the second half saw the game flow all across the ground.
Subbed – 84 mins
Curtis Jones – 8.0
He is keeping Thiago's place warm, as the Reds' best-starting midfielder last weekend. Attempted to make something happen yet was restricted for much of the first half. Tried to move around the final third in order to get on the ball. Was able to break well from the right and deliver a very good assist for Jota, with the Reds needing to make a second-half impression. He then came to life, with the pace and open nature of the game suiting his style. Is justifiably keeping his place right now.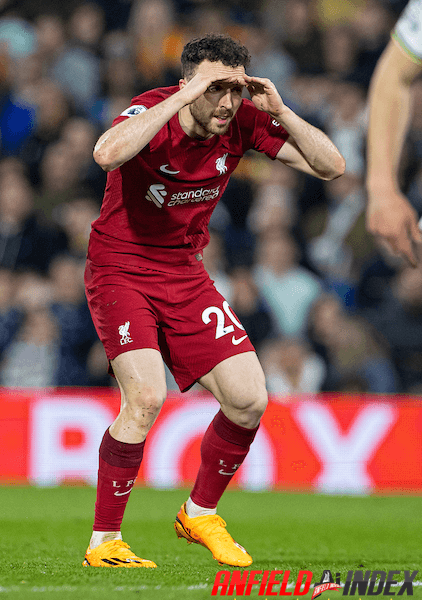 Cody Gakpo – 7.0
The new false nine, he saw off a stiff challenge from a raft of Liverpool's forwards to keep his place. Drifted in and out of the first period, as the Reds struggled to gain any attacking rhythm. His opening goal was crisp and allowed the stagnating first half to end on a high. His middle role allowed then pace around home to explode, as he strived to create chances with some clever play.
Subbed – 80 mins
Diogo Jota – 9.0
Strangely kept his place, after some woeful returning performances. His pace and direct nature came to the fore for the second goal, however, with some good penetration and assist for the away teams' second goal. Took his goal very well, with a good effort to take the score to 1-3. His opening goal then saw him take over proceedings, as a brilliant breakaway led to him assisting Mo before he hammered a long-range effort into the bottom corner for his second of the night. Welcome back, Diogo.
Subbed – 80 mins
Mohamed Salah – 9.0
Liverpool's top scorer, so it is a weird moment to see some people doubt him. Was quiet in the opening thirty minutes, before venomously striking the ball past the Leeds keeper to make it 0-2. No's disallowed goal seemed to drive him into form, with an intent to cause damage. His second goal was classic Salah, as he stroked the ball into the far corner.
Subbed – 80 mins
Subs;
Darwin Núñez – 7.0 (on 80)
Caused havoc with his direct play and got himself a good goal late on.
Roberto Firmino – 6.0 (on 80)
A lovely backheel nearly laid off.
James Milner – 6.0 (on 80)
Ran about lots against his former team.
Thiago – 6.0 (on 84)
Wonderful to see him back.
The Manager;
Jürgen Klopp – 8.0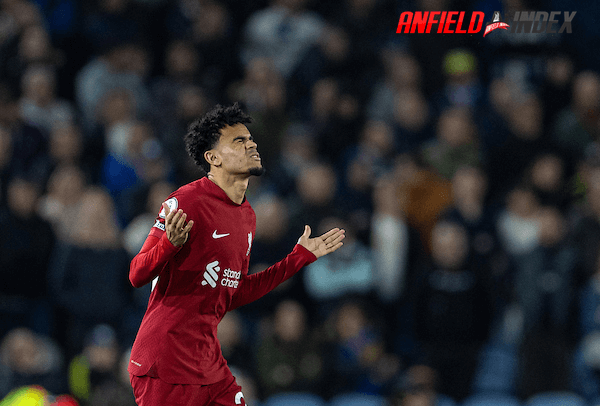 Surprised everyone with an unchanged line-up, especially with Darwin, Diaz, and Thiago all fit.
His team looked somewhat uncoordinated in the opening 35 minutes, with Leeds able to spring counterattacks too often. Trent's positioning into midfield gradually paid off, with Fabinho offered more support in that deeper role. The away sides' patience saw them creep ahead, as Trent was able to assist well for the opening goal and settle any underlying nerves. He would have been delighted to see his Egyptian King back on the scoresheet, after failing to back him in the aftermath of his recent penalty miss.
Rock and roll football announced itself in the second half, as this Jekyll and Hyde group tore through a bewildered team in the second half. The goals were often brilliant, but it was the intensity and desire that shone.
Trent was superb in a deep-lying middle role, whilst the forward line used their pace and direct play to tear the home rear-guard apart.
A very pleasing day at the office for our German manager, with hopefully more to come.
Pre-match Prediction;
Leeds 1 – 3 Liverpool