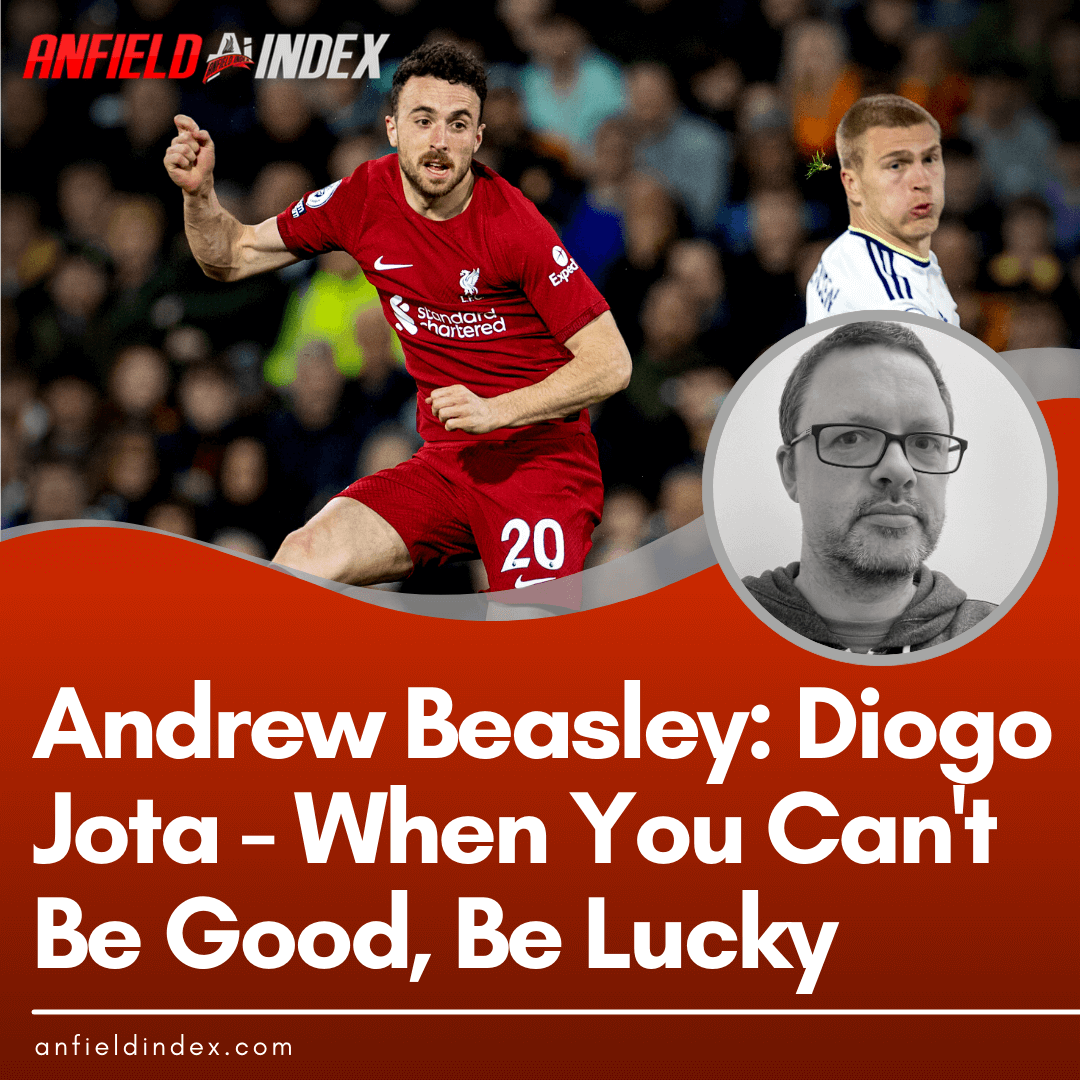 Diogo Jota - When You Can't Be Good, Be Lucky

Diogo Jota lost something when Liverpool won 6-1 against Leeds United on Monday, though what he retained and gained at Elland Road could prove to be far more important.
The most obvious thing he lost was the ball. A lot. The 26-year-old turned over possession (through mis-controls and unsuccessful touches) on five occasions when the rest of the team did so nine times between them. The 2-0 'home' win over RB Leipzig in 2021 was Jota's only previous match for the Reds in which he recorded more (seven).
His passing, on the whole, was similarly unsuccessful. Per FBRef, the match was only the Portuguese forward's third for Liverpool in which he attempted at least 34 passes but failed to complete over a third of them.
In the opening 39 minutes, Jota was a shade worse, with only 13 of his 22 passes finding their intended target. But while it was great to welcome the Reds' number 23 back for a late cameo, their number 20's 23rd pass effectively settled the match.
It continued the strange pattern of Jota's Liverpool career. When he scored at the Etihad in a 2-2 draw in April last year, his headline numbers for the club were 34 goals and three assists. The former Wolves man had created goals in some big games – namely in the 5-0 win at Manchester United and the aforementioned Leipzig victory – but clearly here was a player who thrived most on finding the net.
Until he didn't. When Jota won possession, strode forward and played Mohamed Salah in for the second goal at Leeds, it was his 12th assist since he last scored; in that period, only Salah (with 15) had set up more goals, and most Liverpool players had accumulated far more minutes than the injury-hit Jota.
To create so many goals in 1,664 minutes of playing time is no mean feat. It isn't what strikers stake their reputations upon, though, and Jota will have obviously been delighted to end his scoring drought with two goals in the second half.
And this brings us to the less apparent thing he lost in Yorkshire on Monday, something Jota certainly won't miss. The Portuguese international was fourth in the standings for Premier League goals scored exclusively from inside the penalty area. Granted, it's a niche piece of trivia rather than something to add to your LinkedIn page, but it's one which hints at a lethal predator, comfortable when presented with the best openings of all.
Chance quality clearly played a part at Leeds too though. Curtis Jones' sublime through ball presented Jota with an opportunity valued at 0.33 expected goals by Understat, the most valuable chance Jota has had outside the box in the Premier League. Perhaps it always needed something of that nature for him to break his long-range duck (though facing the goalkeeper who has statistically been the second worst in Europe's big five leagues in 2022/23 won't have harmed his chances).
Like the cliché of the London bus, Jota scored again 21 minutes after ending a year-long barren spell, and again it was from further than 18 yards out. While the result was already secure, in truth, his goals meant he has netted in 34 Premier League games and retained an unbeaten record in those matches, the fourth-biggest total of anyone. Yes, it's another largely meaningless statistical bauble but if you can't be good (as Jota's performance at Leeds emphatically was not for 40 minutes) then be lucky.
What he gained could be vital. Analytics has decreed that firing at goal from outside the box is a bad idea, and the decreasing average shot distances seen season-on-season are evidence enough of that. But while patiently trying to craft the highest value chance you can is certainly not the worst strategy, Liverpool could benefit from scoring more often from outside the box.
After all, they scored more goals inside the penalty area than Manchester City in the league last season, but the eventual champions bagged more in total by being far more lethal from long-range. Prior to Monday, the Reds had netted just four times from outside the box this term, and while the quartet includes Salah's wonderful winner against City, it was hardly an effort from distance in the conventional sense.
When speaking to Sky Sports last August, Jota made an interesting point about his ambidexterity when finishing chances: "With the right, I am more powerful. But I am more accurate with the left," he said. The two off-target efforts he offered at Elland Road with his weaker foot might disagree with the latter part of that quote, but if he can harness the power in his right peg more often then he could plug a gap that currently exists in Liverpool's attack.