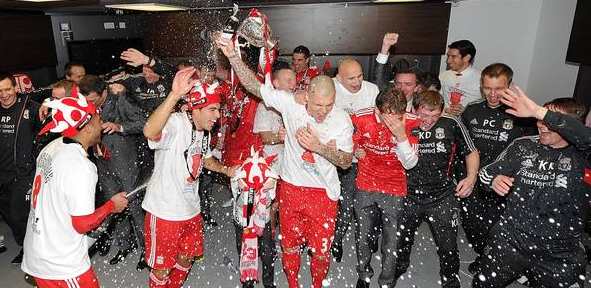 Liverpool Win the Carling Cup - It's only the Mickey Mouse Cup!
So we did it, we finally won a trophy after seeing Liverpool go without one for nearly SIX years!  How times have changed since then!  We have had new owners, another Champions League Final, a new Kop idol, Premier League Runners-up, a rubbish manager, high court battle, more new owners, the return of a King, said £23m "Kop idol striker" throwing a tantrum and then being replaced by another Kop idol – Luis Suarez, who was then banned for 9 games for something we don't think he did, during all this, we have improved our performances in the league (just need more goals) and certainly in the cup competitions.
When we last reached the Carling cup final in 2005, we were unlucky to lose having led the match for most of it, Steven Gerrard scored an own goal (his first goal for Chelsea eh?) and we tired in extra time which Chelsea took advantage of.  We were yet to win the Champions League for a 5th time in such an amazing game, it will be remembered by most reds fans as the best night of their lives, so this was just a regular "Mickey Mouse Cup" final.
But for me, it was my first ever visit to Wembley. Sure I had been to Cardiff a few times to see Liverpool play but never Wembley. Growing up as a fan, you always dream of going to Wembley  to watch your team play, so it was an ambition of mine which is now complete.  Sure, we got to Wembley a lot when I was young, but I always watched on TV.  I have 3 other brothers who all support Liverpool so I think my Dad could not have taken us all and in turn could not have taken one of us, so that meant none of us went, but watching on TV was fine because most of the time we won (except on 3 occasions).
So having tried to get Semi-Final tickets for the Liverpool vs Manchester City game and failed, I knew my chances of tickets for Wembley were slim. But they were much greater than getting tickets for Anfield due to the fact that there are only about 20 disabled tickets available for each game – plus the fact that Liverpool changed the selling arrangements for these tickets at the beginning of the season without telling people! In Wembley there were 125 available seats but I knew I would be in some kind of ballot because the season ticket holders and Semi Final attendees had first choice and rightly so.
Liverpool did not do the ballot for these tickets until the 16th February, so it was a long wait to see if I had got any or not.  But I got the phone call on that morning to say that I had been selected and could I now pay etc.  I was delighted, I was now going to Wembley to see Liverpool play!
So ten days later, off we went to Wembley. I had an agreement with Gags that if I got a ticket then he can have my companion one, I have worked with him for nearly 1 year now on AnfieldIndex.com, AnfieldForum.com and EPLIndex.com but we had never met, dispute spending hours and hours on the phone and Skype – so it was fitting that we met up to go to see Liverpool play in a final in Wembley!
All week in the buildup to the match, I had seen people tweeting that we would win 4-0, 5-0 or even 6-0 etc as we had just beaten Brighton 6-1 in the FA Cup and Cardiff play a similar passing style. But I watch a lot of championship football and knew that Cardiff were decent at the back and decent going forward, it was a nothing to lose game for them and a one off chance to show what they can do, I knew it would not be so easy as people were making out.  So we chatted about possible outcomes whilst driving down to Wembley and we both agreed that it would be a tight game and didn't care as long as we won!
We arrived at about 1pm and soaked in some of the atmosphere around the stadium, it was a friendly atmosphere but there was not much chanting etc going on outside, we were obviously in the wrong place! So we decided to go inside just before 3pm.  I had looked at the view at the Wembley Stadium website but it was even better, perfect view!  The anticipation was building and the stadium was filling out, finally kick off came!
In the first couple of minutes we hit the bar and Gerrard hit it over from the follow up – something he would have done better with in the past, in fact he had a lot of shots that day but none on target – unusual for Gerrard!  We dominated play and kept attacking but Cardiff scored with their first meaningful attack, we could see straight away that if Skrtel had got in line, it would have been offside and no goal. So a mistake let them score.  We continued to attack and attack but to no avail, Daniel Agger had one of the better chances.
I can have a negative outlook a lot of the time but I start to think about all our 0-0 draws this season. At half time all I was thinking about was all our games which we had dominated, the ones we should have won by a decent margin but failed to put away the chances – this time it was different because Cardiff already had their goal, we simply had to score!
I was also recording a lot of the action. Before the match I decided to record every decent Free-kick and corner we had, because we are very good most of the time. But I decided I was maybe tempting fate by recording each one so I stopped. The next corner on the hour, after a brilliant ball in, Suarez hit the post and then Skrtel followed up the rebound by putting it through the keepers legs to make up for his earlier error.  So game on 1-1.  We just had to continue playing the way we were but not make any stupid mistakes….
The remainder of the game followed a similar pattern, with Liverpool attacking and Cardiff counter-attacking. Kenny Miller had an amazing chance to win it for Cardiff in the dying minutes but hit it over the bar.  In the first minute of extra time, Suarez had an effort just tipped wide by the Cardiff keeper and then had a header cleared off the line.  Those "its not our day" thoughts had started to get louder.  Then Dirk Kuyt did what he does best in the big games.
In the 2nd half of extra time Kuyt surged forward but with nothing on, he tried a shot – an awful one at that! But it came straight back to him and he placed it with power into the bottom right corner – bedlam! All of the Liverpool fans went crazy, we were singing for most of the match but this was different, we were 10 or so minutes away from our first trophy in nearly 6 years, all the pain of the horrid American owners who's names I cannot bear mention was gone.  All we had to do was hold on for 10 minutes, the best defence in the premier league had to just not concede again.
We continued to attack for a few more minutes but then something bad happened. We let Cardiff do what they hadn't done for most of the game – have the ball in and around our box. I knew how dangerous they were from corners and general play and kept saying to Gags that we should continue the way we were playing but I understood why they sat back wanting to hold on and maybe grab a 3rd on the counter – which we so nearly did if not for a few misplaced passes.  Then Cardiff had their FIRST corner of the match in the 116th minute, it was cleared off the line by the hero goalscorer – Dirk Kuyt.  But from the resulting corner, Cardiff scored.  Again Kuyt nearly stopped it but it was prodded through Reina's legs and into the net.  As you can imagine, the Cardiff fans went wild but we continued to try and lift the Liverpool players.  So the game finished 2-2 after extra time.  Another classic final involving Liverpool Football Club.  Do we do it like this on purpose?
We then sung You'll Never Walk Alone for the 6th time, just before the penalties and it was just a case of hoping for the best. I was certain that we would lose.  Purely for the fact that Cardiff had scored in the last minute of an earlier round and then won on penalties. They had just done a similar thing to us, having missed several chances to win comfortably we draw again.  So I decided that whenever a Cardiff player stepped up, I would say he will score, and when a Liverpool player stepped up I would say he would miss. I eventually gave this practice up for the last Anthony Gerrard penalty having said that Steven Gerrard would miss and also Charlie Adam would miss – they both missed although technically Steven did not miss, the keeper saved his.  I found the ball the Charlie Adam struck in my garden when I got home! Candidate for worst penalty of all time, especially given the occasion.  I kept saying that Cardiff's name was on the cup, given their run in it and how the game had panned out, football often has a fairytale story like that – and we should know..
But when Anthony Gerrard put his penalty wide, a surge of relief went through me – bedlam ensued.  We could not stop singing, chanting and everyone was jumping around like crazy people!  We had won our first trophy in nearly six years, we stayed in the stadium until the lights went out, in fact we got ordered out by some stewards, we would have slept there if we could!
We wanted to make the most of it because who knows, it could be another six years before Liverpool win anything again? Of course, we want to win the FA Cup this season and more trophies next season, but we never know what is around the corner.  This is why occasions like Sunday are so special, because they are a moment of history which will be written about and records kept – it is great to be able to witness these moments.  Now I have been to Wembley, do I want to go again? Definitely!
Wembley is an amazing stadium, the atmosphere inside is brilliant, the design of it is pretty good too.  The fact that it holds 90,000 fans is great too because more fans are guaranteed tickets than they were for Cardiff or any other venue.  I have been told that the toilet facilities leave a lot to be desired though!  We are one game away from a return to Wembley in the FA cup (despite my views on that), it would be another good day out and hopefully a visit for the FA Cup Final itself, all we ask is that Liverpool try to go as far as they can in every competition and currently we are fulfilling that apart from the Premier League itself.
So in the car on the way home, we listen to some phone-ins saying Liverpool should not be celebrating for just beating Cardiff on penalties in the "Mickey Mouse Cup".  When i got home, I saw similar comments online, some of them even from Arsenal fans saying similar things – "It's only the Mickey Mouse Cup" and "Liverpool did not even beat Cardiff" etc etc.
But these people forget one thing.  Liverpool played one extra round than usual, due to not being in Europe (which we are at least in the Europa League next season) and we had not played ONE SINGLE home match before the 2nd leg of the Semi Final.  We also had to beat Stoke City away, Chelsea away and Manchester City in the Semi-Final to get to Wembley, so Liverpool deserved it all right, regardless of the opposition in the final.  I would have gladly swapped Cardiff in the final for Manchester City in the final, in fact we may have had a less eventful final against Manchester City or a Chelsea due to the fact that we always seem to be at our best against the big teams.
Another one to address – "It's only the Mickey Mouse Cup".  Tell that to Arsenal, Tottenham, Newcastle, Everton or any other club who had not won something for a while.  I even saw these comments from Arsenal fans who would gladly swap with us now, given their result in the same competition a year ago!  Yes the League Cup is not as high of a priority now as it was 20-30 years ago, but we have a record in it which we should be proud of and we should want to add to it each season.  It is also one of the major trophies that all clubs set out each season to win, it is also a passage to Europe – although it is the Europa League which I personally have disliked since the format change.  A massive club like Liverpool should be trying to win at least one trophy every season.  During the Benitez era, we were competing in every competition until the latter stages, we need to get back to this and we are going in the right direction.  We are in the quarter final of the FA Cup having had every game at home which will be another unique situation! Last season we were out of both competitions by round 3, so already there is a big improvement.
So anyone who say's it is a "Mickey Mouse cup" is just jealous and would gladly see their team win it every season.  Would I swap it for forth place in the league? No. Plenty would, but I would prefer to have both!  A trophy to me is more important than finishing in a league position that does not even guarantee Champions League qualification.  We have played well enough this season to be considered as a top four team, the only thing missing is goals.  I have said it all season and many others have, we have created a bucket load of chances in most games but have not taken most of them.  We have only had 3 poor performances in the league this season, we had at least 20 poor performances last season!  I firmly believe if we can either buy a poacher or if our existing strikers suddenly find their finishing boots, we will be not only challenging for the top four, but for the league title.  The stats have been shown time and time again, if we had a chance conversion rate of either Manchester club, we would be 2nd in the league.  So we are not far off.  Sure we get all the moaners when we don't win or the "this player is crap" brigade, but we have to live with the fact that we have a lot of glory supporters now.
We sung You'll Never Walk Alone NINE times on Sunday, how many fans sing their clubs anthem like that when they are losing or drawing?  None.  There is a difference though in League games at the weekend at Anfield, unless it is a massive game then the atmosphere is flat.  This may be a factor why we have had so many draws.
Manchester United are closing in on our records, so we need to get back into the Champions League as fast as possible, adding a striker in the summer will help a lot.  I just hope he does not have the "Playing for a big club fear syndrome" which many players seem to get when moving to us.  Even in the League cup, they have won it 4-5 times now when years ago it was only once.  So is it just the Mickey Mouse Cup?