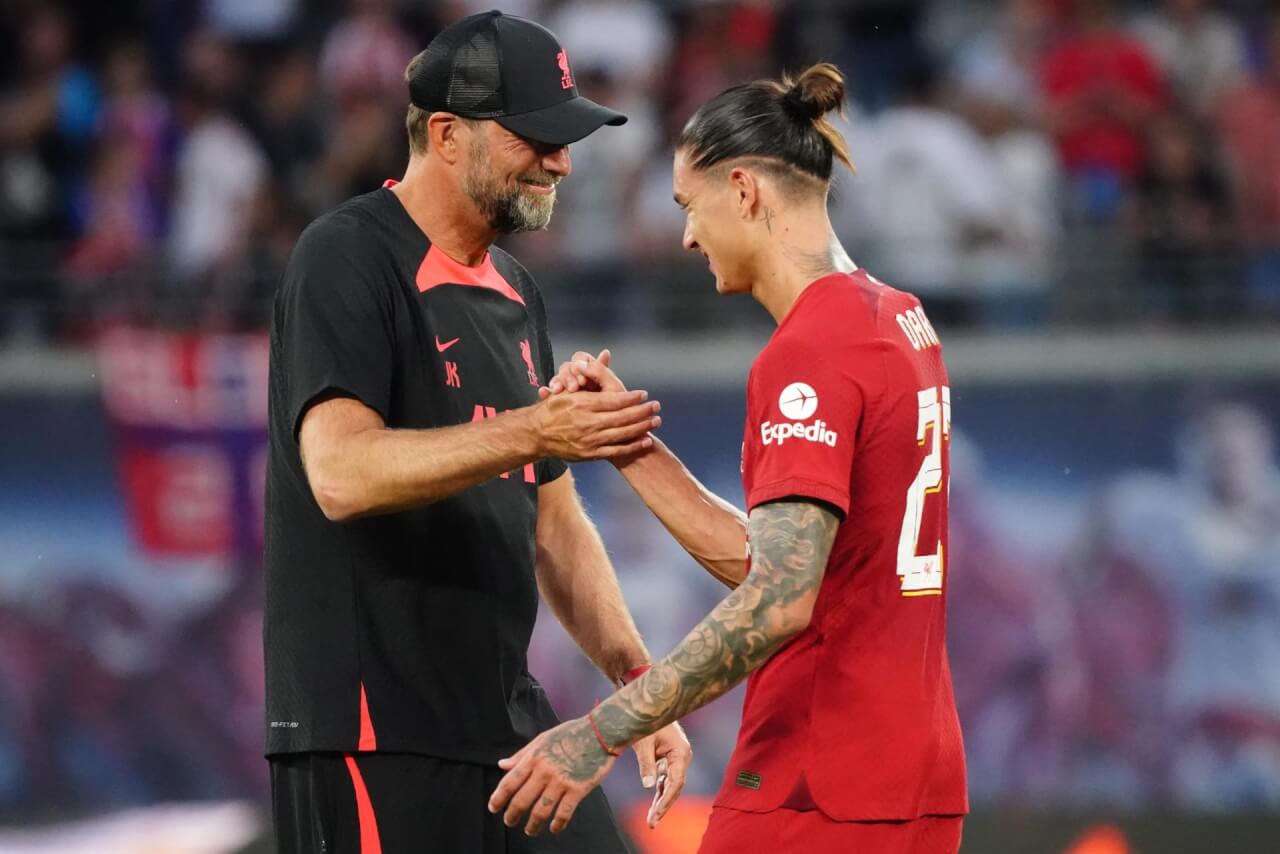 Jurgen Klopp: Darwin Nunez - The Long Term Project Who Has To Learn

Jurgen Klopp has emphasised that Darwin Nunez is a player with long-term potential for Liverpool, but he needs to work on improving his English language skills. Although Nunez has shown glimpses of his pace and unpredictability, Klopp has preferred other attacking options in recent games. Some fans have been surprised by this decision, given Nunez's potential impact on the pitch. However, Klopp has clarified that Nunez is still adjusting to the team and the language barrier, as he is from Uruguay. Klopp made these comments when asked about Nunez ahead of Liverpool's match against Nottingham Forest on Saturday.
"Darwin is a player with a different skill set to all our other players, that's good," Klopp went on to explain.
"He's a real handful, he's a machine and he will score a lot – well, he's scored already these number of goals so it's all fine.
"But, of course, he is still adapting. His English is still not great, if not existing at all. We are working on that, massively.
"It's not helpful to go through a difficult debut season for the whole team – how can a striker shine when the team is struggling?
"That's not possible, but he had super moments for us. Was injured in some moments and suspended in others, it is not helpful but not a problem at all."
Nunez has been playing on the left side of Liverpool's front three and has scored 15 goals and provided four assists so far, but Klopp seems to be expecting more from the 23-year-old. The manager has been quick to utilise Nunez's attacking abilities, but it appears that Klopp is looking for further improvement and development from him.
"This is a long-term project," the manager stressed. "I understand that he wants to play desperately from the beginning, but we have to find a way that works for us again.
"I'm completely fine with the situation but I understand that Darwin is not always fine with it.
"It's not like he smiles in my face when he realises he will not start, it's not like 'thank you, boss'.
"It's fine, that's how we have to deal with the situation. When you have five, six players available up front I have to make decisions.
"The door is miles open but the more sessions we have, the more sessions you have to show up."
Klopp has stated that Nunez is capable of playing in a central role within Liverpool's system, but emphasised that the entire team needs to be properly set up to enable this. This implies that Klopp wants to see more counter-pressing from Nunez, as it would benefit the team's overall performance.
"He's a centre-forward that plays on the left. It needs a specific set-up that he can play and defend in the centre," Klopp continued.
"Playing in the centre is no problem, he is a machine… He can play both positions, 100 percent, and did that for us really well.
"He has to learn English, that's how it is, we can translate everything but in training sessions, we cannot have four languages translated."