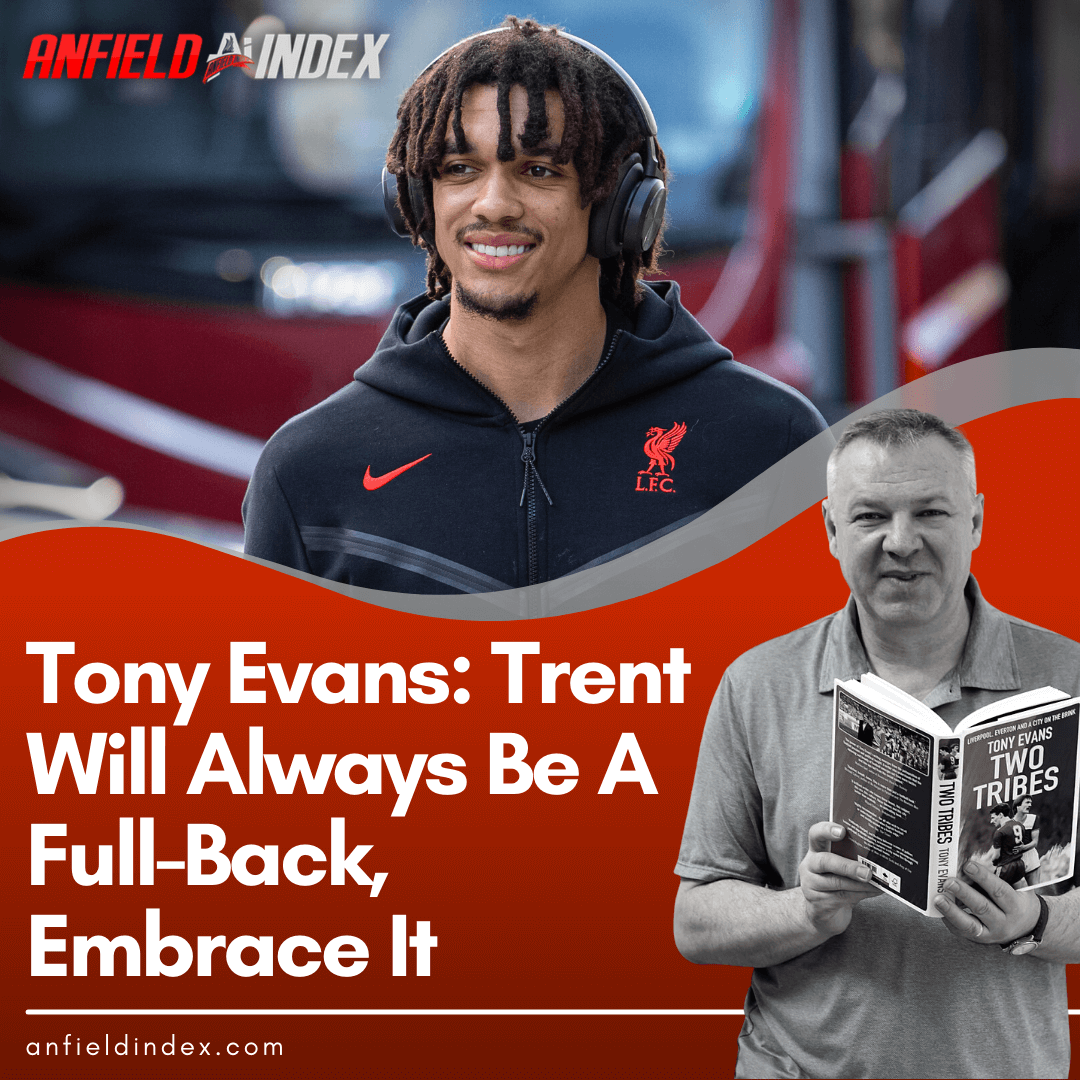 Tony Evans: Trent Alexander-Arnold Will Always Be A Full-Back, Embrace It

Let's put the six goals at Elland Road into context. Roy Hodgson's Crystal Palace scored five there.
OK, we're starting with a cold shower. But Monday night was a step in the right direction.
Quite a few of the team seemed to have their appetite for the game back. Diogo Jota's two goals were a relief to everyone. And Trent Alexander-Arnold's performance boded well.
Again, it was only Leeds. But getting TAA on the ball and involved is high on the list of priorities.
He's been drifting inside and upfield for a while. It was really noticeable in the first game of the season at Fulham and it didn't work that day – or on quite a few other days.
Jurgen Klopp gave the full-back latitude to come inside at his own discretion. That was a bit hit-and-miss. The difference in the second half against Arsenal and versus Leeds is that it was a coherent tactical gambit. Trent was told to do it.
Does this herald a move to midfield? No. He's a full-back adapting his role to the situation. Would it be better if he moved to the centre of the park? The ideal scenario is that a balanced midfield allows one of Liverpool's most dangerous attacking options to flourish in the job he's done for the past five years.
There will always be an element of risk-reward in Alexander-Arnold's game. Embrace it. He'll have more successes than failures in his career.
And I'd still rather see Andy Robertson tried in midfield if one of the full-backs has to get pushed forward. On reflection, it's best to keep Trent where he is and where he's been so effective.
*
Today (Friday) is the centenary of Liverpool's fourth title win. The significance of winning the league in 1922-23 was that it was the first time the club were back-to-back champions, a feat they would not emulate until 1977.
The side was full of characters and led by David Ashworth, a manager whose departure to Oldham Athletic midway through the second title-winning season was as shocking as Kenny Dalglish's resignation.
The Untouchables: Anfield's Band Of Brothers by Jeff Goulding and Kieran Smith tells the story in forensic detail. And what a story it is.
The book focuses on three local players: Walter Wadsworth, Tom Bromilow and Danny Shone. I won't call them Scousers because, at the time, the word was still an insult against the poorest immigrants and just beginning to make the transition to becoming a label to be proud about.
Their stories are eyeopening – from the western front to the flu pandemic. They introduce you to their teammates, including the legendary, sweary, Elisha Scott.
Of all the great Liverpool sides, this is the least well-known. I'd suggest f****** off the summer transfer speculation and giving this book a read. That'd be good for the soul on so many levels.
*
A group of Nottingham Forest fans will display a banner at Anfield that says 'Respect the 97. Solidarity with survivors. No to tragedy chanting.'
At a time when Hillsborough deniers are on the march and hurtful songs are becoming commonplace, it's a welcome gesture.
These Forest fans watched events unfold in 1989. They witnessed what happened. They have come to question why so many of their fellow supporters have blamed us for what happened. I mean, they all saw the police standing by in lines watching; they saw that there was only one ambulance on the pitch; they saw the advertising boards being torn down and used as makeshift stretchers as our supporters acted in an heroic fashion.
Forest should have been our biggest allies. Instead, they were among the worst for blaming us and promoting the lies of the South Yorkshire Police and The Sun. Being generous, I'll conclude that what they saw messed with their minds.
This banner and the initiative by these Forest fans is a positive development. It feels a bit like swimming against the tide but maybe it's a sign that the tide is turning.
*
The murals around Anfield are a great nod to history. On Thursday a couple more were unveiled, featuring John Barnes, Ian Callaghan and Phil Neal.
Barnes and Callaghan were wingers but very different sort of players.
Barnsie is in the club's top five ever. Those who never saw him cannot comprehend how good he was. He was arguably the second-best player in the world – behind Maradona – in the late 1980s.
Cally started off as a dashing wide man but morphed into a modern midfield player. He's definitely in the Anfield pantheon but for his service rather than spellbinding skills.
The funny thing is that the club's record holder for appearances (857) would probably suit a Klopp team more than Barnsie. Cally sucked up hard work and pressed hard before anyone knew pressing was a thing.
Nah, Jurgen would find a way to play them both. Those of us who saw them were very lucky.
*
Can't leave Neal out, either. He can be a cantankerous sod but he was a great fullback. He could shut down attackers and used the line brilliantly. Plus, he scored in two European Cup finals and his nickname was Zico. His book was called Attack From The Back. He must look at Trent and think he exaggerated with that title. It really has become a different game for fullbacks.
*
I'm a bit sick of the 'sod Europe off' argument. The rest of the campaign is not about that.
This squad – and the manager – needs some belief to take into next season. Imagine the last eight games are a miserable experience. Everyone would leave for their holidays under a cloud.
They'd come back to training with a hangover from May. Morale would stink.
We know there'll be new signings. It wouldn't be a great environment for them to try and settle into, either.
Everyone needs to pull together. The best thing about Elland Road was the positive body language and lack of fingerpointing. A sulky summer would do no one any good.
*
More murals are coming. Next up is Dalglish and then Bobby Firmino. It's not all just ancient history, you know. It's living history. Try to enjoy it.