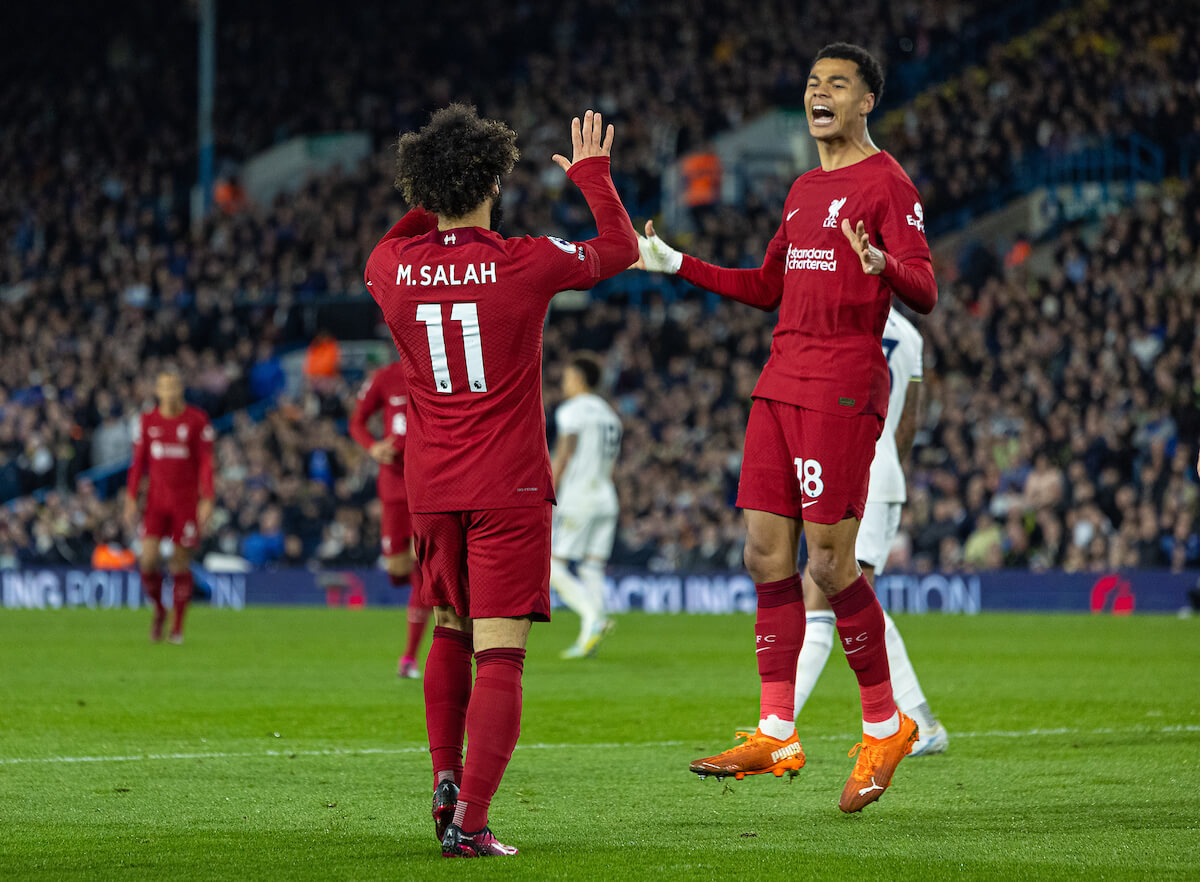 How this New System Suits Liverpool's Squad…
In the past two games for Liverpool FC, we have seen Jürgen Klopp adjust his formation and strategy in order to create form and rhythm for his struggling team. Out of possession represents much of the same 4-3-3 system, one which achieved so much silverware during Klopp's reign at Anfield. What we saw in the second half against Arsenal (in addition to the recent matchup against Leeds United), was a possession-based formation that allowed Trent Alexander Arnold to move inside to a central midfield position. There have been continuous calls (this season) for Trent to occupy a midfield berth, with that area of the pitch being so overwhelmed during this disappointing campaign. Though we are only in the early stages of our strategic evolution, it is clear to see that this new tactical approach could flourish.
In essence, our number 66 has always been able to push into a right-wing position. The previous control of the middle ground often meant that coverage was offered as he moved up and wide. The key issue this season is the faltering efforts of that supporting group, which can no longer compete and overpower the opposition. With that in mind, I will be looking at how this new 3-4-3 box midfield system can help or hinder our current outfield group, though only those that are currently prominent in the squad.
Trent Alexander Arnold 
It feels like much of the change has been to try and reinforce his strengths, with less emphasis on defensive work and more on his playmaking abilities.

Verdict – Will benefit hugely, with a brilliant glimpse at what could become.
Joe Gomez
Perhaps more able to offer coverage as the flanking centre back on either side, with some history as operating in the left back position. His pace and recovery will aid him, with a sweeper type moving centrally to cover him. A solid backup to Ibou, as we simply cannot fix everything this summer.
Verdict – This could help extend his Anfield stay.
Andy Robertson 
He arrived with a more attacking style of play, though that is looking so inconsistent right now. He can operate as a solid enough defender; however, teams will eventually start targeting his back post with Virgil moving across.
Verdict – The left-centre back links mean his role could become marginalised. May become a rotation piece next season, or even more of a backup.
Konstantinos Tsimikas
Much like Robbo, he may struggle to adapt to the off-ball requirements. I can see Kostas being moved on this summer so that a more defensive-minded / left-sided defender can be recruited.
Verdict – Should be sold to supplement a new and suitable left-sided defender.
Ibrahima Konaté
Without his ability and physicality, this switch would not be feasible. Monstrous.
Verdict – Our best defender and one that can lock down that right-hand side.
Joël Matip
His body will not allow this kind of defensive switch, certainly if playing as the right-sided defender.
Verdict – Out of him and Joe, Matip should be the one moved on for a left-sided centre-back.
Virgil van Dijk
I believe the targeting of a left-sided central defender, is another means of bringing the best out of a world-class player. In moving centrally (off the ball), he can act as a sweeper with two young and ferocious defenders on either side of him.
Verdict – A means of both protecting him and backing him up properly. Overplayed and overrun. Allow him to lead, without asking too much of his body.
Fabinho
How do you make the spaces around him smaller…? You put a body right next to him so that counters can be closed off. Fab has lost a step (or four), therefore he can benefit from this alteration. He's not ideal but can operate as a solid rotation piece.
Verdict – Servicing the broken body of our Brazilian should buy him another couple of years.
Thiago Alcântara
Able to play so many roles in that box midfield, though must be used accordingly. You don't flog genius; you do whatever is necessary to prolong its production.
Verdict – Should be integrated into the leadership pool and rotated as needed.
Jordan Henderson 
I think he would struggle in any system iteration, with his physical abilities now so regressed. A handy last 15-minute cameo to add injection, much like James Milner.
Verdict – If he continues to start games, we are not evolving.
James Milner
Cannot service this system at all.
Verdict – No contract extension.
Stefan Bajčetić
He can operate and be molded to flourish in this system. Such a brilliant skill set and engine mean he will thrive. As a holding midfielder or left-sided player he if ideal to rotate as needed.
Verdict – Should take all of Milner's minutes.
Curtis Jones 
I have long championed this local lad, who is now showing what he can do when the shackles are loosened. His on-ball ability and off-ball tenacity mean he should take all of the skippers' minutes next season.
Verdict – Finally getting his chance in a system where he can thrive in.
Harvey Elliott 
Much like Curtis, he can offer good variety at the front of the box. He should never have been relied upon to cover and support the right back; therefore, this formation may suit Harvey perfectly. Additionally, offers ample rotation options for Mohamed Salah.
Verdict – This is far better for him than a rigid 4-3-3.
Fábio Carvalho
I still don't know how we integrate this gifted player into any system we play.
Verdict – Needs a loan and games in order to grow his game and worth.
Cody Gakpo
Could become the Swiss Army knife of the squad. Centrally, from the left wing, or even as the advanced middleman from the same side. A project awaits.
Verdict – Too gifted and young enough not to excel.
Luis Díaz
Should overtake Mo as our most vital forward next season, with more freedom to attack from the left. Much of our patterns of play need to come through the Columbian.
Verdict – Should be left high and able to launch attacks, therefore a more defensive left back would allow this.
Darwin Núñez
Giving Trent a focal point to aim at was teased against Leeds, therefore next season should see him explode as our central striker. Limitless potential.
Verdict – Ferocious attacking play awaits this Raging Bull.
Diogo Jota
Hopefully, his form can now build and his versatility can aid the growth of the system. An important squad player that needs to score goals to impact games.
Verdict – Could be the 5th choice forward next year, which is not a bad thing.
Mohamed Salah
Will be able to drift inside and support Darwin, whilst having good coverage and playmaking around him. We've wasted a season of his genius; therefore, next season Klopp has to make amends.
Verdict – Should flourish in the new and vibrant system.